Alexander Ghindin
pianist
Biography
Repertoire
Discography
Reviews
Itinerary
Media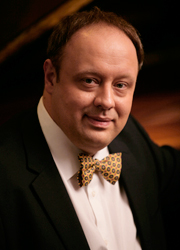 A native of Moscow, the Russian pianist ALEXANDER GHINDIN has rapidly established himself as a seasoned artist and a major force on the international piano scene. In 1994 at age 17, he became the youngest winner ever of the prestigious International Tchaikovsky Competition, later gaining Second Prize at Brussels' Queen Elisabeth Competition. He won the First Prize of the 2007 Cleveland International Piano Competition and the First Prize of the 2010 International Piano Competition of Santa Catarina in Brazil.
Alexander Ghindin's current season includes over 100 performances throughout the United States, Europe and Russia. Since 2006, Mr. Ghindin has been Artistic Director of his own concert series at one of Russia's most distinguished concert venues, the Svetlanov Hall of the Moscow International House of Music, and, in 2015, he was appointed Music Director and Chief Conductor of the Kaluga State Governor Symphony Orchestra.
Alexander Ghindin graduated in 2001 from the Moscow State Tchaikovsky Conservatory, having completed master class studies with professor M.S. Voskresensky. By the age of 14, he had already won the Moscow Young Pianists' Competition and, subsequent to his victories at the Tchaikovsky and Queen Elisabeth competitions, he joined the Moscow State Philharmonic as soloist in 1999, performing throughout Russia, as well as in Europe and Japan.
In addition to a 2010 tour of the United States with Vladimir Spivakov and The Moscow Virtuosi Chamber Orchestra, performing in Seattle, Beverly Hills, San Francisco, Denver, Chicago, Boston, Toronto, Wasgington, DC, New York City and Miami, a sampling of the numerous orchestras and ensembles with which Alexander Ghindin has appeared as soloist include the London and Munich philharmonic orchestras, Deutsches Symphonie-Orchester Berlin, Orchester der Stadt Freiburg, Orchestre de Paris, New Japan Philharmonic, Tokyo Metropolitan Orchestra, Orchestre National de Belgique, Orchestre Philharmonique de Liège, Flemish Radio, Swedish Royal Festival Orchestra, Rotterdam Symphony Orchestra, Orchestra de Philharmonique de Monte-Carlo, Orchestre National de Montpellier, Orchestre Philharmonique du Luxembourg, Israel Chamber Orchestra, Moscow Virtuosi Chamber Orchestra (with which he has also toured the United States), St. Petersburg Camerata, National Philharmonic Orchestra of Russia, Russian National Orchestra, and Grand Tchaikovsky Symphony Orchestra, as well as the orchestras of London, Thunder Bay, Toronto, Bordeaux, Strasbourg, Ekaterinaburg, Kazan, Moscow, Novosibirsk, Omsk, Samara, Paul, Prague, Latvia, Slovenia and Vilnius. He has collaborated with a host of today's leading maestri, including Vladimir Ashkenazy, Vladimir Fedoseyev, Alan Gilbert, Paavo Järvi, Vladimir Jurowski, Dimitry Kitayenko, Krzysztof Penderecki, Tomasso Placidi, Saulus Sandeczkis, Thomas Sanderling, Yurij Simonov, Vasily Sinaysky, Leonard Slatkin, Vladimir Spivakov and Vladimir Verbitsky. An avid chamber musician, Mr. Ghindin has collaborated with Vladimir Spivakov and the late Nikolai Petrov for many concerts and recordings.
Worldwide, Alexander Ghindin has performed in many of the most distinguished concert venues, among them: Carnegie Hall's Zankel Hall and Lincoln Center for the Performing Arts' Avery Fisher Hall in New York City, Washington's John F. Kennedy Center for the Performing Arts, London's Barbican Centre, Amsterdam's Concertgebouw, Paris' Salle Gaveau, Théâtre des Champs-Élysées and Théâtre du Châtelet, Munich's Gasteig, Prague's Rudolfium, Stockholm's Riksallen, Rome's Teatro Olympico, the philharmonic halls of Warsaw and St. Petersburg, the Moscow Conservatory, Tel Aviv Opera, Tokyo's Sumida Triphony Hall.
Alexander Ghindin has recorded over 25 CDs - on the labels of Capriccio, CD Accord, Decca, DML Classics, Naxos, Ondine, Piano Classics, Tri-M Classics, Russian Season - including the original versions of Rachmaninoff's first and fourth piano concertos, with Vladimir Ashkenazy and the Helsinki Philharmonic Orchestra (2001, Ondine). His debut album on the Naxos label - an album devoted to sonatas and short pieces by Scriabin - was released in 2011. He has also appeared on television and radio throughout the United States, Belgium, France, Germany, Luxembourg, Poland, Russia, Japan and elsewhere.
Alexander Ghindin wrote an original piano transcription of Maurice Ravel's La Valse, which was published in Tokyo (2001) and St. Petersburg (2008).
In 2006, Alexander Ghindin was named an "Honored Artist of Russia."
ALBÉNIZ
Rapsodia espagñola, Op. 70
ALKAN
Rondo brilliant, Op. 4
ARENSKY
Fantasia on Themes of Ryabinin, Op. 48
BACH
Concerto #1 in d, BWV 1052
Concerto #4 in A, BWV 1055
Concerto #5 in f, BWV 1056
Concerto #7 in g, BWV 1058
Concerto #1 in c for 2 Pianos, BWV 1060
Concerto #2 in C for 2 Pianos, BWV 1061
Concerto #3 in c for 2 Pianos, BWV 1062
Concerto in a for 4 Pianos, BWV 1065
BARTÓK
Concerto #1 (1926)
Concerto #3 (1945)
Concerto for 2 Pianos & Percussion (1940)
BEETHOVEN
Concerto #1 in C, Op. 15
Concerto #2 in B-flat, Op. 19
Concerto #3 in c, Op. 37
Concerto #4 in G, Op. 58
Concerto #5 in E-flat, Op. 73 ("Emperor")
Concerto in C, Op. 56 ("Triple")
Fantasia in c, Op. 80 ("Choral Fantasy")
transcription of Concerto for Violin
BORTNYANSKY
Concerto in D for Piano & String Orchestra
BRAHMS
Concerto #1 in d, Op. 15
Concerto #2 in B-flat, Op. 83
CHOPIN
Andante Spianato & Grande Polonaise, Op. 22
Concerto #1 in e, Op. 11
Concerto #2 in f, Op. 21
Variations on Mozart's La ci darem la mano, Op. 2
DOHNÁNYI
Variations on a Nursery Song, Op. 25
DVORÁK
Concerto in g, Op. 33
FALLA
Nights in the Gardens of Spain
FRANCK
Les Djinns
Symphonic Variations
GERSHWIN
Concerto in F
Rhapsody in Blue
GLINKA
Divertimento brilliante on Themes from Bellini 's La sonnambula
GRIEG
Concerto in a, Op. 16
HANSON, Howard
Concerto da Camera in c
HAYDN
Concerto in D
Concerto in G
Concerto for Violin & Piano
KANTCHELI
Valse Boston with String Orchestra
KHACHATURIAN
Concerto in D-flat (1936)
KRENEK
Concerto for Organ & Piano
KURBATOV, Alexey
Concerto #2
LISZT
Concerto #1 in E-flat
Concerto #2 in A
Hungarian Fantasy
Malédiction for Piano & Strings
Totentanz
LISZT-BUSONI
Rhapsodie espagnole
LUTOSLAWSKI
Variations on a Theme of Paganini
MENDELSSOHN
Capriccio brillante in b, Op. 22
Concerto #1 in g, Op. 25
Concerto #2 in d, Op. 40
Concerto in A-flat for 2 Pianos
Concerto in E for 2 Pianos
Concerto in d for Violin, Piano & Strings
MESSIAEN
Turangal îla-symphonie
MOSOLOV, Alexander
Concerto #1, Op. 14
MOZART
Concerto #7 in F for 3 Pianos, K. 242
Concerto #8 in C, K. 246
Concerto #9 in E-flat, K. 271
Concerto #10 in E-flat for 2 Pianos, K. 365
Concerto #18 in B-flat, K. 456
Concerto #20 in d, K. 466
Concerto #21 in C, K. 467
Concerto #23 in A, K. 488
Concerto #24 in c, K. 491
Concerto #25 in C, K. 503
Concerto #26 in D, K. 537
Concerto #27 in B-flat, K. 595
PENDERECKI
Resurrection Piano Concerto (Russian premiere)
PODGAITZ
Triple Concerto
POULENC
Concerto in d for 2 Pianos
PROKOFIEV
Concerto #1 in D-flat, Op. 10
Concerto #2 in g, Op. 16
Concerto #3 in C, Op. 26
Concerto #4 in B-flat for the Left Hand, Op. 53
Concerto #5 in G, Op. 55
RACHMANINOFF
Concerto #1 in f-sharp, Op. 1
Concerto #2 in c, Op. 18
Concerto #3 in d, Op. 30
Concerto #4 in g, Op. 40
Rhapsody on a Theme of Paganini, Op. 43
RAVEL
Concerto in D for the Left Hand
Concerto in G
RIMSKY-KORSAKOV
Concerto in c-sharp, Op. 30
ROTA
Concerto in C
RUBINSTEIN
Concerto #3 in G, Op. 45
SAINT-SA ËNS
Africa in g, Op. 89
Concerto #2 in g, Op. 22
Concerto #5 in F, Op. 103
SCHNITTKE
Concerto for Piano & String Orchestra (1979)
SCHUMANN
Concerto in a, Op. 54
SCRIABIN
Concerto in f-sharp, Op. 20
Prometheus, The Poem of Fire, Op. 60
SHCHEDRIN
Concerto #6 ("Lontano") with String Orchestra
SHOR, Alexey
Travel Notebook Concerto for Piano & Orchestra
SHOSTAKOVICH
Concerto #1 in c, Op. 35
Concerto #2 in F, Op. 102
STRAUSS
Burleske in d
SVIRIDOV
Music for Piano, Horn & Strings
SZPILMAN, W.
Concertino (1940)
SZYMANOWSKI
Symphonie concertante #4, Op. 60
TCHAIKOVSKY
Concert Fantasia in G, Op. 56
Concerto #1 in b-flat, Op. 23
Concerto #2 in G, Op. 44
Concerto #3 in E-flat, Op. 75
USTVOLSKAYA
Concerto for Piano, String Orchestra & Timpani
WEBER
Konzertstück in f, J. 282
WIECK-SCHUMANN
Concerto in a, Op. 7
STRAVINSKY: Trois mouvements de Pétrouchka
RACHMANINOFF: Morceau de fantaisie, Op. 3
TCHAIKOVSKY: Grande Sonate, Op. 37

Piano Classics CD: 44

SCRIABIN

Piano Sonata #1 in f, Op. 6
Piano Sonata #4 in F#, Op. 30
Piano Sonata #8 in A, Op. 66
Deux Poèmes, Opp. 32, 44, 63, 69, 71
Poème fantasque, Op. 45, #2
Poème ailé, Op. 51, #3
Poème, Op. 59, #1

Naxos CD: 8.572440

RACHMANINOFF - CONCERTOS #1 & 4 (Original manuscript versions)

Ashkenazy/Helsinki Philharmonic Orchestra

Ondine CD: 977-2


"TRIBUTE TO ALFRED SCHNITTKE"

Concerto for Piano & Strings
Spivakov/Moscow Virtuosi

Capriccio CD:


BRAHMS - THE VIOLIN SONATAS

with Vladimir Spivakov, violinist

Capriccio CD: 71 082


SCRIABIN/Nemtin - MYSTERIUM (Prefatory Act)

Ashkenazy/Deutsches Symphonie-Orchester Berlin

Decca CD: 466 329-2

"LA VALSE - RAVEL PIANO WORKS"

Valses nobles et sentimentales
Gaspard de la nuit
Sonatine
Pavane pour une infante défunte
La Valse (arr. A. Ghindin)

Triton CD:


SCRIABIN

24 Preludes, Op. 11
Piano Sonata #1 in f, Op. 6
Piano Sonata #10, Op. 70

Triton CD:


"DER LINDENBAUM"

Schubert/Liszt: Songs Transcriptions, Vol. 1

Triton CD:


"DER WANDERER"

Schubert/Liszt: Songs Transcriptions, Vol. 2

Triton CD:

Mr. Ghindin ended by conquering the devilish demands of Liszt's Sonata in B minor, the highlight of the evening. The enthusiastic audience was rewarded with three encores.
THE NEW YORK TIMES
The LPO conducted by Vladimir Jurowski and Russian pianist Alexander Ghindin – performing the original version of Rachmaninov's Piano Concerto No. 1 – presented a thoroughly enjoyable and fascinating performance. Both Jurowski and Ghindin were totally committed to showcase the composition at its best. Ghindin, in his Prom debut, manifested full control and controlled passion without any showmanship. His dedication to every note of the virtuoso material and his mastery of cantilena playing did more than justic to Rachmaninov's first version of the concerto.
SEEN & HEARD INTERNATIONAL
It must have been the thrill of their relatively young lives, playing a cornerstone of the repertory with the Cleveland Orchestra in Severance Hall. The lucky - and gifted - four were the finalists in the 17th biennial Cleveland International Piano Competition. It was Alexander Ghindin of Russia who garnered the whopping first prize for a series of muscular and assured performances, including a grandly conceived account of Liszt's B-minor Sonata in the semifinals and a potent and nuanced reading of Rachmaninoff's Third Concerto. Of the four, only Ghindin possessed the stage maturity of a world-class professional pianist.
MusicalAmerica.com
As a pianist, Ghindin is a formidable presence. His tone is big, and he elicits cataracts of sound from the instrument. There is great strength in his arms, wrists and fingers, and he is not afraid to unleash it. His technique, too, is developed to such a degree that he is able to respond to whatever impulse might occur to him at the moment. It makes for an exciting, unpredictable recital experience, in which a well-considered structural and narrative approach is the canvas on which he executes, vivid, sometimes mercurial flashes of inspiration.
THE PLAIN DEALER (Cleveland)
Ghindin Splendid with Rachmaninov [headline]
One could have imagined Rachmaninov himself at the keyboard with an Ormandy-era Philadelphia Orchestra behind him as guest soloist Alexander Ghindin tore into the Rachmaninov First Piano Concerto with Kevin Rhodes at the helm of the Springfield Symphony. It was that good. In pre-concert interviews, Rhodes made grand promises for Ghindin's performance; Ghindin and everyone on stage delivered the goods, utterly justifying the standing ovation that swept the crowd.
THE REPUBLICAN (Springfield, MA)
In the case of the Piano Concerto No. 3 in C Major by Prokofiev, as performed by Alexander Ghindin, we're talking a whole lot of real, honest notes played extraordinarily well. He is one of those rare pianists who combines expressiveness with finely honed technique, so that every note he plays is struck with laser-like precision, yet each passage is so perfectly phrased that the music sounds as if he is improvising on the spot - that the soloist is not so much playing along with the orchestra as challenging it, dueling with it. Ghindin responded to the heartfelt standing ovation he received with an encore that was completely surprising and completely wonderful - John Philip Sousa's The Stars and Stripes Forever, performed in a way that can only be described as orchestral.
TULSA WORLD
Rachmaninoff's Piano Concerto No. 2 can be a trial if the music isn't treated with absolute seriousness. From the brooding opening chords, Ghindin seemed to announce that he would not be a show-off or resort to bombast and cliché. Instead, he emphasized the music's lyricism and connective tissue, stepping to the forefront when the piano needs to play protagonist and weaving the filigreed material deftly into the orchestral soundscapes. Ghindin refused to glide across the surface, preferring to keep the limber folk elements in controlled, quicksilver focus.
THE CHAUTAUQUAN DAILY
The history of musical competitions shows that only a handful of top-prize winners go on to major concert careers. But Ghindin's first recital here since taking first prize in August confirmed that he is no pianistic fluke. He was poetic and charismatic in 'From Russia with Love,' his program at the Cleveland Institute of Music. The advertising turned out to be truthful: The repertoire remained firmly entrenched in the pianist's homeland, and he played as if he adored each of the gazillion notes his fingers projected.
THE PLAIN DEALER (Cleveland)
The enthusiasm of Ghindin's playing is hard to resist, and Tchaikovsky's huge Sonata doesn't appear on disc so often that a performance with such sweep and grandeur can be easily ignored.
THE GUARDIAN (England)
Sasha's performance was stunning. We have had many fine pianists play for us, but none of them have come close to engendering the level of excitement and enthusiasm in our audience as he has - both last night and in his first recital for us in 2009. He is a rare artist: serious and imaginative in creating his programs and interpretations; generous and exuberant in performance. A very special talent.
Arthur Scott, Chair
Artistic Selection Committee
Del Valle Fine Arts (Livermore, CA)
An Aristocrat and a Poet
In Alexander Ghindin we are fortunate to find the perfect combination of artist and musician. His whisper, like that of great tragic actors of the past, is heard clearly even in the last row of the balcony, and his 'shout' never exceeds that of genuine emotion. He has total control of the Hall, speaking to each listener personally, conveying the innermost meaning of the piece he is playing.
EVERYTHING ABOUT THE PIANO WORLD (Moscow)
Rachmaninoff Inside Out - London Philharmonic/Vasily Petrenko - Alexander Ghindin plays the Original Version of Piano Concerto No. 4 [headline]
Much of its positive impression was owing to Alexander Ghindin, who was audibly in control of its intricate virtuosity without losing sight of its overall follow-through. Petrenko and the LPO were alert and attentive, while Ghindin's encore of Tchaikovsky's Lullaby was pathos itself in Rachmaninoff's limpidly idiomatic transcription.
CLASSICAL SOURCE
Rimsky-Korsakov's Concerto is a charming work, full of folksy whimsy, light-spirited sparkle and Russian 'fragrance'. The twists and turns of the opening Moderato were fleetly negotiated by Jurowski and his soloist, Alexander Ghindin, and there was a refreshing airiness. Ghindin had all the notes under his fingers and conjured a sense of freedom and invention: the light touch of the trickling cascades provided glitter but there was also apt power when required.
SEEN & HEARD INTERNATIONAL
9/5/2019 (7pm)

IRKUTSK REGIONAL PHILHARMONIC (Russia)

Ilmar Lapinsh, conductor
Irkutsk Philharmonic Hall

Shor: Travel Notebook Piano Concerto

9/11/2019 (pm)

JERUSALEM SYMPHONY ORCHESTRA (Israel)

Dmitry Yablonsky, conductor
The Opera House (Tel Aviv)

Shor: Travel Notebook Piano Concerto

9/15/2019 (8pm)

JERUSALEM SYMPHONY ORCHESTRA (Israel)

Dmitry Yablonsky, conductor
The Opera House (Tel Aviv)

Shor: Travel Notebook Piano Concerto

9/29/2019 (7pm)

XINGHAI CONSERVATORY OF MUSIC (Guangzhou, China)

Great Hall

Chopin: Fantaisie
Chopin: Scherzo #1
Rachmaninoff: 6 Moments musicaux

10/3/2019 (7pm)

NOVOYA OPERA THEATRE (Moscow, Russia)

Concert Hall

Duo-Recital with Basinia Shulman, pianist
Rimsky-Korsakov/Gryaznov: The Legend of the Invisible City of Kitezh
Tchaikovsky/Pabst: Concert Paraphrase on Eugene Onegin     
Stravinsky: Petroushka

10/5/2019 (5pm)

ELEKTROSTAL CITY MUSIC HALL (Russia)

Chopin: Fantaisie
Chopin: Variations brillantes
Chopin: 4 mazurkas
Chopin: Polonaise #6

10/8/2019 (7pm)

MOSCOW STATE SYMPHONY ORCHESTRA (Russia)

Arsentiy Tkachenko, conductor
Great Hall, Moscow P.I. Tckaikovsky Conservatory

Schnittke: Concerto for Piano & Strings

10/22/2019 (7pm)

ZARYADYE CONCERT HALL (Moscow, Russia)

Rayhelson: Piano Quintet
Shostakovich: Piano Trio #2
Weinberg: Piano Quintet

10/24/2019 (7pm)

THE ENSEMBLE OF SOLOISTS HERMITAGE (Russia)

Alexander Ghindin, conductor
Chamber Hall, Moscow International House of Music

10/27/2019 (6pm)

TVER REGIONAL ACADEMIC PHILHARMONIC (Russia)

, conductor
Weinberg: Piano Quintet (orchestrated)

Rachmaninoff: Piano Concerto #2

10/29/2019 (7pm)

MOSCOW P.I. TCHAIKOVSKY CONSERVATORY (Russia)

Small Hall

Rayhelson: Piano Quintet
Shostakovich: Piano Trio #
Weinberg: Piano Quintet

11/1/2019 (7pm)

OMSK PHILHARMONIC HALL (Russia)

Chopin:

11/8/2019 (7pm)

GHINDINFEST (Chernogolovka, Russia)

Concert Hall, Russian Academy of Sciences

Duo-Recital with Boris Berezovsky, pianist
Rimsky-Korsakov/Gryaznov: The Legend of the Invisible City of Kitezh
Messiaen: 3 Amens
Arensky: Suite #2
Ravel/Gryaznov: Daphnis et Chloé (suite)

11/9/2019 (7pm)

GHINDINFEST (Moscow, Russia)

Zaryadye Concert Hall

Duo-Recital with Boris Berezovsky, pianist
Rimsky-Korsakov:
Messiaen:
Arensky:
Ravel:

11/14/2019 (7pm)
11/19/2019 (7pm)

GHINDINFEST (Moscow, Russia)

Great Hall, Moscow P.I. Tchaikovsky Conservatory

Duo-Recital with Vasily Ladyuk, baritone
Mahler:
Schumann:

11/24/2019 (12pm)

THE ENSEMBLE OF SOLOISTS HERMITAGE (Russia)

Alexander Ghindin, conductor
Chamber Hall, Moscow International House of Music

12/1/2019 (8pm)

GHINDINFEST (Moscow, Russia)

St. Petersburg Philharmonic Orchestra
Alexay Dmitriev, conductor
Great Hall, St. Petersburg Philharmonic Hall

Liszt: Piano Concerto #2

12/6/2019 (7pm)

THE ENSEMBLE OF SOLOISTS HERMITAGE (Russia)

Alexander Ghindin, conductor
Chamber Hall, Moscow International House of Music

12/9/2019 (7pm)

KAZAN PHILHARMONIC HALL (Russia)

Chopin:

12/12/2019 (7pm)

BELGOROD PHILHARMONIC ORCHESTRA (Russia)

Rashid Nigamatulin, conductor
Philharmonic Hall

Rachmaninoff: Piano Concerto #2

1/26/2020 (12pm)

THE ENSEMBLE OF SOLOISTS HERMITAGE (Russia)

Alexander Ghindin, conductor
Chamber Hall, Moscow International House of Music

2/14/2020 (7pm)

THE ENSEMBLE OF SOLOISTS HERMITAGE (Russia)

Alexander Ghindin, conductor
Chamber Hall, Moscow International House of Music

3/1/2020 (7pm)

SARATOV PHILHARMONIC (Russia)

Alexander Ghindin, conductor
Philharmonic Hall

Brahms: Piano Concerto #2

3/15/2020 (7pm)

THE STATE ACADEMIC SYMPHONY ORCHESTRA (Russia)

Vasily Sinaysky, conductor
Great Hall, Moscow P.I. Tchaikovsky Conservatory

Brahms: Piano Concerto #2

3/29/2020 (7pm)

SVIATOLSLAV RICHTER MEMORIAL APARTMENT (Moscow, Russia)

Duo-recital with Ailen Pritchin, violinist
Mozart: Violin Sonata #18
Hindemith: Violin Sonata
Beethoven: Violin Sonata #5

4/5/2020 (12pm)

THE ENSEMBLE OF SOLOISTS HERMITAGE (Russia)

Alexander Ghindin, conductor
Chamber Hall, Moscow International House of Music

4/23/2020 (7pm)

THE ENSEMBLE OF SOLOISTS HERMITAGE (Russia)

Alexander Ghindin, conductor
Chamber Hall, Moscow International House of Music
Schumann: Symphonic Etudes, Op. 13

Great Hall, Moscow P.I. Tchaikovsky Conservatory
April 10, 2018

Prokofiev: Sonata #6 in A, Op. 82

Great Hall, Moscow P.I. Tchaikovsky Conservatory
April 10, 2018

Paganini/Liszt: La Campanella

Great Hall, Moscow P.I. Tchaikovsky Conservatory
April 10, 2018

Beethoven: Variations in F
Brahms: 9 piano pieces
Mussorgsky: Pictures at an Exhibition

Tchaikovsky Concert Hall (Moscow, Russia)
April 20, 2017

Chopin: Piano Concerto #1 in e, Op. 11 (approximately 20:40 to 58:50)
Chopin: Piano Concerto #2 in f, Op. 21 (approximately 1:02:28 to 1:32.18)
Moscow State Symphony Orchestra
Pavel Sorokin, conductor
January 11, 2016

Rachmaninoff: Piano Concerto #4 in g, Op. 40

Ural Philharmonic Orchestra
Dmitri Liss, conductor
July 11, 2013

Grieg: Piano Concerto in a minor, Op. 16

Moscow City Symphony "Russian Philharmonic"
Dmitri Jurowski, conductor
July 29, 2012