Amadi Azikiwe
violist
Biography
Repertoire
Reviews
Itinerary
Media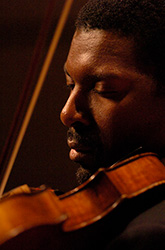 A native of New York City, violist AMADI AZIKIWE enjoys a global, multi-faceted career and reputation, known for his stunning solo and recital performances, chamber music collaborations and community engagement events. He is also renowned as a violinist and conductor.
In the United States, Amadi Azikiwe has been heard as a recitalist in Baltimore, Boston, Chicago, Cleveland, Houston, New York City, Pittsburgh, San Francisco and Washington, DC, including a performance at the Supreme Court of the United States. He has also been a guest artist with The Chamber Music Society of Lincoln Center, both in New York City and at The John F. Kennedy Center for the Performing Arts in Washington. Internationally, he has toured in Canada, Central and South America, Switzerland, Israel, Nigeria, India, Japan, Hong Kong and throughout the Caribbean.
Amadi Azikiwe has been guest soloist with the American symphony orchestras of Delaware, Fort Collins, Indiana University, North Carolina, Roanoke, Salisbury, SUNY/Fredonia, Virginia, Virginia Beach, Winston-Salem and Western Piedmont, the Prince George's and Richmond philharmonic orchestras and the orchestras of the Gateways and Hot Springs music festivals.
As an avid chamber musician, Amadi Azikiwe has toured with Music from Marlboro and performed at numerous festivals, among them: Tanglewood, Aspen, Bravo! Vail, Carolina, Charlottesville, El Paso, Maui, Missouri, Norfolk, Salt Bay, San Juan Islands, Staunton, Virginia and Yachats. He has also appeared in concert with the Chicago Chamber Musicians, Kandinsky Trio and Harlem Chamber Players, as well as the Anderson, Arianna, Chester, Corigliano, Harrington, Miro and St. Lawrence string quartets.
On CD, Amadi Azikiwe can be heard on the Helicon label in Tchaikovsky's Souvenir de Florence with the Concertante Chamber Players. He has also recorded James Cohn's Sonata for Viola and Piano for MSR. Mr. Azikiwe's performances have been broadcast on National Public Radio's "Performance Today" and "St. Paul Sunday", on WNYC (New York City), WGBH (Boston), WFMT (Chicago) and the BBC. He has also been seen and heard on various telecasts in South America.
Amadi Azikiwe was born in 1969. After early studies with his mother, he began his formal training at the North Carolina School of the Arts, as a student of Sally Peck. He continued his studies at the New England Conservatory with Marcus Thompson and conductor Pascal Verrot, earning his Bachelor's degree. Subsequently, Mr. Azikiwe became a student of Atar Arad at Indiana University, where he was awarded the Performer's Certificate, served as an associate Instructor and received his Master's degree.
Among Amadi Azikiwe's prizes and awards are those from the New York Philharmonic, Concert Artists Guild, North Carolina Symphony, National Society of Arts and Letters and the Epstein Young Artists Award from the Boys & Girls Clubs of America, with which he maintains a strong artistic and mentoring association.
BACH, J.S.
Brandenburg Concerto #6 in B-flat, BWV 1051
BARTÓK
Concerto
BLOCH
Suite (1919)
BRITTEN
Lachrymae for Viola & Strings
BRUCH
Concerto for Clarinet & Viola, Op. 88
Kol Nidrei, Op. 47
Romanze, Op. 85
BYERS, Patrick
Concerto
HAILSTORK, Adolphus
Two Romances for Viola & Chamber Orchestra
HINDEMITH
Der Schwanendreher (1935)
HOFFMEISTER
Concerto in D
MARTINŮ
Rhapsody-Concerto (1952)
MOZART
Sinfonia concertante in E-flat, K. 364
PENDERECKI
Concerto (1983)
STAMITZ, Carl
Concerto in D
TELEMANN
Concerto in G
Concerto for 2 Violas
WALTON
Concerto (1928-29)
Violist Amadi Azikiwe is a musician who plays so effortlessly that the listener does not fully appreciate what has been accomplished until refection after the fact. He captured perfectly the spirit of the Jewish prayer (Bruch's Kol Nidre) and the technical feats demanded by the Paganini (Sonata per la Grand Viola).
NEW YORK AMSTERDAM NEWS
Azikiwe seemed to have mastered every leap and slide and drawn-out tone and intricate line [Penderecki Viola Concerto]. One was left, not only with a feeling of amazement over technical skills but with a sense of satisfaction that here was music of substance capable of giving pleasure, and here was a well chosen soloist for it.
THE HERALD-TIMES (Bloomington, IN)
Violist Amadi Azikiwe clarified not only the work's stature, but also revealed a depth of power and lyric beauty. A wide, rich palette of tone further enhanced the remarkable young artist's expressive approach to the music.
DEMOCRAT & CHRONICLE (Rochester, NY)
Guest violist Amadi Azikiwe electrified the listeners with Walton's Concerto for Viola. Each of the three movements was performed with artistic agility and intensity.
THE SALISBURY POST (North Carolina)
Violist Amadi Azikiwe made a great impression with the strength and sensitivity of his playing.
SUNDAY PATRIOT-NEWS (Harrisburg, PA)
Opening with Vieuxtemps' Sonata in B-flat Major, the viola immediately produces a big, rich sound in the Maestoso movement. Beautiful sustained tomes gave way when the Barcarolla kicked in, and Mr. Azikiwe proved himself eminently capable of some very fast and intricate fingering. He positively blazed through the Finale Scherzando.
THE POST AND COURIER (Charleston, SC)
Azikiwe's attacks were lively and his tone colors seductive. His sound brought to mind an impossibly high cello and a deeply throaty violin.
THE VIRGINIAN PILOT (Norfolk)
Most delicious of all were Azikiwe's warm tones and ardent phrasing in the second movement [Bartók Viola Concerto]–there was a little master class in rubato here. He then leapt into the finale with some stunning fingerwork.
THE NEWS & OBSERVER (Raleigh, NC)
Missouri Chamber Music Festival gets off to a strong start [headline]
The opener was Three Madrigals for Violin and Viola by Bohislav Martinu, played by the well-matched Maria Schleuning and Amadi Azikiwe. Madrigals is sometimes prickly, sometimes lyrical, and filled with complex rhythmic figures and the folk harmonies of Martinu's native Bohemia. As performed by Schleuning and Azikiwe, it was always engaging. Azikiwe is a find, a violist with a distinctive, muscular sound. He and Schleuning were well-matched and very much in sync.
ST. LOUIS POST-DISPATCH
9/12/2019 (6pm)

CARLOLINA CHAMBER MUSIC FESTIVAL

Gallery Bank of the Arts (New Bern, NC)

Milhaud: String Quartet #6
Beethoven: String Quartet #3
with Catherine French, violinist
Melvin Chen, violinist
Jennifer Lucht, cellist

9/26/2019 (7pm)

THE HARLEM CHAMBER PLAYERS (NYC)

Broadway Presbyterian Church

Tchaikovsky: Souvenir de Florence
Beethoven: Sextet for 2 Horns & String Quartet
Britten: Phantasy Quartet
with Hassan Anderson, oboist
Eric Davis, hornist
William de Vos, hornist
Joyce Hamman, violinist
Claire Chan, violinist
Aundrey Mitchell, violist
Robert Burkhart, cellist
Caryl Paisner, cellist

10/20/2019 (3pm)

MUSICA VIVA

Moss Arts Center, Virginia Tech (Blacksburg, VA)

Tchaikovsky: Souvenir de Florence

10/27/2019 (3pm)

THE HARLEM CHAMBER PLAYERS (NYC)

The Bernie Wohl Center, Goddard Riverside Community Center

Schubert: String Quintet
Debussy: Sonata for Flute, Viola & Harp
del Águila: Submerged
with Julietta Currenton, flutist
Ashley Jackson, harpist
Joyce Hamman, violinist
Claire Chan, violinist
Robert Burkhart, cellist

11/9/2019 (8pm)

PRESSENDA CHAMBER PLAYERS

Washington Conservatory of Music (Bethesda, MD)

11/22/2019 (7pm)

THE HARLEM CHAMBER PLAYERS (NYC)

Broadway Presbyterian Church

"Annual Bach Concert"
Brandenburg Concerto #4
selected arias
Triple Violin Concerto
with Brandie Sutton, soprano
Lucia Bradford, mezzo-soprano
Julietta Currenton, flutist
Tia Roper, flutist
Ashley Horne, violinist
Claire Chan, violinist
Suzanne Gilman, violinist
Chala Yancy, violinist

1/19-27/2020

VERO BEACH CHAMBERFEST (FL)

First Presbyterian Church

2/1/2020 (8pm)

PRESSENDA CHAMBER PLAYERS

Washington Conservatory of Music (Bethesda, MD)

2/13/2020 (6:30pm)

SCHOMBURG CENTER FOR RESEARCH IN BLACK CULTURE (NYC)

"12th Annual Black History Month Celebration
with Renay Joubert, soprano
Joseph Joubert, pianist
Terrance McKnight, WQXR host

5/2/2020 (8pm)

PRESSENDA CHAMBER PLAYERS

Washington Conservatory of Music (Bethesda, MD)

5/10/2020 (3pm)

CHARLESTOWN CHAPEL CONCERT SERIES

Our Lady of the Angels Chapel (Catonsville, MD)

J.S. Bach: Suite #5 (solo viola)
Schubert: Arpeggione Sonata
Beethoven: Violin Sonata #4
Ravel: Violin Sonata #2
with Debby Azikiwe, pianist
Cohn: Sonata for Viola & Piano (mvt. III – excerpt)
Bank of the Arts (New Bern, NC)
February 16, 2016

J.S. Bach: Suite #5 in c minor (Gavottes I & II; excerpts)
Forbes Center for the Performing Arts Recital Hall (Harrisonburg, VA)
January 10, 2014

Perkinson: Blue/s Forms
Friday Musicale Auditorium (Jacksonville, FL)
February 20, 2011

Paganini: Sonata per la Grand Viola (candenza excerpts)

Friday Musicale Auditorium (Jacksonville, FL)
February 20, 2011