Anna Shelest
pianist
Biography
Repertoire
Discography
"Donna Voce"
Reviews
Itinerary
Media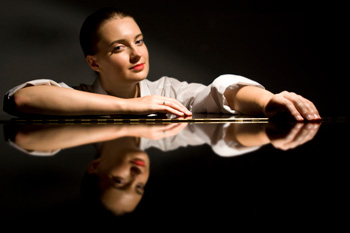 Hailed by The New York Times as a pianist of "a fiery sensibility and warm touch," ANNA SHELEST is an international award-winning artist who has thrilled audiences throughout the world.
Anna Shelest made her orchestral debut at the age of twelve with the Kharkiv Symphony Orchestra and has, subsequently, appeared as soloist with many distinguished orchestras, among them the Cincinnati Symphony Orchestra, Orchestre Symphonique de Montréal, St. Petersburg Philharmonic Orchestra and Estonian National Symphony Orchestra. In recital, she has been heard in New York City's Stern Auditorium and Weill Recital Hall at Carnegie Hall, Lincoln Center for the Performing Arts' Alice Tully Hall, Washington, DC's John F. Kennedy Center for the Performing Arts, Mexico City's Palacio de Bellas Artes and Austria's Wiener Konzerthaus.
With her husband, pianist Dmitri Shelest, Anna has recorded "Ukrainian Rhapsody," an album exploring the rich repertoire for solo and four hands piano by composers of their homeland.  This CD was broadcast on radio stations throughout the United States, many of which selected it as their Album of the Week. The same wide-spread media enthusiasm greeted her 2019 solo album, "Donna Voce," comprised of scores by women composers drawn from the last three centuries. She records exclusively with Sorel Classics, which has issued six CDs to date.
A champion of esoteric repertoire, Anna Shelest is currently collaborating with legendary conductor Neeme Järvi on a project to record the complete works for piano and orchestra by Anton Rubinstein. The initial CD of the set features the Concerto #4 and Caprice Russe and was released in 2018 to wide critical acclaim. Early in 2019, Ms. Shelest's latest album in this series was released: Rubinstein's Concertos #3 and #5 with the Estonian National Symphony Orchestra.
A native of Ukraine, Anna Shelest received her early music education at the Kharkiv Special Music School. She received her Masters Degree from The Juilliard School in New York City, where she studied with Jerome Lowenthal.
Anna Shelest makes her home in New York City with her husband and two sons.
BACH, J.S.
Concerto #1 in d, BWV 1052
BEETHOVEN
Concerto #4 in G, Op. 58
Fantasia in c, Op. 80 ("Choral Fantasy")
CHAMINADE
Konzertstuck, Op. 40 (1888)
GERSHWIN
Rhapsody in Blue
LISZT 
Totentanz
MOZART
Concerto #11 in F, K. 413
Concerto #21 in C, K. 467
Concerto #23 in A, K. 488
Concerto #24 in c, K. 491
POULENC
Concerto for 2 Pianos
PROKOFIEV
Concerto #1 in D-flat, Op. 10
Concerto #2 in g, Op. 16

RACHMANINOFF
Concerto #1 in f-sharp, Op. 1 (rev. 1917)
Concerto #2 in c, Op. 18
Concerto #3 in d, Op. 30
Rhapsody on a Theme of Paganini , Op. 43
RUBINSTEIN
Caprice Russe, Op. 102
Concerto #2 in F, Op. 35
Concerto #3 in G, Op. 45
Concerto #4 in d, Op. 70
Concerto #5 in E-flat, Op. 94
SAINT-SAËNS
Concerto #2 in g, Op. 22
SCHUMANN, Clara
Concerto in a, Op. 7
SHOSTAKOVICH
Concerto #1 in c, Op. 35
Concerto #2 in F, Op. 102
STRAUSS
Burleske in d
TCHAIKOVSKY
Concerto #1 in b-flat, Op. 23
"DONNA VOCE"

Fanny Mendelssohn: Sonata in g
Amy Beach: Ballade, Op. 6
Amy Beach: Four Sketches, Op. 15 (Phantoms, Dreaming)
Clara Schumann: Scherzo, Op. 14
Cecile Chaminade: Les Sylvains
Cecile Chaminade: Concert Etudes, Op. 35 (Automne, Scherzo)
Lili Boulanger: Prelude in D-flat
Chia-Yu Hsu: Rhapsody Toccata

Sorel Classics: SC CD 015

ANTON RUBINSTEIN

Piano Concerto #3 in G, Op. 45
Piano Concerto #5 in E-flat, Op. 94
Neeme Järvi/Estonian National Symphony Orchestra

Sorel Classics: SC CD 014

ANTON RUBINSTEIN

Piano Concerto #4 in d, Op. 70
Caprice Russe, Op. 102
Neeme Järvi/The Orchestra Now

Sorel Classics: SC CD 013

"UKRAINIAN RHAPSODY"

Lysenko: Suite on Ukrainian Themes, Op. 2
Lysenko/Revutsky: Overture to the Opera Taras Bulba
with Dmitri Shelest, pianist
Revutsky: Preludes, Op. 4 & Op. 7
Revutsky: Waltz in B-flat
Zhuk: Ukrainian Rhapsody
Skoryk: Three Extravagant Dances
with Dmitri Shelest, pianist

Sorel Classics: SC CD 011

PROKOFIEV

Piano Concerto #1 in D-flat, Op. 10
Piano Concerto #2 in g, Op. 16
Niels Muus/Janácek Philharmonic Orchestra

Sorel Classics: SC CD 006

"TUTTI" - SHELEST PIANO DUO

Smetana: The Moldau
Liszt: Les Préludes
Tchaikovsky: Symphony #6 in b, Op. 74 (mvt. III)
Ravel/Garban: La valse
Gershwin/Levine: Rhapsody in Blue

Sorel Classics: SC CD 002

"SPIRIT & ROMANCE"

Bach/Busoni: Chaconne
Liszt: Sonetto 104 del Petrarca
Schubert/Liszt: Gretchen am Spinnrade
Wagner/Liszt: Isoldes Liebestod
Schumann: Piano Sonata 31 in f-sharp, Op. 11

Sorel Classics: SC CD 001

"PICTURES AT AN EXHIBITION"

Glinka/Balakirev: The Lark
Tchaikovsky: Romance in f, Op. 5
Tchaikovsky: Valse in A-flat, Op. 40, #8
Tchaikovsky: Romance in F, Op. 51, #5
Tchaikovsky: Valse in f-sharp, Op. 40, #9
Tchaikovsky: Nocturne in F, Op. 10, #1
Mussorgsky: Pictures at an Exhibition

Sorel Classics: SC CD 007
Donna Voce ( Woman's voice) is a virtuosic piano program that puts listeners up close and personal with female composers of the last three centuries. By sharing their compelling life stories and wide ranging oeuvre, Anna Shelest makes the case for the power of this music to capture hearts and minds of today's listeners.
Recital Presentation:
https://www.annashelest.com/donna-voce-project
Anna Shelest brought a fiery sensibility and warm touch to the piano solo of Beethoven's Choral Fantasy, whose theme evokes the famous melody of his Ninth Symphony. Soloist and orchestra collaborated effectively for an energetic rendition that highlighted the improvisatory character of the work.
THE NEW YORK TIMES
RUBINSTEIN Piano Concerto No. 4
The conductor launches into the first-movement introduction at a faster than usual clip, while Shelest sails through her introductory cadenza with bracing confidence and not a single splinter or vagary in those massive chords. Her forward-moving phrasing and flexibility are exactly what this burly music demands. The pianist's tone opens up in the cadenza, where even a home listener gets a sense of how her melodic projection extends out towards the venue's proverbial peanut gallery. If anything, the tumultuous finale showcases Shelest's power and agility operating at more inspired capacity, tossing out runs, leaps and octave surges to effortless effect.
GRAMOPHONE
Anna Shelest delivers a powerhouse performance in the new release, Anton Rubinstein Piano Concerto No. 4. The Rubinstein Concerto No. 4 is gargantuan and Shelest is simply brilliant in her navigation of this iconic 19th-century Russian's work. She captures the rich beauty of all Rubinstein's melodies, both broad orchestral statements and intimate piano utterances. Conductor Neeme Järvi brings his extraordinary skill to the podium to direct the energies released by the music. The CD also includes Rubinstein's Caprice Russe whose strong national folk content stands in contrast to the more European flavour of the concerto. It's a thrilling live recording.
THE WHOLE NOTE MAGAZINE
It was a great pleasure to present Anna Shelest to my Topeka Symphony audience. We performed Clara Schumann's Piano Concerto and Cecile Chaminade's Konzertstuck, two neglected works by women that make a terrific programming combination. Anna plays beautifully, and it was a wonderful and easy collaboration. One of my violinists said, 'I've never heard an artist make a piano sparkle like Anna does!' The audience loved both pieces, and many people asked why they've never heard them before.
KYLE WILEY PICKETT, MUSIC DIRECTOR
TOPEKA SYMPHONY
A new piano duo on the scene is the Ukrainian-born, and now New York-based couple, Anna and Dmitri Shelest. Shelest Piano Duo have released their first recording, TUTTI, with substantial standard repertoire items. Among the disc's highlights are Liszt's own arrangement of his Les Préludes played with consistent brilliance and sensitivity through to its magnificent conclusion. Tchaikovsky's Sixth Symphony Allegro is an impressive display of melody and countermelody beautifully balanced and phrased. [In Ravel's La Valse], the Shelests capture the chaos and complexity familiar in the orchestral version and bring it to a stunning finish."
THE WHOLE NOTE MAGAZINE
Anna Shelest has not only won me over with her astoundingly dexterous and emotive pianism, but has truly proved herself a whiz at programming her albums. Even if her newest CD, Donna Voce, was not a collection of piano solos by female composers who deserve as much attention as their male contemporaries, I would have been impressed. Certainly Fanny Mendelssohn (represented by a firecracker rendition of her Sonata in G Minor) and Clara Schumann (a buttery, melodiousScherzo No. 2 in C Minor) have made the rounds these days, but that has more to do with their relationships to Felix and Robert. While Shelest's powerful accounts of these pieces is worth the price of admission, the other represented women [Cécile Chaminade, Amy Beach, Lili Boulanger, Chia-Yu Hsu] are eye-openers.
STAGE AND CINEMA
8/1/2022 (5pm)

NANTUCKET MUSICAL ARTS SOCIETY (MA)

"Meet the Artists"

8/2/2022 (7pm)

NANTUCKET MUSICAL ARTS SOCIETY (MA)

First Congregational Church in Nantucket

Lysenko/Revutsky: Overture to the Opera Taras Bulba
Revutsky: 3 Preludes (Ms. Shelest)
Beach: Summer Dreams (4 mvts.)
Skoryk: 3 Extravagant Dances
Bortkevych: Folk Melodies & Dances (Molto sostenuto e tranquillo)
Gottschalk: La Jota Aragonesa (Caprice espagnol)
Barber: Souvenirs (Hesitation Tango)
Briggs: Sonatine
Gershwin/Levine: Rhapsody in Blue
with Shelest Piano Duo

9/23/2022 (7pm)

ESTONIAN NATIONAL SYMPHONY ORCHESTRA

Neeme Järvi, conductor
Estonia Concert Hall (Tallinn)

Rubinstein: Piano Concerto #1

10/8/2022 (6pm)

BARGEMUSIC (Brooklyn, NY)

The Barge

Lysenko/Revutsky: Overture to the Opera Taras Bulba
Revutsky: 3 Preludes (Ms. Shelest)
Beach: Summer Dreams (4 mvts.)
Skoryk: 3 Extravagant Dances
Bortkevych: Folk Melodies & Dances (Molto sostenuto e tranquillo)
Gottschalk: La Jota Aragonesa (Caprice espagnol)
Barber: Souvenirs (Hesitation Tango)
Briggs: Sonatine
Gershwin/Levine: Rhapsody in Blue
with Shelest Piano Duo

10/18/2022 (2:25pm)

DARTMOUTH COLLEGE (Hanover, NH)

Spaulding Auditorium, Hopkins Center


lecture/recital
F. Mendelssohn: Das Jahr
Liszt: Mazeppa

11/13/2022 (4pm)

BARGEMUSIC (Brooklyn, NY)

The Barge

Mozart: Fantasia, K. 475
Lysenko: Suite on Ukrainian Themes (Prelude, Toccata)
Bortkiewicz: A Thousand and One Nights Suite
Liszt: Consolation #3
Liszt: Transcendental Etude #4

11/15/2022 (5:30pm)

PIANO EVENINGS WITH DAVID DUBAL

Grace & St. Paul's Church (NYC)

Bortkiewicz: A Thousand and One Nights Suite
Liszt: Transcendental Etude #4

2/19/2023 (3pm)

UNITED METHODIST CHURCH WESTLAKE VILLAGE (CA)

Mozart: Fantasia, K. 475
Lysenko: Suite on Ukrainian Themes (Prelude, Toccata)
Bortkiewicz: A Thousand and One Nights Suite
Skoryk: Melody
with Gulia Gurevich, violinist
Silvestrov: Kitsch Music
Liszt: Transcendental Etude #4

3/18/2023 (8pm)

UKRAINIAN CONTEMPORARY MUSIC FESTIVAL (NYC)

Merkin Hall, Kaufmann Music Center

Didorenko: 7 Ukrainian Folk Songs
with Shelest Piano Duo
Ilnitska: Nocturne (Ms. Shelest)

5/7/2023 (7pm)

FAUST HARRISON PIANOS (NYC)

Lysenko/Revutsky: Overture to the Opera Taras Bulba
with Shelest Piano Duo
Lysenko: Taras Bulba (Nastya's aria "My soul is trembling")
with Alenadra Lushtak, mezzo-soprano
Lysenko: Moment of Despair and Elegy
with Andrii Didorenko, violinist
Yuliya Basis, pianist
Revutsky: 2 Ukrainian Folk Songs
with Alenadra Lushtak, mezzo-soprano
Bortkiewicz: 4 Pieces
with Andrii Didorenko, violinist
Yuliya Basis, pianist
Bortkiewicz: Nocturne
Almashi: Carpathian Song
with Shelest Piano Duo
Ilnytska: Nocturne
Didorenko: Postcards and Amusements
with Andrii Didorenko, violinist
Yuliya Basis, pianist
Didorenko: 7 Ukrainian Folk Songs
with Shelest Piano Duo

5/9/2023 (7:30pm)

RARITAN VALLEY COMMUNITY COLLEGE (Branchburg, NJ)

Nash Theatre

Lysenko/Revutsky: Overture to the Opera Taras Bulba
Beach: Summer Dreams (selections)
Almashi: Carpathian Song
Gottschalk: La Jota Aragonesa (Caprice espagnol)
Skoryk: 3 Extravagant Dances
Barber: Souvenirs (Hesitation Tango)
Gershwin/Levine: Rhapsody in Blue
with Shelest Piano Duo

5/17/2023 (7:30pm)

WESTERVILLE SYMPHONY (OH)

Peter Stafford Wilson, conductor
Fritsch Theatre at Cowan Hall, Otterbein College

Rachmaninoff: Rhapsody on a Theme of Paganini

6/21/2023 (7pm)

ESTONIAN NATIONAL SYMPHONY ORCHESTRA

Neeme Järvi, conductor
Estonia Concert Hall (Tallinn)

C. Schumann: Piano Concerto
Chaminade: Konzertstuck
Poulenc: Concerto for 2 Pianos
with Dmitri Shelest, pianist

1/29/2024 (7:30pm)

FLORIDA KEYS CONCERT ASSOCIATION

Marathon High School Performing Arts Center

Lysenko/Revutsky: Overture to the Opera Taras Bulba
Beach: Summer Dreams
Gottschalk: La Jota Aragonesa (Caprice espagnol)
Barber: Souvenirs (Hesitation Tango)
Skoryk: 3 Extravagant Dances
Bortkevych: Folk Melodies & Dances
Gershwin/Levine: Rhapsody in Blue
with Shelest Piano Duo

1/30/2024 (7:30pm)

FLORIDA KEYS CONCERT ASSOCIATION

Coral Shores High School Auditorium (Tavernier)

Lysenko/Revutsky: Overture to the Opera Taras Bulba
Beach: Summer Dreams
Gottschalk: La Jota Aragonesa (Caprice espagnol)
Barber: Souvenirs (Hesitation Tango)
Skoryk: 3 Extravagant Dances
Bortkevych: Folk Melodies & Dances
Gershwin/Levine: Rhapsody in Blue
with Shelest Piano Duo

2/1/2024 (4pm)

MOORINGS PARK (Naples, FL)

Bower Chapel

with Shelest Piano Duo

4/13/2024 (7pm)

DULUTH SUPERIOR SYMPHONY ORCHESTRA (MN)

Dirk Meyer, conductor
Symphony Hall, Duluth Entertainment Convention Center

C. Schumann: Piano Concerto
Schubert: Sonata in a, D. 784
Faust Harrison Pianos Salon (NYC)
2021

Mozart: Fantasie in c, K. 475
Faust Harrison Pianos Salon (NYC)
2021

Fanny Mendelssohn: Sonata in g
Faust Harrison Pianos Salon (NYC)
2021

Gershwin: Rhapsody in Blue (piano 4-hands, with Anna & Dmitri Shelest)
Faust Harrison Pianos Salon (NYC)
2021

Arensky: Polichinelle (piano 4-hands, with Anna & Dmitri Shelest)
Faust Harrison Pianos Salon (NYC)
2021

YouTube channel: "Shelest at the Piano"