Anthony Blake Clark
conductor
Biography
Reviews
Itinerary
Media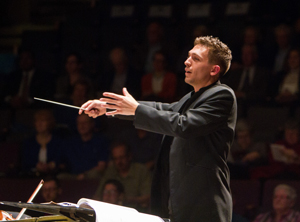 Currently leading his fourth season as Music Director of the nationally acclaimed and Emmy Award-winning Baltimore Choral Arts Society, conductor and composer ANTHONY BLAKE CLARK enjoys a reputation as one of the freshest young voices in classical music.
During his tenure with the Baltimore Choral Arts Society, Anthony Blake Clark has consistently received rave reviews, both for work on the podium in his subscription concerts and his preparation of choruses for performances with the Baltimore Symphony Orchestra. Mr. Clark's leadership of Baltimore Choral Arts has been recognized with a Regional Arts and Entertainment Emmy nomination for 2019's "Christmas with Choral Arts" and the reception of two prestigious  2020 awards: the American Prize in Choral Conducting (community division) and the Chorus America Alice Parker Award. Recently, he led the ensemble on an enthusiastically received tour of the United Kingdom, culminating in a collaboration on Mahler's 8th Symphony with the City of Birmingham Symphony Orchestra. He annually conducts and produces the celebrated "Christmas with Choral Arts," televised on ABC2. The premiere choral organization in the Baltimore region, BCAS reaches more than 100,000 people each year and is an integral part of the fabric of Baltimore's performing arts scene. Mr. Clark is also Director of Choral Activities in The George Washington University's Corcoran School of Art and Design, where he conducts the University Singers and Women's Ensemble, and mentors student conductors. With his university choirs, he has led performances at the John F. Kennedy Center for the Performing Arts, Washington National Cathedral and the Music Center at Strathmore.
Appreciated for his scrupulous attention to detail, Anthony Blake Clark has prepared choruses for esteemed maestri Sir John Eliot Gardiner, Simon Halsey, CBE and Gijs Leenaars for concerts with internationally renowned ensembles, including the Baltimore Symphony Orchestra, Berliner Philharmoniker and Rundfunk Chor Berlin. At New York City's Lincoln Center for the Performing Arts, he was recently one of several conductors for David Lang's 1,000-voice the public domain, working under his mentor Simon Halsey; he returned as chorusmaster for the 2018 premiere of John Luther Adams' In the Name of the Earth.
A native of Texas, Anthony Blake Clark attended Baylor University School of Music, studying composition with Dr. Scott McAllister and conducting with Dr. Lynne Gackle. He was a member of the prestigious Baylor A Cappella Choir and, in his final year, served as a student conductor of the Baylor Chamber Singers. While still an undergraduate, he began his conducting activity by co-founding The Texas Baroque Ensemble, presenting in and around San Antonio a wide range of repertoire from the Baroque and Classical eras. Mr. Clark completed advanced conducting studies under three-time Grammy Award winner Simon Halsey, CBE at the United Kingdom's University of Birmingham, which conferred his Master's of Music Degree in 2015. While a graduate student, he helped administer the choral ensembles on campus, conducted the University Camerata and was a member of the famed City of Birmingham Symphony Chorus, singing under the batons of Sir Simon Rattle, Edward Gardiner, Andris Nelsons and Gianandrea Noseda. His time in England also included employment by the CBSO to conduct its Arts Champion Community Choir as part of an initiative to create a community Chorus network across the city, conducting the London Symphony Chorus "Come and Sing Day," took rehearsals for the CBSO Chorus and led the Barber Summer Festival Sinfonia in its annual performance.
Anthony Blake Clark moved to the Baltimore/Washington area to become Director of Music and Worship Arts at Chevy Chase United Methodist Church, where he regularly led the Sanctuary Choir in performances of sacred masterworks, while reviving the "Soundings Concert Series." Mr. Clark also served as Artistic Director of St. Maries Musica, the premiere choral ensemble of Southern Maryland.
Anthony Blake Clark is a frequent clinician and has been a guest of Historic Christchurch Alexandria, the Deer Creek Chorale and high school choirs in Maryland, New York and Texas. Recently, he made his debut with the Symphony Orchestra of Northern Virginia. Mr. Clark also has extensive training in festivals and workshops under master tutors. He was granted a Fellowship to conduct in the Yale School of Music's Norfolk Music Festival, led by Simon Carrington, with whom he also worked in the Sarteano Choral Workshop. In London, he participated in an orchestral conducting program that culminated in a performance of Mozart's Symphony #41 with the London Classical Soloists.
An active composer, Anthony Blake Clark has had his scores performed in the Washington, DC area, throughout Texas, in the United Kingdom and at Prague's Dvorák National Museum Concert Hall. Most recently, his music has been premiered by Maryland's Baltimore Choral Arts Society and National Philharmonic Chamber Singers. His chamber piece Incidental Music on the Pied Piper of Hamelin won the Robert Browning Bicentennial Composition Contest and was performed on a concert series on the Baylor University campus.
For a neat lesson in creative programming, consider the Baltimore Choral Arts Society's season-opener. On the first half, richly textured works by henry Balfour Gardiner and Zolan Kodaly, both hardly overexposed around here. On the second, a refreshing, rich-in-off-the-beaten-path sampler of American or American-related, repertoire that should be a hit when the chorus visits England in January. Anthony Blake Clark, now in his third season as music director and clearly enjoying a tight rapport with his forces, drew communicative phrasing throughout. All in all, a satisfying assortment of music, an admirable demonstration of the choir's continued quality.
BY TIM SMITH
former arts critic, THE BALTIMORE SUN
In my position as Principal Pops Conductor with the Baltimore Symphony Orchestra, I have collaborated with Baltimore Choral Arts Society Music Director Anthony Blake Clark. I find his meticulous preparation, knowledge, positive nature and musical spirit to be of the highest order. In my opinion, the musical world is lucky to have him.
JACK EVERLY, Principal Pops Conductor:
Baltimore Symphony Orchestra
Indianapolis Symphony Orchestra
National Arts Centre Orchestra
Naples Philharmonic Orchestra
Anthony Blake Clark is one of the leading choral conductors of his generation, notable for his drive and passion for music, ideas and people. I recommend him enthusiastically.
SIMON HALSEY, CBE
Clark's musicality was readily apparent in a season-opening program that spanned several centuries, and he seemed to have no trouble getting an expressive response from the ensemble [with Baltimore Choral Arts Society]. Clark had the color and spark in Handel's Dixit Dominus and Haydn's Te Deum emerging vividly; the chorus articulated contrapuntal lines on those works with admirable finesse. Based on first impressions, the new music director is off to a promising start.
THE BALTIMORE SUN
A captivating Choral Arts program [headline]
Various threads came together to fashion an unusual and absorbing program for the Baltimore Choral Arts Society's season finale. Die erste Walpurgisnacht is very entertaining, one reason being the wealth of Mendelssohn's melodic ideas and the brilliance of the orchestration. The vocal writing is likewise assured and always vivid. Clark led a vigorous, nicely atmospheric account of the work [Mendelssohn] that showed off the choir's hearty, well-balanced tone and crisp articulation. The orchestra, containing several BSO players, proved reliable.
BY TIM SMITH
former arts critic, THE BALTIMORE SUN
10/3/2020
(CREATED)

BALTIMORE CHORAL ARTS SOCIETY (MD)

Parkway Theatre (Baltimore)

Off the Grid: "Inspiration in Adversity"
J.S. Bach: Cantata #25 (Chorale)
Cooke: Stella celi
Palestrina: Corona aurea
Palestrina: Popule meus
Locke: How Doth the City Sit Solitary
Magatyana: Usizi (world premiere)
Parton/Johnson: Light of a Clear Blue Morning
https://youtu.be/W2CkmGi7ICk

10/3/2020
(CREATED)

BALTIMORE CHORAL ARTS SOCIETY (MD)

Parkway Theatre (Baltimore)

Off the Grid: "Music for the Moment"
Price: Resignation
J. Thompson: Seven Last Words of the Unarmed (Amadou Diallo)
C.H. Johnson: Meet Me Here
Handel: Foundling Hospital Anthem
https://youtu.be/9Y0cq2Rjr1A
Mendelssohn: Die erste Walpurgisnacht
Baltimore Choral Arts Society Chorus & Orchestra
May 12, 2019

Parry: I Was Glad
Baltimore Choral Arts Society
May 6, 2018

Handel: Messiah ("Hallelujah" Chorus)
Baltimore Choral Arts Society Chorus & Orchestra
December, 2017

Handel: Dixit Dominus
Baltimore Choral Arts Society Chorus & Orchestra
October, 2017 (rehearsal)

Ticheli: Earth Song
St. Maries Musica (Maryland)
April, 2017

Vaughan Williams: Fantasia on Greensleeves
Chevy Chase UMC String Orchestra
December 11, 2016 (rehearsal)

Handel: Water Music (Suite #2)
Barber Summer Festival Sinfonia, University of Birmingham (U.K.)
July, 2014