Anthony Blake Clark
conductor
Biography
Reviews
Itinerary
Media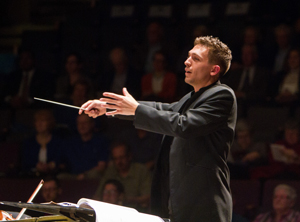 Currently leading his fifth season as Music Director of the nationally acclaimed and Emmy Award-winning Baltimore Choral Arts Society, conductor and composer ANTHONY BLAKE CLARK enjoys a reputation as one of the freshest young voices in classical music. Expanding his presence on the local cultural scene, he includes in the current season his Baltimore Symphony Orchestra conducting debut as part of its "Holiday Spectacular" programs.
During his tenure with the Baltimore Choral Arts Society, Anthony Blake Clark has consistently received rave reviews, both for work on the podium in his subscription concerts and his preparation of choruses for performances with the Annapolis, Baltimore and Maryland symphony orchestras, as well as the Peabody Preparatory Orchestra. Early in 2020, he led the ensemble on an enthusiastically received tour of the United Kingdom, culminating in a collaboration on Mahler's 8th Symphony with the City of Birmingham Symphony Orchestra.
The premiere choral organization in the Baltimore region, BCAS reaches more than 100,000 people each year and is an integral part of the fabric of Baltimore's performing arts scene. Anthony Blake Clark annually conducts and produces the celebrated and Emmy Award-nominated "Christmas with Choral Arts," televised on ABC2. His accomplishments with the BCAS has been recognized with the reception of two prestigious  2020 awards: the American Prize in Choral Conducting (community division) and the Chorus America Alice Parker Award. Mr. Clark's leadership of BCAS during the Covid-19 pandemic has also been noted among his peers for his innovative digital concerts and a sizeable output of online interactive content.
A passionate educator, Anthony Blake Clark is the Director of Choral Activities in The George Washington University's Corcoran School of Art and Design, where he conducts the University Singers and Women's Ensemble, and mentors student conductors. With his university choirs, he has led performances at the John F. Kennedy Center for the Performing Arts, Washington National Cathedral and the Music Center at Strathmore. Recently, he was Guest Conductor/Lecturer for the Westminster Choir College Symphonic Choir.
Appreciated for his scrupulous attention to detail, Anthony Blake Clark has prepared choruses for esteemed maestri Marin Alsop, Sir John Eliot Gardiner, Simon Halsey, CBE and Mirga Grañinyt-Tyla for concerts with internationally renowned ensembles, including the Baltimore Symphony Orchestra, Berliner Philharmoniker and Rundfunk Chor Berlin, and the City of Birmingham Symphony Orchestra. At New York City's Lincoln Center for the Performing Arts, he was recently one of several conductors for David Lang's 1,000-voice the public domain, working under his mentor Simon Halsey; he returned as chorusmaster for the 2018 premiere of John Luther Adams' In the Name of the Earth. Mr. Clark is equally adept in the orchestral field and frequent appears as cover conductor for the National Symphony Orchestra, assisting Music Director Gianandrea Noseda, as well as guest conductors Christoph Eschenbach, Manfred Honeck and Ton Koopman.
Anthony Blake Clark attended Baylor University School of Music, where he studied composition. While still an undergraduate, he began his professional conducting activity by co-founding The Texas Baroque Ensemble, presenting repertoire from the Baroque and Classical eras. Mr. Clark completed a Master's Degree in Choral Conducting under three-time Grammy Award winner Simon Halsey, CBE at the United Kingdom's University of Birmingham. In 2021, Mr. Clark began his graduate studies in Orchestral Conducting at the Peabody Institute of the Johns Hopkins University, studying with Marin Alsop and Joseph Young and assisting them in the administration and performances of the several prestigious orchestral ensembles.
While a graduate student in the United Kingdom, Mr. Clark helped administer the choral ensembles on campus, conducted the University Camerata and was a member of the famed City of Birmingham Symphony Chorus, singing under the batons of Sir Simon Rattle, Edward Gardiner, Andris Nelsons and Gianandrea Noseda. His time in England also included employment by the CBSO to conduct its Arts Champion Community Choir as part of an initiative to create a community Chorus network across the city, conducting the London Symphony Chorus "Come and Sing Day," took rehearsals for the CBSO Chorus and led the Barber Summer Festival Sinfonia in its annual performance. 
Anthony Blake Clark is a frequent clinician and has led sessions for Historic Christchurch Alexandria, the Deer Creek Chorale and high school choirs in Maryland, New York and Texas. Mr. Clark also has extensive training in festivals and workshops under master tutors. He was granted a Fellowship to conduct in the Yale School of Music's Norfolk Music Festival, led by Simon Carrington, with whom he also worked in the Sarteano Choral Workshop. In London, he participated in an orchestral conducting program that culminated in a performance of Mozart's Symphony #41 with the London Classical Soloists.
An active composer and arranger, Anthony Blake Clark has had his scores performed in the Washington, DC area, throughout Texas, in London and Oxford, and at Prague's Dvorák National Museum Concert Hall. Most recently, his music has been premiered by Maryland's Baltimore Choral Arts Society and National Philharmonic Chamber Singers. In 2022, Mr. Clark's new performance edition of Mozart's Requiem will be performed by the National Philharmonic Orchestra and recorded by the Baltimore Choral Arts Society and Carter Legacy Singers by Acis Records.
A high-drama Beethoven Ninth Symphony from Fabio Luisi and the Dallas Symphony [headline]
I don't think I've ever heard the finale–soloists, chorus and orchestra – so viscerally thrilling. The Dallas Symphony Chorus, prepared by guest director Anthony Blake Clark, sang thrillingly, but with great subtlety when called for.
THE DALLAS MORNING NEWS
The Dallas Symphony Chorus, back in full strength once again proves itself one of the finest large choral ensembles in the world, from moments of soft intensity to the oceanic roar of a great symphonic choir.
ON STAGE NORTH TEXAS
For a neat lesson in creative programming, consider the Baltimore Choral Arts Society's season-opener. On the first half, richly textured works by henry Balfour Gardiner and Zolan Kodaly, both hardly overexposed around here. On the second, a refreshing, rich-in-off-the-beaten-path sampler of American or American-related, repertoire that should be a hit when the chorus visits England in January. Anthony Blake Clark, now in his third season as music director and clearly enjoying a tight rapport with his forces, drew communicative phrasing throughout. All in all, a satisfying assortment of music, an admirable demonstration of the choir's continued quality.
BY TIM SMITH
former arts critic, THE BALTIMORE SUN
In my position as Principal Pops Conductor with the Baltimore Symphony Orchestra, I have collaborated with Baltimore Choral Arts Society Music Director Anthony Blake Clark. I find his meticulous preparation, knowledge, positive nature and musical spirit to be of the highest order. In my opinion, the musical world is lucky to have him.
JACK EVERLY, Principal Pops Conductor:
Baltimore Symphony Orchestra
Indianapolis Symphony Orchestra
National Arts Centre Orchestra
Naples Philharmonic Orchestra
Anthony Blake Clark is one of the leading choral conductors of his generation, notable for his drive and passion for music, ideas and people. I recommend him enthusiastically.
SIMON HALSEY, CBE
Clark's musicality was readily apparent in a season-opening program that spanned several centuries, and he seemed to have no trouble getting an expressive response from the ensemble [with Baltimore Choral Arts Society]. Clark had the color and spark in Handel's Dixit Dominus and Haydn's Te Deum emerging vividly; the chorus articulated contrapuntal lines on those works with admirable finesse. Based on first impressions, the new music director is off to a promising start.
THE BALTIMORE SUN
A captivating Choral Arts program [headline]
Various threads came together to fashion an unusual and absorbing program for the Baltimore Choral Arts Society's season finale. Die erste Walpurgisnacht is very entertaining, one reason being the wealth of Mendelssohn's melodic ideas and the brilliance of the orchestration. The vocal writing is likewise assured and always vivid. Clark led a vigorous, nicely atmospheric account of the work [Mendelssohn] that showed off the choir's hearty, well-balanced tone and crisp articulation. The orchestra, containing several BSO players, proved reliable.
BY TIM SMITH
former arts critic, THE BALTIMORE SUN
6/6/2021 (6pm)

BALTIMORE CHORAL ARTS SOCIETY (MD)

St. Francis Xavier Outdoor Pavilion

"Baltimore Choral Arts Returns to the Stage"

6/24/2021 (7:30pm)

ST. CHRISTOPHER'S BY THE SEA EPISCOPAL CHURCH (Portland, TX)

"Choral Journeys: A Celebration of St. Christopher"

6/25/2021 (3:30pm)

ST. CHRISTOPHER'S BY THE SEA EPISCOPAL CHURCH (Portland, TX)

"Choral Evensong"

7/18/2021 (3pm)

BALTIMORE CHORAL ARTS SOCIETY (MD)

online streaming presentation
"Choral Short Stories"

8/8/2021 (5pm)

BALTIMORE CHORAL ARTS SOCIETY (MD)

Olney Theatre Center

"Sacred Music Through the Ages"

11/7/2021 (3pm)

BALTIMORE CHORAL ARTS SOCIETY (MD)

Cathedral of Mary Our Queen

"Choral Celebration"
Parry: I Was Glad
Britten: Rejoice in the Lamb
Vierne: Messe solennelle
Price: Abraham Lincoln Walks at Midnight

12/7/2021 (7:30pm)

BALTIMORE CHORAL ARTS SOCIETY (MD)

Cathedral of Mary Our Queen

"Christmas with Choral Arts"

12/11/2021 (11am)

BALTIMORE CHORAL ARTS SOCIETY (MD)

venue, tba

"Baltimore Christmas for Kids"

12/12/2021 (3pm)

BALTIMORE CHORAL ARTS SOCIETY (MD)

Immanuel Lutheran Church

"Choral Arts Christmas"

2/27/2022 (3pm)

BALTIMORE CHORAL ARTS SOCIETY (MD)

Murphy Fine Arts Center Concert Hall, Morgan State University

Orff: Carmina burana

6/5/2022 (3pm)

BALTIMORE CHORAL ARTS SOCIETY (MD)

Murphy Fine Arts Center Concert Hall, Morgan State University

"Mozart's Requiem Reframed"
with Carter Legacy Singers

12/3/2022 (11am)

AMARILLO OPERA (TX)

Globe-News Center for the Performing Arts

"Come and Sing Messiah"
Mendelssohn: Die erste Walpurgisnacht
Baltimore Choral Arts Society Chorus & Orchestra
May 12, 2019

Parry: I Was Glad
Baltimore Choral Arts Society
May 6, 2018

Handel: Messiah ("Hallelujah" Chorus)
Baltimore Choral Arts Society Chorus & Orchestra
December, 2017

Handel: Dixit Dominus
Baltimore Choral Arts Society Chorus & Orchestra
October, 2017 (rehearsal)

Ticheli: Earth Song
St. Maries Musica (Maryland)
April, 2017

Vaughan Williams: Fantasia on Greensleeves
Chevy Chase UMC String Orchestra
December 11, 2016 (rehearsal)

Handel: Water Music (Suite #2)
Barber Summer Festival Sinfonia, University of Birmingham (U.K.)
July, 2014