Bowlin-Cho Duo
violin/piano
Biography
Discography
Reviews
Itinerary
Media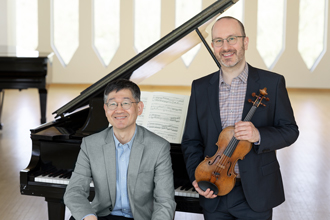 Violinist David Bowlin and pianist Tony Cho met as faculty colleagues at the Oberlin Conservatory of Music and have been performing together as the Bowlin-Cho Duo since 2017, in concerts across the United States, Europe and South Korea. Recognized for their passionate and insightful interpretations, the Duo's wide-ranging repertoire includes music from Bach to Saariaho, with programming of beloved classics mixed with rarities and lesser-known treasures. Their festival appearances include the Kneisel Hall Chamber Music Festival, Bowdoin International Music Festival, Chamber Music Quad Cities, Credo Festival, SongFest at Colburn School, among others. The Duo has also performed and held residencies at several conservatories and universities, most recently at Roosevelt University, Montclair State University, Shenandoah University and Iceland's Menntaskóli í tónlist. The Duo can be heard on the New Focus Recordings (2019) label with music of Martin Bresnick, and will be featured in works by William Grant Still on an upcoming Oberlin Music release.
Violinist David Bowlin is a member of the violin and chamber music faculty of the Oberlin Conservatory of Music, where he also serves as Chair of Strings. First prize winner of the 2003 Washington International Competition, he has performed extensively as a soloist, with premieres of violin concerti written for him at Lincoln Center for the Performing Arts' Mostly Mozart Festival, Carnegie Hall's Weill Recital Hall and at the Aspen Music Festival. As a chamber musician, Mr. Bowlin has toured with Musicians from Marlboro and tours regularly with the Oberlin Trio and his duo partner, pianist Tony Cho. He is a founding member of the acclaimed International Contemporary Ensemble (ICE) and a former member of the Naumburg Award-winning Da Capo Chamber players.
David Bowlin has performed as guest concertmaster with the Toronto Symphony Orchestra, Marlboro Festival Orchestra and IRIS Orchestra. His festival collaborations include frequent performances at Aspen, Banff, Bowdoin, Chesapeake, Marlboro and Ojai, as well as ChamberFest Cleveland, Boston Chamber Music Society and Kneisel Hall Chamber Music Festival, where he has been faculty artist since 2013. His recordings can be found on the Arsis, Bridge, Mode, Naxos, New Focus, Oberlin Music and Tundra labels. Mr. Bowlin is a graduate of the Oberlin Conservatory of Music, The Juilliard School and Stony Brook University.
Pianist Tony Cho enjoys a multifaceted career as recitalist, chamber musician and opera and vocal coach. He has collaborated with numerous artists at Carnegie Hall's Weill Recital Hall, Zipper Concert Hall (Los Angeles), Ganz Hall (Chicago), Meany Hall (Seattle), Harris Concert Hall (Aspen) and the Honolulu Museum of Art , among many others throughout the United States and abroad. His performances have been featured on WKCR (New York City), WVIZ (Cleveland) and WXOJ (Northampton, MA), live on KVOD (Denver), KHPR (Honolulu) and Maine Public Radios's WMEA Tiny Screen Concert Series.
Tony Cho has held vocal arts coaching positions at The Juilliard School, University of Southern California, Chapman University and Oberlin Conservatory of Music, while summer festival faculty appointments include SongFest at the Colburn School, Hawaii Performing Arts Festival, Idyllwild Summer Arts and Taos Opera Institute. Abroad, Mr. Cho has given classes at South Korea's Yonsei and Sungkyul universities and the Central Conservatory of Music in Beijing, China. He has been on the staffs of several opera houses, including those of Central City, Glimmerglass, Hawaii, Long Beach, Santa Barbara, Sarasota, Tulsa and Virginia, functioning as assistant conductor, coach and repétiteur. Mr. Cho's orchestral work includes serving as harpsichordist for Handel's Messiah with The Honolulu Symphony, pianist for Copland's Appalachian Spring with the Cascadian Symphony (WA) and keyboardist with the Aspen, Central City and Long Beach opera orchestras.
A native of South Korea, Tony Cho is a graduate of Oklahoma State University, University of Cincinnati and University of Washington.
"BIRD AS PROPHET"

Davidovsky: Synchronisms No. 9
with David Bowlin, violinist
Karatoyanova-Hermentin: Kastena
with David Bowlin, violinist
Katinka Kleijn, cellist
Bresnick: Bird as Prophet
with David Bowlin, violinist
Tony Cho, pianist
Walker: Bleu
with David Bowlin, violinist
Karatoyanova-Hermentin: Mari Mamo
with David Bowlin, violinist
Conor Nelson, flutist
Ayano Kataoka, percussionist
Du Yun: Under a tree, an Udatta
with David Bowlin, violinist

New Focus Recordings: FCR237 (2019)
[George Walker's Bleu] is a beautiful, expressive piece that combines a warm romanticism with chromatic, Modernist lines; Bowlin plays it with great depth of feeling, as he does Martin Bresnick's Bird as Prophet, a piece for violin and piano (Tony Cho).
AVANT MUSIC NEWS
Each piece falls into a modernist setting simultaneously dynamic and demonstrating Bowlin's fluid command of the violin, whilst brimming with crisp drama. Grainy and taut swirls engage with melodic picking and jarred undercurrents of rasping bridges, conjuring images perfect for a creepy and sinister thriller.
ADVERSE EFFECT MAGAZINE
On his latest CD, violinist David Bowlin presents an astonishing array of works that showcase his extraordinary ability as interpreter of diverse styles of contemporary music. Released on New Focus Recordings, "Bird as Prophet" is a fantastical journey for all–not just new music aficionados. Throughout the recording, Bowlin proves himself to be a player of abundant technique, however it is his innate expressive abilities that make this album so attractive. Pianist Tony Cho joins Bowlin in Martin Bresnick's Bird as Prophet, a work inspired by the music of Robert Schumann and Charlie Parker. Full of Romantic glory which is totally embraced by the performers, this fascinating piece doesn't reveal its full self on a first listen. Sudden emotional changes and harmonic structures that initially sound odd, sound perfectly natural the second time around. Bowlin finds his way inside the composer's exotic sound world that draws you in and holds your attention. His commanding playing turns this spellbinding piece into a work of symphonic scale.
CLEVELANDCLASSICAL.COM
9/4/2022 (2pm)

OLYMPIC MUSIC FESTIVAL (WA)

Wheeler Theater at Fort Worden

Kodály: Serenade for 2 Violins & Viola
Dvorák: Piano Trio #4
with Julio Elizalde, pianist
Robert McDonald, pianist
David Bowlin, violinist
Andrew Wan, violinist
Yura Lee, violinist & violist
Efe Baltacigil, cellist

9/24/2022 (7:30pm)

OBERLIN CONSERVATORY OF MUSIC (OH)

Kulas Recital Hall

Mendelssohn: Piano Trio #2
Pärt: Mozart-Adagio
Ravel: Piano Trio
with The Oberlin Trio

9/25/2022 (3pm)

THE UNIVERSITY OF AKRON (OH)

Guzzetta Recital Hall

Mendelssohn: Piano Trio #2
Pärt: Mozart-Adagio
Ravel: Piano Trio
with The Oberlin Trio

10/6/2022 (7:30pm)

OBERLIN CONSERVATORY OF MUSIC (OH)

Kulas Recital Hall

Ives: Violin Sonata #2
Fauré: Violin Sonata #1
Prokofiev: Violin Sonata #1

11/12/2022 (4:30pm)

OBERLIN CONSERVATORY OF MUSIC (OH)

Kulas Recital Hall

Moszkowski: Suite for 2 Violins & Piano
with Sibbi Bernhardsson, violinist
Schumann: Piano Quintet
with Tony Cho, pianist
Sibbi Bernhardsson, violinist
Peter Slowik, violist
Darrett Adkins, cellist

11/19/2022 (9pm)

ARTE-ATENE-KONSTANTINOS TOURKAKIS

Thessalonki Megaron Concert Hall (Greece)

Moszkowski: Suite for 2 Violins & Piano
with Sibbi Bernhardsson, violinist
Schumann: Piano Quintet
with Tony Cho, pianist
Sibbi Bernhardsson, violinist
, violist
Mark Kosower, cellist
Brahms: Piano Quintet
with Vassilis Varvaresos, pianist
Cristos Galileas, violinist
Sibbi Bernhardsson, violinist
, violist
Timotheos Gavriilidis-Petrin, cellist

1/19/2023 (7pm)

MUSIKHÖGSKOLAN INGESIND (Arkiva, Sweden)

Lilla koncertsalen

Ives: Violin Sonata #2
Roussel: Violin Sonata #2
Prokofiev: Violin Sonata #1

2/8/2023 (7pm)

DePAUL UNIVERSITY (Chicago, IL)

Brennan Family Recital Hall

Roussel: Violin Sonata #2
Ives: Violin Sonata #2
Roussel: Violin Sonata #1

2/16/2023 (7:30pm)

OBERLIN CONSERVATORY OF MUSIC (OH)

Kulas Recital Hall

Roussel: Violin Sonata #2
Roussel: String Trio
with David Bowlin, violinist
Kirsten Docter, violist
Dmitry Kouzov, cellist
Roussel: Violin Sonata #1

3/1/2023 (7:30pm)

OBERLIN CONSERVATORY OF MUSIC (OH)

Kulas Recital Hall

Beethoven: Violin Sonata #10
with David Bowlin, violinist
Peter Takács, pianist

4/16/2023 (3pm)

FIRST MUSIC CONCERT SERIES

First Lutheran Church (Lorain, OH)

Still: Pastorela
Roussel: Violin Sonata #2
Ives: Violin Sonata #2
Fauré: Violin Sonata #1

5/1/2023 (7:30pm)

ACCORDO - SCHUBERT CLUB (MN)

Westminster Hall, Westminster Presbyterian Church (Minneapolis)

Saariaho: Tocar
Beethoven: String Trio in E-flat
Fauré: Piano Quartet #1
with Tim Lovelace, pianist
David Bowlin, violinist
Maiya Papach, violist
Tony Ross, cellist

5/2/2023 (7:30pm)

ACCORDO - SCHUBERT CLUB (MN)

Icehouse (Minneapolis)

Saariaho: Tocar
Beethoven: String Trio in E-flat
Fauré: Piano Quartet #1
with Tim Lovelace, pianist
David Bowlin, violinist
Maiya Papach, violist
Tony Ross, cellist

6/11-18/2023

CHAMBERFEST CLEVELAND (OH)

6/25-8/13/2023

KNEISEL HALL CHAMBER MUSIC FESTIVAL (Blue Hill, ME)

8/29-9/3/2023

THE OLYMPIC MUSIC FESTIVAL (Port Townsend, WA)
Beethoven: Violin Sonata #9 in A, Op. 47 (mvt. I: Adagio sostenuto-Presto)
Kulas Recital Hall, Oberlin Conservatory of Music
March 26, 2022

Still: Pastorela
Roussel: Violin Sonata #2
Saariaho: Tocar
Stravinsky: Divertimeneto
Ganz Hall, Chicago College of Performing Arts at Roosevelt University
September 26, 2021

Copland: Sonata for Violin & Piano
Still: Summerland
Warner Recital Hall, Oberlin Conservatory of Music
June 17, 2020

Strauss: Sonata for Violin & Piano in E-flat, Op. 18
Oberlin Stage Left: On Demand
aired April 28, 2020

Stravinsky: Suite Italienne (mvt. III: Tarantella)
Kulas Recital Hall, Oberlin Conservatory of Music
November 24, 2019

Stravinsky: Duo Concertant (mvt. III: Eglogue 2)
Kulas Recital Hall, Oberlin Conservatory of Music
November 24, 2019