Brendan Townsend
conductor
Biography
Reviews
Itinerary
Media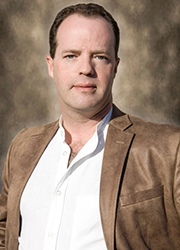 Currently in his 14th season as Music Director of the Laredo Philharmonic Orchestra & Chorale, BRENDAN TOWNSEND is celebrated on both sides of the Atlantic for his deeply probing artistry, technique and energy.
Prior to his appointment in Laredo, Brendan Townsend held directorships with Tennessee's Bryan Symphony Orchestra, the Youth Orchestras of San Antonio and the Netherlands' Ars Antiqua et Nova and Sinfonietta Geleen. Guest conducting throughout Europe has included performances with the Dutch Radio Symphony Orchestra, Sofia Symphony Orchestra, Cork School of Music Symphony Orchestra, Broadway Düsseldorf, Opera Comique Maastricht, Opera Zuid and the Transylvanian State Symphony, while in the United States he has led performances with the symphony orchestras of Charleston, Corpus Christi, Kingsville, Knoxville, Mississippi, San Antonio and Topeka. In recent seasons, Mr. Townsend has been a regular conductor with the Orquesta Filarmónica de Honduras.
Brendan Townsend is widely known as a proponent of American composers, and is deeply committed to bringing the works of living composers into the standard repertoire. In addition to presenting the scores of established composers  - among them John Adams, Behzad Ranjbaran, Christopher Rouse and Roberto Sierra - Mr. Townsend consistently champions several self-publishing composers, including Lee Actor, Linda Robbins Coleman and Linda Tutas Haugen. His work in Laredo has been recognized by the League of American Orchestras for its commitment to the music of living composers; in 2007, Mr. Townsend and the LPO received the ASCAP Award for Innovative Programming and, most recently, they have been selected as the 2013-14 First Place winner of its Award for Adventurous Programming of Contemporary Music. In the spring of 2017, Brendan Townsend and the LPO were featured in "Rhapsody on the Rio Grande," a one-hour documentary produced by KLRN, PBS in Laredo. This film was awarded the 2017 Lone Star EMMY Award in the Documentary - Topical category.
A native of Cork, Ireland, Brendan Townsend studied cello at the Cork School of Music. He continued his studies at the Conservatorium voor Muziek in Maastricht, the Netherlands with Mirel Iancovici (cello) and Jan Stulen (conducting). He also worked with Ilya Musin and Yuri Temirkanov at the Academia Chigiana in Siena, Italy and with Sir Edward Downes as part of the Kondrashin Conducting Masterclasses.
Brendan Townsend is a passionate educator and has been a frequent clinician across the southern states of Florida, Louisiana, Tennessee and Texas. He also continues to perform as a cellist, partnering regularly with pianist Fritz Gechter, and as a member of the Laredo International Piano Trio.
Brendan Townsend is married to his college sweetheart, Angeline. They are the proud "parents" of Toby, a Golden Retriever/Labrador mix!
Messiah, which can so often sound old and tired, rang fresh and new, with the many movements wound into a tight and well balanced whole under the inspired leadership of one man - conductor Brendan Townsend.
SAN ANTONIO EXPRESS-NEWS
Brendan Townsend displayed the maturity and skill that has brought him international recognition for his podium technique.
LAREDO MORNING NEWS
10/21/2018 (3pm)   

LAREDO PHILHARMONIC ORCHESTRA (TX)

Recital Hall, Texas A&M International University

Mozart: Cosi fan tutte (overture)
Ranjbaran: Awakening
Delius: On Hearing the First Cuckoo in Spring
Delius: Summer Night on the River
Beethoven: Symphony #7

1/20/2019 (3pm) 

LAREDO PHILHARMONIC ORCHESTRA (TX)

Martinez Fine Arts Theater, Laredo Community College

McCartney: Spiral
Rachmaninoff: Rhapsody on a Theme of Paganini
soloist: Kyunghoon Kim, pianist
Rimsky-Korsakov: Scheherazade

3/23/2019 (7:30pm)

KNOX-GALESBURG SYMPHONY ORCHESTRA (IL)

Orpheum Theatre

Corelli: Concerto grosso #1
Verdi: Il trovatore (Stride la vampa)
Ponchielli: La Gioconda (Voce di donna)
Cilea: Adriana Lecouvreur (Acerba voluttà)
soloist: Alison Meuth, soprano
Coleman: For a Beautiful Land
Beethoven: Symphony #3

3/31/2019 (3pm)

LAREDO PHILHARMONIC ORCHESTRA (TX)

Recital Hall, Texas A&M International University

Brahms: Symphony #2
Amram: Partners
soloists: Maria Schleuning, violinist
Jolyon Pegis, cellist

5/19/2019 (3pm)

LAREDO PHILHARMONIC ORCHESTRA (TX)

Martinez Fine Arts Theater, Laredo Community College

Sullivan: Overture in C
Concerto, tbd
soloist: LPO Concerto Competition winner
Campbell: new work (world premiere)
Actor: Symphony #3