Brian Viliunas
clarinetist & conductor
Biography
Repertoire
Discography
Reviews
Itinerary
Media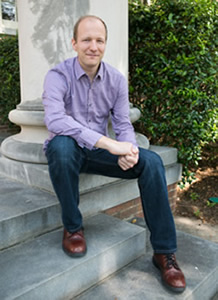 A native of Milwaukee, Wisconsin, BRIAN VILIUNAS is an esteemed clarinetist, conductor and educator, holding the appointments of Associate Professor Music and Orchestra Director at the Samford University School of the Arts in Birmingham, Alabama.
Brian Viliunas received his Bachelor of Music degree from Northwestern University, subsequently earning his Master of Music from Rice University and his Doctor of Musical Arts from Arizona State University. Earlier, he was a prize winner in the International Clarinet Association Young Artist Competition, later becoming the recipient of a Fulbright Scholarship to the Grieg Academy in Bergen, Norway.
As an ensemble member, Brian Viliunas has performed under distinguished conductors Andrew Litton, Lorin Maazel, Carlos Miguel Prieto and Benjamin Zander and with orchestras in Alabama, Houston and Racine. While living in Norway, he played with the Bergen Philharmonic Orchestra. Of special note: During his membership in the Youth Orchestra of the Americas, he was principal clarinetist on its DVD recording of Verdi's Requiem, under the baton of Placido Domingo. Dr. Viliunas was the principal clarinetist of the The Phoenix Opera, and currently serves in that position for Arizona Opera.
Conducting full productions of opera and musical theatre, Brian Viliunas' credits include 1776: The Musical, Amahl and the Night Visitors, Hansel und Gretel, Into the Woods, Jane Eyre, Le nozze di Figaro, A Little Night Music, The Pajama Game, The Pirates of Penzance and White Christmas. He conducted the world premiere of Evan Mack's The Ghosts of Gatsby, an opera commissioned by Samford University.
Brian Viliunas has issued two CDs: "German & French Clarinet & Piano Classics," featuring the music of Brahms, Poulenc and Bizet (available from CDbaby and Amazon) and Agents of Espionage, a Potenza Music album, comprised of commissioned scores by Zachary J. Bramble, Mark Lackey and Ryan Springler.
Brian Viliunas is a Buffet Clarinet Artist, performing exclusively on R-13 Greenline clarinets, and an official D'Addario Performing Artist.
ADAMS, John
 Gnarly Buttons (1996)
BOLCOM
Concerto (1988)
COPLAND
Concerto
CORIGLIANO
Concerto (1977)
CRUSSELL, Bernhard Henrik
Concerto #3 in B-flat, Op. 11
DEBUSSY
Premiére rapsodie
LINDBERG, Magnus
 Concerto (2001-02)
MOZART
 Concerto in A, K. 622
NIELSEN
Concerto, Op. 57
WEBER
Concertino in E-flat, Op. 26
Concerto #1 in f, Op. 73
Concerto #2 in E-flat, Op. 74
"GERMAN & FRENCH CLARINET & PIANO CLASSICS"

Brahms: Sonata for Clarinet & Piano in f, Op. 120, #1
Poulenc: Sonata for Clarinet & Piano
Brahms: Sonata for Clarinet & Piano in E-flat, Op. 120, #2
Bizet/Sarasate & Baldeyrou: Carmen Fantaisie
with Ronald Shinn, pianist

(private label)


"AGENTS OF ESPIONAGE"

Bramble: To American Innovation
with Jeffrey Flaniken, violinist
Donald Sanders, pianist
Bramble: Sonata for Clarinet & Piano
with Kathryn Fouse, pianist
Lackey: Paths of the Seas
with Kathryn Fouse, pianist
Bramble: Agents of Espionage
Springler: Spectacular Time
Lackey: Particles

Potenza Music CD: PM1045

German & French Clarinet & Piano Classics includes both Brahms Sonatas, Poulenc's Sonata and Baldeyrou's transcription of the virtuosic Carmen Fantasy. The delicate interplay between the clarinet and piano in Brahms' Sonata for Clarinet and Piano in F minor is expertly handled by both Viliunas and [Ronald] Shinn in a classic interpretation of the standard of the repertoire. In Poulenc's Sonata, Viliunas has skillfully blended a standard interpretation while still injecting plenty of jazz personality. Viliunas has a vibrant, clear tone that is well-suited to such dramatic music and he easily brings this piece to life. This interpretation of Brahms' Sonata for Clarinet and Piano in E-flat could easily serve as a reference recording for anyone studying the piece. Bizet's Carmen Fantasy presents Viliunas at his best. He clearly has complete command of the instrument in difficult technical passages, and extremes in dynamics and the upper altissimo range. He easily navigates technique that not that long ago would have been considered impossible, all the while maintaining his signature sound and excellent intonation. This is an excellent disc and you won't be disappointed.
THE CLARINET MAGAZINE
Clarinetist Brian Viliunas and pianist Kathryn Fouse fluidly rendered the subtle syncopation and slow swing of the [Bolcom Clarinet] concerto. Viliunas played with control and bright-toned lyricism.
THE BIRMINGHAM NEWS (ALABAMA)
Viliunas is enchanting with his warm personality and spectacular musicianship.
TIMES FREE PRESS (CHATTANOOGA, TN)
9/27/2022 (7:30pm)

SAMFORD UNIVERSITY (Birmingham, AL)

Jane Hollock Brock Recital Hall

Debussy: Première rapsodie
Mack: Clarinet Quintet (world premiere)
with The Samford Quartet
Weber/Cohn: Andante e rondo ongarese
D'Rivera: The Cape Cod Files
with Laurie Middaugh, pianist

10/4/2022 (7:30pm)

SAMFORD UNIVERSITY (Birmingham, AL)

Brian Viliunas, conductor
Jane Hollock Brock Recital Hall, Samford University

Schubert: Symphony #8
Beethoven: Symphony #1

11/15/2022 (7:30pm)

SAMFORD UNIVERSITY (Birmingham, AL)

Brian Viliunas, conductor
Jane Hollock Brock Recital Hall, Samford University

Márquez: Danzón #2
Cohn: Variations on The Wayfaring Stranger
Bartók: Romanian Folk Dances
J. Strauss, Jr.: On the Beautiful, Blue Danube
Adams: The Chairman Dances

12/1/2022 (7:30pm)
12/2/2022 (7:30pm)
12/3/2022 (7:30pm)
12/4/2022 (2:30pm)

SAMFORD UNIVERSITY (Birmingham, AL)

Harrison Theatre

Menotti: Amahl and the Night Visitors

2/14/2023 (7:30pm)

SAMFORD UNIVERSITY (Birmingham, AL)

Brian Viliunas, conductor
Jane Hollock Brock Recital Hall, Samford University

Brahms: Hungarian Dances #5 & #6
Rimsky-Korsakov: Scheherazade

4/4/2023 (7:30pm)

SAMFORD UNIVERSITY (Birmingham, AL)

Brian Viliunas, conductor
Jane Hollock Brock Recital Hall, Samford University

Haydn: Symphony #45
concerto competition winners
Verdi: La forza del destino (overture)
Mozart: Symphony #25
Horovitz: Sonatina for Clarinet & Piano
with John Robertson, pianist
Jane Hollock Brock Recital Hall, Samford University (Birmingham, AL)
March, 2017

Vaughan Williams: Ten Blake Songs
With Brad Diamond, tenor
Jane Hollock Brock Recital Hall, Samford University (Birmingham, AL)
October, 2016

Bizet/Baldeyrou: Carmen Fantasy
with Ronald Shinn, pianist
Jane Hollock Brock Recital Hall, Samford University (Birmingham, AL)
September, 2015

Mandat: Double Life for Solo Clarinet
Jane Hollock Brock Recital Hall, Samford University (Birmingham, AL)
September, 2015

Weber: Concerto #2 in E-flat for Clarinet & Orchestra, Op. 74 (mvt. III: Alla Polacca)
Samford Honor Band
Dr. Demondrae Thurman, conductor
Leslie Wright Center at Samford University (Birmingham, AL)
January, 2015

Copland: Concerto for Clarinet
with Ronald Shinn, pianist
Jane Hollock Brock Recital Hall, Samford University (Birmingham, AL)
September, 2013