conductor
Biography
Reviews
Itinerary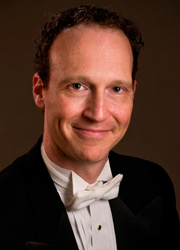 Appointed Principal Conductor of California's Festival Opera in late 2010, BRYAN NIES also continues as the Assistant Conductor of the Oakland East Bay Symphony, for which he has led multiple subscription, holiday and benefit programs. From 2003 to 2012, he also served as the Principal Conductor of the Oakland Youth Orchestra, with which he toured Australia and New Zealand as part of the ensemble's 40th Anniversary celebrations. He also teaches the musical theater workshop at the San Francisco Conservatory of Music.
Prior to his duties in Oakland, Bryan Nies held the posts of Assistant Conductor of Illinois' Elmhurst Symphony Orchestra and the National Chamber Orchestra (now National Philharmonic Orchestra), near Washington, DC. He has conducted multiple opera performances for companies that include Festival Opera, Opera Idaho and Opera San Jose, among them: Anna Karenina (West Coast premiere), Un ballo in maschera, Il barbiere di Siviglia, Cosi fan tutte, The Crucible, Die Fledermaus, Don Pasquale, Eugene Onegin, Manon, Pagliacci, La Rondine, Roberto Devereux, Romeo et Juliette, Tosca, La Tragedie de Carmen, Turandot, La Voix humaine, Werther, Die Zauberflöte. In November 2012, Mr. Nies led the world premiere of Edward Lein's La Llorona with Opera Cultura.
Equally devoted to the musical theater repertoire, Bryan Nies has led productions of Joseph and the Amazing Technicolor Dreamcoat and Miss Saigon for the American Musical Theater of San Jose and A Little Night Music for Theatreworks in Palo Alto. From the piano, he led Urinetown for the San Francisco Conservatory of Music.
At an early age, Bryan Nies first discovered his musical interests when he began piano lessons at his mother's request. He soon added trumpet to his piano studies, switching to French horn during high school. After only three years, Mr. Nies was accepted into the Chicago Youth Symphony Orchestra as the associate principal horn. He first picked up the baton to lead performances of his high school's musical theater productions and wind ensemble.
Bryan Nies enrolled in a five-year, double-degree program at Northwestern University, studying piano performance and psychology. Quickly developing an interest in the voice and conducting, he found himself sharing his time between lab experiments and music directing student-run productions. Soon he was accompanying for voice studios and, after playing for an opera, began private conducting lessons with NU faculty members. He won prizes at two local competitions with the North Shore Music Club and the Chicago Music Club, and was honored with a Gramma Fisher scholarship to study opera in Graz, Austria. On full scholarship, Mr. Nies earned his Masters of Music in orchestral conducting from the Peabody Institute of the Johns Hopkins University, studying with Gustav Meier and Markand Thakar.
Bryan Nies moved to California's Bay Area for the myriad opportunities offered by the wealth of opera companies, theaters and symphonic organizations. He also continued conducting studies with Michael Morgan, who had been his conductor at the Chicago Youth Symphony Orchestra and who soon invited him to his current post with the Oakland Youth Orchestra; subsequently, a grant from the Bruno Walter Memorial Foundation allowed him to accept his current post with the Oakland East Bay Symphony.
During the summer of 2002, Bryan Nies received a Leonard Bernstein scholarship to the famed Tanglewood Music Center. There, he conducted and was the assistant conductor of a production of Bernstein's Trouble in Tahiti. That summer also included personal instruction from distinguished maestri Roberto Abbado, Rafael Frühbeck de Burgos, Grant Llewellyn, Jeffrey Tate and Hans Vonk.
OPERA SAN JOSE REVIEW: SUPREME VOCALISM, DIRECTION
I can't think of a single commonality between Pagliacci and Poulenc's La voix humaine, which Opera San Jose presented together - except that the company has done an exceptionally fine job with both pieces. Sunday's matinee was a display of ardent, stylish vocalism, dramatic cogency and, above all, first-rate musical leadership from conductor Bryan Nies, who led both works with clarity and precision. Each part of the double bill, taken on its own, was a deeply rewarding endeavor.
SFGATE.COM (SAN FRANCISCO CHRONICLE)
SERENE, STRONG SPRING
Bryan Nies led the orchestra through a beautifully shaped and heartfelt rendition of Copland's Appalachian Spring. Nies was especially patient with his tempos and the development of the piece, and the unhurried unfolding spotlighted the composer's wonderfully clear orchestration and his ability to let new ideas steal their way into the music and unexpectedly take center stage. I admire Nies and the players for bringing forth such a serene and stirring performance.
SAN FRANCISCO CLASSICAL VOICE
YOUTHFUL CARMEN AGES WELL: FESTIVAL OPERA'S TALENTED CAST DELIVERS ROBUST PERFORMANCE
The production, which launched Festival's summer season, featured an excellent young cast and superb musical direction by conductor Bryan Nies.
CONTRA COSTA TIMES
CARMEN AT FESTIVAL OPERA
The orchestra, ably led by Bryan Nies, never struck a wrong note.
SAN FRANCISCO BAY TIMES
LETTER PERFECT: AN IMPASSIONED ONEGIN OPENS OPERA SAN JOSE SEASON ON A HIGH NOTE
Tchaikovsky's music continually heightened the emotion and drama, not least for the sure hand of conductor Bryan Nies, for five years an OSJ assistant, making his company debut now as a podium principal. He had the score and all the primary stage roles down pat, alternately igniting and darkening the orchestra in pace with the stage action.
SAN JOSE METRO
OAKLAND SYMPHONY DELIVERS GLOBAL TRIUMPH
There were two experts at the Paramount's podium Friday night. Oakland East Bay's assistant conductor Bryan Nies took the orchestra through as marvelously evocative a reading of Copland's Appalachian Spring as I've ever been privileged to hear. From the moment it softly opened, a cool clarinet rising out of the mists to float about the low hum of strings, Nies extracted a perfectly calibrated performance of this revered piece of Americana. He was attuned to its many shifts of tempo and mood, guiding it through those broad-shouldered, striding passages crackling with energy and the rollicking, scampering moments of Revivalist fervor right back down to the hair-raising stillness of the close, with its hushed flute and the gentle tink, tink, tink, from the xylophone. It was fabulous.
THE OAKLAND TRIBUNE
FESTIVAL OPERA'S TRIUMPHANT TURANDOT
These large forces and this extremely complex score can achieve their potential only by keen leadership. Maestro Bryan Nies accomplished this, and more. Here is a true opera conductor who vigorously leads his large orchestra while emphatically supporting his singers throughout Puccini's intricate passages. His percussion section deserves special mention for its colorful clangor of drums, timpani, gongs, and bells.
SAN FRANCISCO CLASSICAL VOICE
There are some great pleasures to be had in Festival Opera's production of Frank Loesser's The Most Happy Fella, mostly in conductor Bryan Nies' handling of the eclectic score.
SAN FRANCISCO CHRONICLE
11/2/2012 (8pm)
11/3/2012 (8pm)
11/4/2012 (2pm)

OPERA CULTURA

School of Arts & Culture (San Jose, CA)

Lein: La Llorona (world premiere)

11/17/2012 (8pm)
11/18/2012 (3pm)

OPERA SAN JOSE

The California Theatre

J. Strauss, Jr.: Die Fledermaus

2/17/2013 (3pm)

NORTHERN ARIZONA UNIVERSITY SCHOOL OF MUSIC

NAU Chamber & Symphony Orchestras

Ardrey Memorial Auditorium
Mozart: Cosi fan tutte (overture)
Beethoven: Symphony #4

3/15/2013 (8pm)

OAKLAND EAST BAY SYMPHONY

Paramount Theatre

Britten: Four Sea Interludes from Peter Grimes