Daurov/Myer Duo
cello/piano
Biography
Sample Programs
Reviews
Itinerary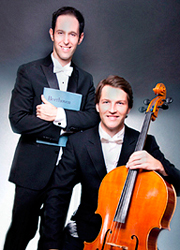 In 2012, two sensationally gifted virtuosi - cellist Adrian Daurov and pianist Spencer Myer - established the DAUROV/MYER DUO to explore and perform three centuries of masterworks from the beloved repertoire for their respective instruments, both solo and in combination.
The Daurov/Myer Duo's recent performances have included important debuts at Washington, DC's The Embassy Series and Smithsonian American Art Museum, University of Massachusetts Amherst, Nantucket Musical Arts Society, Pennsylvania's Saint Vincent College, The Artist Series of Tallahassee, Chamber Music Corvallis and Brooklyn's distinguished Bargemusic, a program highlighted by the world premieres of scores by Ricky Ian Gordon and Christopher Gunning.
ADRIAN DAUROV, at the age of 15, made his debut as soloist with the St. Petersburg State Symphony Orchestra in his native city. Subsequently, he earned top honors at three international competitions - Bulgaria's 1st International Music Competition "Coast of Hope" (First Prize, 1996); The Netherlands' Peter De Grote International Music Competition (Grand Prix, 2002); New York City's L.I.S.M.A. International Music Competition (First Prize, 2004). In 2004, he toured  as soloist with the St. Petersburg Chamber Orchestra, performing in St. Petersburg, Moscow, Warsaw and throughout Germany, and was appointed to the dual position of principal cellist and soloist with the Bayreuth Youth Festival Orchestra, under the baton of Peter Gulke. 2008 heard him as a featured participant in a gala Carnegie Hall concert celebrating Russia's Independence Day, a program that included the distinguished Russian singers Yelena Obratztsova and Vladimir Galouzine. In 2012, he formed his own ensemble - now the award-winning Voxare Quartet, with which he still tours. Mr. Daurov has also collaborated in chamber music programs with pianist Alexander Ghindin, violinist Mark Peskanov and flutist Eugenia Zukerman. Adrian Daurov has been heard on several radio and television stations, including WNYC, WQXR and NTV-America. He performs on a magnificent 1989 cello crafted by John Terry in Florence, Italy.
Gold Medalist of the 2008 New Orleans International Piano Competition, SPENCER MYER has been soloist with, among many others, The Cleveland Orchestra, Boise, Dayton, Evansville and Louisiana philharmonic orchestras, Pro Arte Chamber Orchestra of Boston, the Altoona, Baton Rouge, Bozeman, Canton, Chattanooga, Duluth Superior, Indianapolis, Juneau, Knoxville, Macon, Missoula, New Haven, Phoenix, Ridgefield, San Juan, Santa Fe, Springfield (MA, MO, OH), Traverse, Tucson and Wyoming symphony orchestras, Indianapolis Chamber Orchestra, Ohio's ProMusica Chamber Orchestra, New York City's The Park Avenue Chamber Symphony, Mexico's Orquesta Filarmónica de Jalisco, South Africa's Cape Town and Johannesburg philharmonic orchestras and Beijing's China National Symphony Orchestra. His recital appearances have been presented in New York City's Weill Recital Hall, 92nd Street Y and Steinway Hall, Philadelphia's Kimmel Center for the Performing Arts and London's Wigmore Hall, as well as in Chicago, Cincinnati, Fort Worth, Knoxville, Logan, Salt Lake City and China, while many of his performances have been broadcast on WQXR (New York City), WHYY (Philadelphia), WCLV (Cleveland) and WFMT (Chicago). Mr. Myer has collaborated with CSO members on the Chicago Symphony Orchestra Chamber Music Series and at the Bard, Blossom, Cape Cod Chamber, Colorado, Meadowlark, Mendocino and Skaneateles music festivals, The Stony Brook International Piano Festival, Texas State International Piano Festival, Canada's Concerts aux Iles du Bic, Spain's Gijon International Piano Festival and Valencia International Piano Academy, and Indonesia's Yogjakarta International Music Festival, and has performed with the Blair, Jupiter, Manhattan, Miami and Pacifica string quartets and the Dorian Wind Quintet.
1) "FIRE & ICE"
Beethoven; Sonata #3 in A for Cello & Piano, Op. 69
Falla: Suite populaire espagnole
----------Intermission----------
Grieg: Sonata in a for Cello & Piano, Op. 36
Piazzolla The Grand Tango for Cello & Piano
2) "FROM RUSSIA WITH LOVE"
Stravinsky: Suite Italienne for Cello & Piano
A. Tcherepnin: Suite for Cello Solo
Medtner: Fairy Tales (piano solo)
Prokofiev: March from The Love for Three Oranges
----------Intermission----------
Rachmaninoff Sonata in g for Cello & Piano, Op. 19
3) "MADE IN AMERICA"
Barber: Sonata for Cello & Piano, Op. 6
Corigliano: Fancy on a Bach Air (cello solo)
Gershwin: Three Preludes (piano solo)
Thomson: Four Portraits for Cello & Piano
----------Intermission----------
Copland: Waltz & Celebration from Billy the Kid
Paul Moravec: Andy Warhol Sez
Daron Hagen: Love Songs
Rorem: Dances for Cello & Piano
4) "FAVORITES"
Debussy: Sonata in d for Cello & Piano
J.S. Bach: Suite #1 in G for Cello Solo
Chopin: Polonaise-fantaisie in A-flat, Op. 61 (piano solo)
Schumann: Fantasiestücke for Cello & Piano
----------Intermission----------
Brahms: Sonata #2 in F for Cello & Piano, Op. 99
"The quality of each of these artists is so outstanding that I am planning to engage them again as soon as possible. The beauty of Adrian Daurov's playing and the marvelous collaboration by Spencer Myer was enchanting, not only to us musicians, but to the entire audience. They tore down the house with their brilliant playing.
JEROME BARRY, Director/Founder, The Embassy Series (Washington, DC)
7/23/2022 (7:30pm)

ADIRONDACK LAKES CENTER FOR THE ARTS (Blue Mountain Lake, NY)

Beethoven: 7 Variations, WoO 46
Foss: Capriccio
Falla/Marechal: Suite populaire espagnole
Rachmaninoff: Cello Sonata

7/25/2022 (5pm)

NANTUCKET MUSICAL ARTS SOCIETY (MA)

"Meet the Artists"

7/26/2022 (7pm)

NANTUCKET MUSICAL ARTS SOCIETY (MA)

First Congregational Church in Nantucke

J.S. Bach: Cello Suite #3 (cello solo)
Rachmaninoff: Cello Sonata