David Bernard
conductor
Biography
Discography
Reviews
Itinerary
Media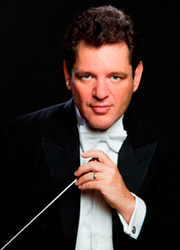 Founding Music Director of New York City's famed Park Avenue Chamber Symphony, DAVID BERNARD has performed in more than 20 countries on four continents, highlighted by a 2011-2012 ten-concert tour of The People's Republic of China. His incisive performances have been heard in many of the city's most prestigious venues, among them Carnegie Hall, Lincoln Center for the Performing Arts' Avery Fisher Hall, Alice Tully Hall and Rose Theater and The Riverside Church, as well as on radio stations WNYC and WQXR and telecast on WCBS. He and his work have been profiled in Symphony Magazine, PlaybillArts.com, The Juilliard Journal, New York's Daily News, The New York Times and The Wall Street Journal. Mr. Bernard and the Park Avenue Chamber Symphony have been named First Prize Winner of The American Prize Competition in both Orchestra Conducting (2012, 2013) and Orchestra Performance (2011, 2012, 2013). In 2016, he was appointed Music Director of Long Island's Massapequa Philharmonic Orchestra.
David Bernard is a pianist and harpsichord/continuo player, and often leads Baroque works from the keyboard and performs in the dual role of soloist and conductor. He has also prepared a new edition of Mendelssohn's Symphony No. 1 and written a textbook of music theory, The Structural Principles of Music. Mr. Bernard lectures on musicology, music history and musicianship, most recently "Musicianship in Performance," an exploration of the decisions made when creating performances.
Devoted to the music of our own time, David Bernard has presented world premières of scores by Bruce Adolphe, Chris Caswell, John Mackey and Ted Rosenthal, while distinguished concert collaborators include Carter Brey, David Chan, Catherine Cho, Adrian Daurov, Pedro Díaz, Bart Feller, Whoopi Goldberg, Judith Ingolfsson, Christina Jennings, Jessica Lee, Spencer Myer, Todd Phillips and James Archie Worley.
David Bernard is passionately committed to elementary and secondary school music education, continuously developing new talent and providing solo performance experience to exciting young artists. His leadership in fundraising for music education programs has bolstered outreach, community music schools and conservatory preparatory programs - most notably the Harmony Program (a New York City initiative modeled after Venezuela's "El Sistema") and the Lucy Moses School. Mr. Bernard has also established the Parent's Association Endowed Scholarship Fund at The Juilliard School Pre-College Division.
Prior to the 1999 founding of the Park Avenue Chamber Symphony, David Bernard served as Music Director of the Stony Brook University Orchestra, the Gilbert and Sullivan Light Opera Company of Long Island and Theater Three. He also held the post of Assistant Conductor of both the Jacksonville and Stamford symphony orchestras.
David Bernard is an alumnus of The Juilliard School, Curtis Institute of Music, Stony Brook University, The Tanglewood Music Center and Saratoga Performing Arts Center, and studied with Sergiu Celibdache, David Lawton, Roger Nierenberg and Arthur Weisberg.
David Bernard's discography includes over 25 albums spanning music from Vivaldi to Copland, and released on Amazon.com, iTunes, Napster and Rhapsody.
STRAVINSKY: The Rite of Spring
BARTÓK: Concerto for Orchestra


with Park Avenue Chamber Symphony

Recursive Classics

BARTÓK: Dance Suite
COPLAND: Appalachian Spring
STRAVINSKY: The Firebird Suite (1919)
VAUGHAN WILLIAMS: Fantasia on a Theme by Thomas Tallis

with Park Avenue Chamber Symphony

Recursive Classics

TCHAIKOVSKY
Symphony #5 in e, Op. 64
Romeo and Juliet Fantasy-Overture

with Park Avenue Chamber Symphony

Recursive Classics

BEETHOVEN: The Nine Symphonies

soloists: Susanna Eyton-Jones, soprano
Jan Wilson, mezzo-soprano
James Archie Worley, tenor
Michael Riley, bass-baritone
with Brearley Singers
Central City Chorus
New York City Master Chorale
with Park Avenue Chamber Symphony

PACS

VIVALDI: The Four Seasons, Op. 8

soloist: David Chan, violinist

CIMAROSA: Oboe Concerto in C

soloist: Pedro Díaz, oboist
with Park Avenue Chamber Symphony

PACS

SCHUMANN: Symphony #2 in C, Op. 61
BRAHMS: Symphony #3 in F, Op. 90

with Park Avenue Chamber Symphony

PACS

MOZART: Clarinet Concerto in A, K. 622

soloist: Stanley Drucker

BEETHOVEN: Violin Concerto in D, Op. 61

soloist: David Chan
with Park Avenue Chamber Symphony

PACS

STRAUSS
Tod und Verklärung, Op. 24
Till Eulenspiegels lustige Streiche, Op. 28

with Park Avenue Chamber Symphony

PACS

RACHMANINOFF: Symphony #2 in e, Op. 27

with Park Avenue Chamber Symphony

PACS

Pulcinella Suite, Stravinsky's bold reworking of pieces by the Baroque composer Pergolesi, was played with zest by the admirable Park Avenue Chamber Symphony, conducted by David Bernard.
THE NEW YORK TIMES
Is David Bernard one of the great conductors of the 21st century? The four releases by Bernard and his Park Avenue Chamber Symphony that I've reviewed over the past year lead me to think so. He is a conductor who can find something fresh to reveal in even the most familiar works, not by doing anything especially eccentric but through a combination of intensity, spontaneity, propulsive rhythm, textural clarity, dynamic control, and well-judged phrasing. Any of those four releases could have found a place on my Want List, but the one that deserves precedence is his traversal of the nine Beethoven symphonies, a milestone for any conductor. The performances in this set range from persuasive to extraordinary. The riveting realization of the mighty Ninth falls into the latter category.
FANFARE
AN AFTERNOON OF SWEETS AND DELIGHTS with the Eglevsky Ballet [headline]
The Massapequa Philharmonic under the direction of David Bernard regaled the audience with the music of Tchaikovsky. Throughout the performance, I felt as if I were listening to a pre-recorded sound track because it was so smooth. What a wonderful addition and elevated element for the audience! Balletomanes and all ballet enthusiasts need not travel to Manhattan to experience a Nutcracker. The choice of Long Island's Tilles Center for the Performing Arts was the 'perfect' venue. On a scale of #1-10, I give this a definite #12.
BROADWAYWORLD.COM
One may miss the sonorous heft and large-scale dimensions of classic full-orchestra [Tchaikovsky] Pathétiques from Karajan, Mravinsky and Solti, yet Bernard and his musicians frequently shed new and valuable light on a thrice-familiar standard, abetted by a recorded ambience that evokes concert-hall realism.
GRAMOPHONE
My favourite recent Beethoven cycle is a largely unnoticed one from Copenhagen. This disc of No 9 is another outsider. As a performance, it's a winner: dramatic, witty, eloquent and boasting some startling choral work in the last movement. The finale is outstanding: the moment early on where bass Brian Kontes encounters the combined forces of the New Amsterdam Singers, the West Point Glee Club and the Young New Yorker's Chorus is an exhilarating surprise. The massed singing has thrilling weight and immediacy. Tenor Cameron Schutza is a standout among Bernard's excellent quartet of soloists. There's a refreshing absence of bombast at the close, and an abundance of uninhibited joy. Well worth investigating.
THEARTSDESK.COM
Saturday afternoon at Newburgh's Downing Park, the Greater Newburgh Symphony Orchestra held its annual free summer concert, conducted by David Bernard, the first of four candidates to be the next maestro. He chose as his theme "Opera Goes Pops" to show the lyric drama of opera music to embody emotions and tell stories. Bernard introduced each piece with its history and meaning to make the large family audience aware of opera's power and appeal. His direction was personable, concise and at ease. Musicians and listeners were in tune with him from start to finish.
TIMES HERALD-RECORD (Middletown, NY)
A charming well-prepared performance. Bernard chose a stylistically well-balanced program, one that presented music from three different centuries. The performance of Shostakovich's challenging Fifth Symphony was very impressive.
NEW YORK CONCERT REVIEW
David Bernard did an excellent job of conducting the world premiere of my piece Aha! in Avery Fisher Hall. With great enthusiasm and diligence, David communicated the rhythmic intricacies of the music to the musicians in rehearsals, and he worked efficiently in the time he had to inspire and instruct the orchestra. I was very pleased with his grasp of the new score and his ability to bring out details as well as shape the large phrases. David brought a fine-tuned sense of balance and color to the music, and his energy infected the players in the best possible way. It was a fine experience, and I would welcome another opportunity to work with him.
BRUCE ADOLPHE, Composer
The Park Avenue Chamber Symphony's performance of Beethoven's Eighth Symphony was captivating throughout; the clarity of rhythm and the musical conviction of the players were superb in what was a sparkling account. Music Director David Bernard made the most of Beethoven's melodic material by emphasizing the shape of the musical line. All dynamics were presented with great contrast, but Bernard also brought out the nuanced Haydnesque elements in the music: the humor, the grace, the lightness of touch in the orchestration, and he emphasized the Viennese dance music that permeates the score.
NEW YORK CONCERT REVIEW
David Bernard is a fine conductor who achieves a great rapport with the ensembles he conducts. His musical ideas are sound and convincing and his rehearsal style is courteous, clear and encouraging. The New Amsterdam Singers had a rewarding experience singing the Mozart Requiem under his direction.
CLARA LONGSTRETH, Music Director, The New Amsterdam Singers
A riveting and stellar performance on all fronts. Music Director David Bernard, who led the performance while playing the harpsichord, did an excellent job of maintaining solid ensemble-playing and consistently driven tempos in what was a crisply articulate, high-energy account [Vivaldi The Four Seasons]. A memorable performance, Bernard conducted the Gloria from memory and with an astute ear for phrasing and color.
NEW YORK CONCERT REVIEW
Mr. Bernard has a great gift for empowering the musicians in his orchestras to perform to their best abilities without sacrificing his required control as a conductor. As simple as this seems, it is actually a very rare combination of skills found only in the best of conductors.
SHEM GUIBBORY, First Violinist, The Metropolitan Opera Orchestra
Towering, Epic Majesty from the Park Avenue Chamber Symphony [headline]
David Bernard conducted from memory; he has these pieces [Beethoven Symphony #4; Mahler Symphony #1] in his fingers, leading the orchestra with a vigorous meticulousness, bolstered by a confidence that there were no limits on where this music might go, from a whisper to a scream. Employing the entirety of the sonic spectrum, the orchestra responded with a frequently exhilarating performance.
LUCID CULTURE
New York City has lots of big attractions that people around the world are well aware of. But New York City also has smaller gems that don't get the same attention but still shine just as brightly. The Park Avenue Chamber Symphony is one such gem. This superb ensemble, led ably by David Bernard, delivered an impressive performance of Beethoven's Symphony No. 2, which many, more well known and well funded, orchestras would be jealous of.
BWW CLASSICAL WORLD.COM
Where is the fireworks vibrantly exist is in the [Tchaikovsky] Symphony No. 5. David Bernard brings together all elements of orchestral virtuosity throughout the score. The opening Andante - Allegro con anima pulsates with energy and riveting strength; the fugato tosses and tussles with convincing fussiness. The first horn in the subsequent Andante cantabile is warm, soft and formed. Within the Symphony's third movement Tchaikovsky's transitioning hemiola techniques creates a bit of teasing frivolity that's especially well highlighted under Mr. Bernard's direction. In the Finale we find the brass in their finest, polished glory; violins are patriotically perky and flounced in the coda. The sound is well balanced, captivating and breathless.
CONCERTONET.COM
Bernard is an exceptional conductor. This album will grab you from the first notes of Bartók's Dance Suite and never let you go until the finale of the Firebird Suite. His performances are marked by a strong sense of the music's structure, an outstanding feeling for orchestral texture and phrasing, and a dynamic rhythmic propulsion that makes itself felt even in quiet passages. I have seldom, if ever, heard a performance of Appalachian Spring as good as this. It is finer than such famous past performances as Serge Koussevitzky's or the composer's own recording. It is, quite simply, stupendous in every respect, and I should add that the sonics in toto are absolutely mind-boggling. This is an essential recording. No matter how many other versions you may own of these works, Bernard's readings will be at or near the top of your list.
FANFARE
There are scores of decent recordings [Stravinsky The Rite of Spring] around. Why should this one be worthy of attention, played by a semi-professional New York orchestra? The playing is impressive, the lean, clear sonorities are an asset, and the finer details hit home with pleasing immediacy under David Bernard's baton. This performance is a zinger. Good, clear recorded sound.
THEARTSDESK.COM
10/14/2018 (3pm)


MASSAPEQUA PHILHARMONIC ORCHESTRA (NY)

Berner Middle School Auditorium

Smetana: The Moldau
Sibelius: Violin Concerto
soloist: Michelle Stern
Dvorák: Symphony #6

11/10/2018 (8pm)


PARK AVENUE CHAMBER SYMPHONY (NYC)

Centennial Memorial Temple at The Salvation Army

Rosenhaus: JFK: A Profile (New York premiere)
narrator: Elliott Forrest
Weber: Clarinet Concerto #1
soloist: Eli Goldberger
Dvorák: Symphony #6

12/9/2018 (3pm)


MASSAPEQUA PHILHARMONIC ORCHESTRA (NY)

Berner Middle School Auditorium

"Holiday Concert"
Tchaikovsky: The Nutcracker (selections)
J.S. Bach: Brandenburg Concerto #3
J.S. Bach: Concerto for Oboe & Violin
soloists: Kelly Smestad, oboist
Aimee Lillienstein, violinist
Handel/Harty: Water Music
Vivaldi: Gloria

12/15/2018 (1&5pm)
12/16/2018 (2pm)


EGLEVSKY BALLET

Tilles Center for the Performing Arts (Brookville, NY)

Tchaikovsky: The Nutcracker
with Massapequa Philharmonic Orchestra

3/17/2019 (3pm)


MASSAPEQUA PHILHARMONIC ORCHESTRA (NY)

Berner Middle School Auditorium

Beethoven: König Stephen (overture)
Lalo: Cello Concerto
soloist: Adrian Daurov
Schumann: Symphony #2

5/5/2019 (3pm)


MASSAPEQUA PHILHARMONIC ORCHESTRA (NY)

Berner Middle School Auditorium

Tchaikovsky: Symphony #6
Rachmaninoff: Piano Concerto #2
soloist: Spencer Myer

5/18/2019 (8pm)


PARK AVENUE CHAMBER SYMPHONY

Centennial Memorial Temple at The Salvation Army

Gershwin: Porgy & Bess (selections)
Concerto
soloist: winner, SMS Concerto Competition
Prokofiev: Symphony #5