MISHA & CIPA DICHTER
pianists
Biography
Repertoire
Discography
Reviews
Itinerary
Media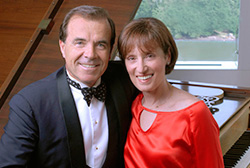 Pianists MISHA and CIPA DICHTER, who met at The Juilliard School as students of the legendary Rosina Lhevinne, made their debut joint appearance at the Hollywood Bowl in 1972, four years after their marriage. Subsequently, the Dichters have performed in recital and with major orchestras around the globe.
Misha and Cipa Dichter's North American engagements have included recitals in all of the major cities in the United States and Canada, as well as appearances with the symphonies of Baltimore, Chicago, Cincinnati, Los Angeles, Pittsburgh and Seattle. Abroad, they have been presented in the music capitals of France, Germany, Holland, Spain and Switzerland.
The Dichters are also frequent and popular guest artists at many of the leading summer music festivals, among them Aspen, Caramoor, Hollywood Bowl, the Mann Center (Philadelphia) Mostly Mozart (New York City) and Ravinia. Following one performance at Mostly Mozart, The New York Times declared: "One was struck not only by the synchronism of their musical impulses, but also by the vigor and elegance of the execution."
Misha and Cipa Dichter's first recording - a three-CD album of Mozart's complete piano works for four hands plus four-hand arrangements by Busoni and Grieg - was released by Musical Heritage Society. American Record Guide called the recording an unmitigated delight," while The Washington Post commented that the music is "witty, melodious and superbly polished. So is the Dichters' performance." Gramophone praised "the Dichters' direct and uncluttered interpretations" as well as their "exuberant rhythmic drive." Music Web International names the album a "Recording of the Year" for 2005. The Dichters first began playing Mozart together when they were students at Juilliard in the 1960s, and it was a Hollywood Bowl performance of Mozart's E-flat double concerto that marked their first joint appearance.
Entering the sixth decade of a distinguished international career, Misha Dichter remains one of America's most popular artists, extending a musical heritage from the Russian Romantic School, as personified by Rosina Lhevinne, his mentor at The Juilliard School, and the German Classical style that was passed on to him by Aube Tzerko, a pupil of Artur Schnabel. Born in Shanghai to parents who had fled Poland at the outbreak of World War II, Misha Dichter and his family moved to Los Angeles when he was two; he began studying the piano at five. At the age of 20, while enrolled at the famed Juilliard School in New York City, he won the Silver Medal at the 1966 International Tchaikovsky Competition in Moscow, which helped launch an enviable concert career.
Cipa Dichter was born in Brazil of Polish-Russian parents, and had her initial piano lessons at the age of six. She made her professional debut at 16 with the Orquestra Sinfônica Brasileira, and came to the United States shortly thereafter to study at The Juilliard School.
Misha and Cipa Dichter reside in New York City, in a household ruled over by Baxter, their amiable Springer Spaniel. They have two sons and five grandchildren. In 2017, the Dichters joined the Advisory Council of New York City's Musicians Foundation (est. 1914).
MENDELSSOHN
Concerto in E for 2 Piano
MOZART
Concerto #10 in E-flat for 2 Pianos, K. 365
POULENC   
Concerto in d for 2 Pianos
 SAINT-SAËNS
Carnival of the Animals
MOZART: The Complete Piano Works for Four Hands

Nimbus: NI 2537/9
The splendid impression of stylistic elegance, technical ease, and interpretive unanimity that the Dichters conveyed in the two Schubert pieces was reinforced when they turned to two pianos for Rachmaninoff's Suite No. 2. Rather grander in manner than the Schubert, the Suite received aptly broader treatment without totally losing the parlor atmosphere.
THE NEW YORK TIMES
Like all music in this collection, it [Fantasia in F Minor] is witty, melodious and superbly polished. So is the Dichters' performance.
THE WASHINGTON POST
The Dichters attack precisely, can maintain some daring tempos without strain and counterbalance each other in the creation of varied orchestral colors. They are likewise indefatigable; the program summarized almost every direction of the literature and the palyers ended with as much verve and exhilaration as they began. The most successful effort in the way of orchestral simulation was in Bernstein's arrangement of Copland's El Salón México, which became an all-out tour de force.
LOS ANGELES TIMES
There's much to savor in the Dichters' direct and uncluttered interpretations. One immediately catches on to the exuberant rhythmic drive that still allows room for lyrical repose when necessary, as in the clashing brio and linear clarity they bring to their unusually brisk performance of the B-flat Sonata, K. 358, the richly textured finale of the F major Sonata, K. 497, and the central Allegro of the F minor Fantasia, K. 608. The ensemble synchronicity operates on a high level.
GRAMOPHONE
The Dichter duo performed with uncommonly fine balances of volume and tone. A keen sensitivity and intelligent give-and-take were at work in even the most remote elements of phrasing between melody, counter-melody and supporting embellishments.
SAN FRANCISCO CHRONICLE
This set [Mozart: Complete Piano Works for Four Hands] is an unmitigated delight. All of these works were intended for pianists to have fun at private gatherings, and that is exactly what Misha and Cipa Dichter invite us to fo. Their playing is sparkling, relaxed, totally musical. This is note-perfect playing that is never pedantic.
AMERICAN RECORD GUIDE
For the piano-playing duo Misha and Cipa Dichter, being married has them finishing each other's thoughts both on and off stage. That unspoken intuition about each other contributes to their seamless virtuoso-style duo performances.
DEMOCRAT & CHRONICLE (ROCHESTER, NY)
The Dichters have performed the Poulenc Concerto many times in their joint careers, and, not surprisingly, their effortless performance brought a lot of charm to this work. This concerto is filled with clever whimsy and unexpected twists and turns–at one moment sounding like comedy music for the film 'Monsieur Hulot's Holiday' and at others more sentimental, but always unmistakably French. The Dichters presented a youthful image on stage that was quite in sync with their fresh performance and dazzling playing.
PENINSULA REVIEWS (CALIFORNIA)
Duo-pianists Cipa and Misha Dichter delivered a fine performance of Mozart's concerto for two pianos. On the stage, two large Steinway pianos stared ominously at the audience, the small orchestra gathered behind, yet in performance never did the pianos overpower the other instruments, and the musical couple played with great sensitivity and aplomb. The audience rose to its feet at the conclusion of the concerto to signal their pleasure.
COURIER & PRESS (Evansville, IN)
The Dichters offered a keenly felt, sturdily assertive performance of music that mixed deep melancholy and lighthearted gaiety. The soft music sparkled, especially Cipa's rippling embellishments in Chopin's Rondo.
HOUSTON CHRONICLE
Piano duo enthusiasts will return again and again to Misha and Cipa Dichter's new three-CD set [Mozart: Complete Piano Works for Four Hands] . Their playing was classical restraint combined with energy and a feeling of authority. The music comes to life in a performance soaring with gusto and sculpted phrasing, making this a delightful, memorable recording.
CLAVIER
This [Mozart: Complete Piano Works for Four Hands] goes on my 'Discs of the Year' list without hesitation. Seminal listening in every respect.
MUSIC WEB INTERNATIONAL
6/12/2022 (3pm)

MUSIC MOUNTAIN (Falls Village, CT)

Gordon Hall

Brahms: 2 Ballades (Mr. Dichter)
Beethoven: Piano Sonata #10 (Mr. Dichter)
Beethoven: Piano Sonata #7 (Mr. Dichter)
Schubert: Fantasie in f
Dvorák: Slavonic Dances, Op. 46 (a selection)

8/6/2022 (7:30pm)

ADIRONDACK LAKES CENTER FOR THE ARTS (Blue Mountain Lake, NY)

Brahms: 2 Ballades (Mr. Dichter)
Beethoven: Piano Sonata #10 (Mr. Dichter)
Beethoven: Piano Sonata #7 (Mr. Dichter)
Schubert: Fantasie in f
Dvorák: Slavonic Dances, Op. 46 (a selection)

10/2/2022 (4pm)

TREETOPS CHAMBER MUSIC SOCIETY

Carriage Barn Arts Center (New Canaan, CT)

Brahms: 2 Ballades (Mr. Dichter)
Beethoven: Piano Sonata #10 (Mr. Dichter)
Beethoven: Piano Sonata #7 (Mr. Dichter)
Schubert: Fantasie in f
Dvorák: Slavonic Dances, Op. 46 (a selection)

7/29/2023 (8:30pm)

ASPEN MUSIC FESTIVAL (CO)

Harris Concert Hall

Debussy: Suite bergamasque (Mr. Dichter)
Liszt: Funérailles (Mr. Dichter)
Liszt: La lugubre gondola #2 (Mr. Dichter)
Liszt: Hungarian Rhapsody #15 (Mr. Dichter
Infante: 3 Andalusian Dances
Grainger: Fantasy on Gershwin's Porgy & Bess