Donald Pippin
conductor
Biography
Discography
Reviews
A Maestro's Memoirs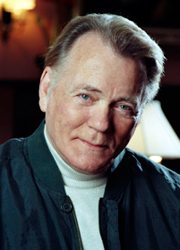 Having served for 14 years as Musical Director of New York's famed Radio City Music Hall, DONALD PIPPIN is one of Broadway's most honored conductors. He is the recipient of the Tony Award for Oliver, the Emmy Award for Broadway Sings Jule Styne, the Drama Desk Award for "consistently outstanding musical direction and commitment to the theatre" and a gold record award for the original cast album of A Chorus Line.
Donald Pippin's distinguished career on Broadway includes La Cage Aux Folles, Cabaret, Mack and Mabel, Seesaw, Applause, Mame, Oliver and A Chorus Line. On television, he was Musical Director for An Evening with Alan Jay Lerner, seen on "Live from Lincoln Center," as part of PBS' "Great Performances" series. Mr. Pippin has conducted throughout the United States, England and Israel, including The Cleveland Orchestra, Los Angeles Philharmonic, Florida Sunshine Pops Orchestra and the symphony orchestras of Baltimore, Chattanooga, Detroit, Fort Worth, Hartford, Houston, Indianapolis, Naples, National, New Mexico, Pittsburgh and Saint Louis, as well as the BBC and London Symphony Orchestras, Royal Philharmonic Orchestra, Cardiff Festival Orchestra and Jerusalem Symphony Orchestra. He was also invited by Beverly Sills to be the guest conductor for the New York City Opera's production of The Music Man.
In 1990, Donald Pippin was in London to conduct the 25th Anniversary Gala of Hello Dolly,! with Carol Channing, returning in 1991 to conduct the concert galas celebrating the 100th birthday of Cole Porter. This latter program, heard at both New York's Carnegie Hall and London's Prince Edward Theatre, has been released on Teldec records. Another Cole Porter recording, Nymph Errant, conceived and arranged by Mr. Pippin, is available on Angel Records, while Jerry Herman's Broadway appears on RCA Victor. His latest releases - A Tribute to Kander & Ebb, A Tribute to Jule Styne and A Tribute to Jerry Herman - are available on the BBC label.
In January 1993, Donald Pippin arranged and conducted Marilyn Horne's performance at President Bill Clinton's Inauguration. Later that year, he made prestigious conducting debuts with the famed Boston Pops Orchestra and at a star-studded Hollywood Bowl performance with the Los Angeles Philharmonic, a gala event that continues to be seen nationally on PBS. During the summer and fall of 1993, he supervised the musical preparation for Jule Styne's The Red Shoes, which opened on Broadway that December. In July 1994, he conducted Marilyn Horne, Jose Carreras and the National Symphony Orchestra in a gala benefit concert at Wolf Trap Farm Park. In the fall of 1996, he returned to London for a 20th Anniversary presentation of A Chorus Line with the BBC Concert Orchestra and a Royal Albert Hall gala marking the centennial of the lyrics of Ira Gershwin. CBS aired Mrs. Santa Claus, a made-for-television movie starring Angela Lansbury, for which Mr. Pippin was the vocal arranger and musical director, while PBS telecast An Evening with Paul Sorvino, conceived, arranged and conducted by Mr. Pippin. In 1999, he created for Marilyn Horne An Evening of Americana Pop Music, a program that the two artists have performed throughout the United States.
March 2003 found Donald Pippin at Lincoln Center for the Performing Arts' Avery Fisher Hall, leading a concert version of Jerry Herman's Mack and Mabel. Later that year, in December, he was back at Avery Fisher Hall, serving as music director and conductor of a special Holiday concert with soprano Deborah Voigt and the New York Philharmonic. Fall 2008 saw the debut of Words and Music by Jerry Herman, a documentary film by Amber Edwards, featuring Donald Pippin (Musical Director), Carol Channing, Angela Lansbury, Charles Nelson Reilly, Arthur Laurents and Michael Feinstein, among other stars; subsequently, the film has been telecast throughout the United States on PBS. In May 2008, he led London's Royal Philharmonic Orchestra in a performance of The Music of Jerry Herman, with soloists and special guests Angela Lansbury, Barbara Cook and Jerry Herman, while, in March 2009, Mr. Pippin led a trio of performances of Jerry Herman's Broadway with the National Symphony Orchestra at Washington's John F. Kennedy Center for the Performing Arts.
Born in Macon, Georgia, Donald Pippin is a classically trained pianist-conductor-composer, whose eminent teachers have included James Friskin, Tibor Serly, Dmitri Dounis, Victor Bay and Anshel Brusilow.
"A Chorus Line"

Columbia CK 33581

"Mame"

Columbia CK3000

"La Cage Aux Folles"

RCA RCD 14824

"Oliver!"

RCA 4113-2RG

"110 in the Shade"

RCA 1085-2RG

"Ben Franklin in Paris"

Angel ZDM 7243-5-65134-2-6

"Dear World"

Sony SK48220

"Mack and Mabel"

MCAD 10523

"Woman of the Year"

Bay Cities BCD 3008

"Cole Porter Centennial Gala Concert"

(with Marie Santella)
Teldec 9031-75277-2

Walt Disney's "Snow White"

Radio City Music Hall Production
Buena Vista 5009

Radio City "Songs of Christmas"

EPIC 48728

"Jerry Herman's Broadway"

RCA 09026-61404-2

"A Tribute to Kander & Ebb"

BBC Concert Orchestra
BBC WMEU 0017-2

"A Tribute to Jule Styne

BBC Concert Orchestra
BBC WMEU 0019-2

"A Tribute to Jerry Herman"

BBC Concert Orchestra
BBC WMEU 0033-2

"Miss Spectacular"

Jerry Herman musical (concept album)
DRG 12995

"Over the Rainbow - The Music of Harold Arlen"

(with Celeste Holm, Berrt Garrett, Patrick & Sean Cassidy, Joely Fisher)
Donald Pippin, pianist
DRG 32915
What would American civilization be without the Broadway musical? In a refreshing sampler of Broadway hit tunes, the National Symphony Orchestra under conductor Donald Pippin showed a packed Wolf Trap audience how rich we are in home-grown treasures.
THE WASHINGTON POST
In the first full-length traversal of the Herman compilation here, Pippin drew from the ISO many signs of his idiomatic command of this music - its catchy melodies, apt, memorable texts and heart-to-heart expressiveness.
THE INDIANAPOLIS STAR
The final number ('The Best of Times' from 'La Cage aux Folles') had everyone on stage, and had the audience singing along, leaping to their feet for a well-deserved standing ovation.
ST. LOUIS POST-DISPATCH
Something extraordinary happened in Chattanooga last weekend.  Christmas arrived via the Chattanooga Symphony & Opera's Home for the Holidays show, and it turned out to be more than just another seasonal Fa-la-la La-la Lala-la-la.  I'd have to say - and this is painful - that it was the best show in Chattanooga over the past year.  The only sad part of Home for the Holidays was that there were only two performances and that every kid and adult in Chattanooga didn't see it.  This was a wonderful show, and everyone needs a little wonder in their lives.  Merry Christmas.
THE CHATTANOOGAN
For two-plus hours, Pippin treated the audience to a non-stop trip down memory lane ('The Music of Jerry Herman') as he conducted the Philharmonic Orchestra, its chorale, and four wonderfully voiced guest performers. His seemingly effortless commentary and banter, his own splendid musicianship, switching from conducting to piano-playing and, from time to time, singing, was the glue that bound the multiple selections into a perfect whole. You knew it was going to be a great evening when the first selection, simply entitled Overture, brought down the house.
NAPLES DAILY NEWS
Philly Pops Tribute to Marvin Hamlisch at Verizon Hall [headline]
Conductor Blank returned to the microphone and said they had a special 'surprise.' They had a 'guest conductor' for the encore, the Overture from A Chorus Line. It would be conducted by the man who conducted BOTH the first and the LAST performance on Broadway: Don Pippin. Pippin stepped on the podium and, with emotion in his voice, revealed that, just as he left the wings to come out to conduct, Terri Hamlisch handed him 'Marvin's baton'! A great end to a great concert.
PHILADELPHIA FORUM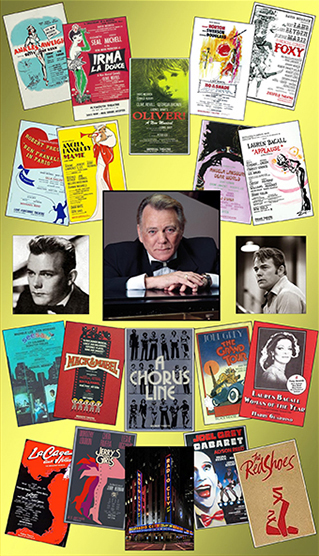 A living legend of Broadway, DON PIPPIN has enjoyed a decades-long, award-winning career, closely associated with a constellation of musical theatre's star composers, performers and producers.In A Maestro's Memoirs, Don seamlessly weaves the story of his life and career into a new one-man + guest(s) show, highlighted by back-stage insights into his collaborations, private film and audio clips from his personal archive and immortal songs that have found their places in the Great American Songbook.
A Maestro's Memoirs runs about 75 minutes (without intermission), and is perfect as a stand-alone concert presentation or a patrons' event connected to guest conducting a Pops program.  With university and college presentations, Don is also eager to offer two-hour masterclasses, working with talented singers in musical theatre programs.
A Maestro's Memoirs can be presented with one (female) or two (female/male) singers - either artists touring with Don, or pre-professional performers from local academic music theatre programs.
Technical Needs
9' concert grand piano (Steinway or Yamaha)
wireless microphone
projector & screen (with operator)
standard concert/recital lighting