Edward Leonard
conductor
Biography
Reviews
Itinerary
Media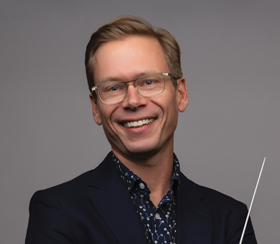 EDWARD LEONARD enjoys an outstanding reputation for his artistic versatility and interpretation of an extensive and wide-ranging repertoire. The Founder and Music Director of the Chamber Orchestra of Pittsburgh, he has led the organization and its audience to substantial growth since its creation in 2014.
As an artistic director and conductor, Edward Leonard's programming extends from the masterpieces of the traditional canon to the music of our own time, including a growing series of commissioned works premiered by the Chamber Orchestra of Pittsburgh. He has conducted the world premieres of scores by Marina López, Alyssa Wang and Federico Garcia-De Castro, as well as Pittsburgh premieres by Lou Harrison, Jeffrey Nytch and Amy Williams.
Edward Leonard regularly performs as a guest conductor throughout the United States, with engagements including the symphony orchestras of Allentown, Butler County and Canton, the Chautauqua Institution's Youth Chamber Connection Orchestra, Kansas' Midwest Chamber Ensemble and Pittsburgh's Eclectic Laboratory Chamber Orchestra, OvreArts New Music Ensemble, Savoyards Pittsburgh and Three Rivers Young Peoples Orchestra. He also serves as a cover conductor for the Pittsburgh Symphony Orchestra.
Edward Leonard studied with Juan Pablo Izquierdo at Carnegie Mellon University, where he earned his Master's degree in Orchestral Conducting. While there, he prepared ensembles for conductors including Sir Andrew Davis, Thomas Baldner, David Effron and Erich Kunzel. For five summers, he attended the prestigious Pierre Monteux School for Orchestra Conductors in Hancock, Maine, studying with Michael Jimbo.
The evening began with Mozart's Sinfonia Concertante, a sprightly, sparkling work filled with wit and humor. Under Mr. Leonard's direction, the orchestra attacked with crisp articulation and well-planned phrases. The ensemble demonstrated ample ability to play with Mozartean grace, with fleeting, light scale runs contrasted with warm, full-bodies harmonies throughout.
Pittsburgh Post-Gazette
Mr. Leonard and the Chamber Orchestra of Pittsburgh captured the joy of the music.
Pittsburgh Post-Gazette
Mr. Leonard and the Chamber Orchestra of Pittsburgh are doing the yeoman's work in programming fresh repertoire not often heard live.
Pittsburgh Post-Gazette
Edward Leonard was a pleasure to work with from start to finish. He really did his homework to find some unrepresented gems for the ensemble to play, and worked with Imani Winds to bring the ensemble's style to the Chamber Orchestra of Pittsburgh with thoughtfulness and respect. Edward was a clear and supportive conductor to play with, and he ran a beautiful rehearsal.
Toyin Spellman-Diaz, oboist
Imani Winds
The Chamber Orchestra of Pittsburgh under the direction of Edward Leonard plays with an extraordinary level of expression and sensitivity. That was wholeheartedly apparent to me as it even raised the fiery level of the Imani Winds, who frankly is never lacking of fire on stage! It was aurally and visually gratifying to witness that collaboration of lemanja. I thank and commend you and COP for making such collaboration possible.
Jeff Scott, composer
9/24/2022 (7:30pm)

CHAMBER ORCHESTRA OF PITTSBURGH (PA)

Rodef Shalom Congregation

Scott: lemanji
Blacher: Concerto for Wind Quintet & Strings
soloists: The Imani Winds
Brahms: Serenade #1

10/2/2022 (7pm)

CANTON SYMPHONY ORCHESTRA (OH)

Zimmermann Symphony Center

Elgar: Cello Concerto
soloist: Joshua Roman

12/3/2022 (7:30pm)

CHAMBER ORCHESTRA OF PITTSBURGH (PA)

Rodef Shalom Congregation

Grieg: Holberg Suite
Gershwin: Lullaby
Joy Ilke: selections by the composer

12/4/2022 (3pm)

CHAMBER ORCHESTRA OF PITTSBURGH (PA)

Sixth Presbyterian Church

Grieg: Holberg Suite
Gershwin: Lullaby
Joy Ilke: selections by the composer

2/4/2023 (7:30pm)

CHAMBER ORCHESTRA OF PITTSBURGH (PA)

Rodef Shalom Congregation

Arnold: Sinfonietta #1
Wang: Violin Concerto, "Swept Away" (world premiere)
soloist: Alyssa Wang
Haydn: Symphony #44

2/5/2023 (3pm)

CHAMBER ORCHESTRA OF PITTSBURGH (PA)

Calvary United Methodist Church

Arnold: Sinfonietta #1
Wang: Violin Concerto, "Swept Away" (world premiere)
soloist: Alyssa Wang
Haydn: Symphony #44

3/11/2023 (7:30pm)

CHAMBER ORCHESTRA OF PITTSBURGH (PA)

Rodef Shalom Congregation

A. Williams: Telephone (Pittsburgh premiere)
Milhaud: La création du monde
Stravinsky: L'Histoire du soldat
narrator: Daina Griffith

6/3/2023 (7:30pm)

CHAMBER ORCHESTRA OF PITTSBURGH (PA)

Rodef Shalom Congregation

Mendelssohn: Double Concerto
soloists: Maureen Conlon-Gutierrez, violinist
Rodrigo Ojeda, pianist
Strauss: Metamorphosen
Arnold: Sinfonietta #1 (I: Allegro comodo)
Chamber Orchestra of Pittsburgh
Rodef Shalom Congregation
February 4, 2023

Arnold: Sinfonietta #1 (II: Allegretto)
Chamber Orchestra of Pittsburgh
Rodef Shalom Congregation
February 4, 2023

Arnold: Sinfonietta #1 (III: Allegro con brio)
Chamber Orchestra of Pittsburgh
Rodef Shalom Congregation
February 4, 2023

Haydn: Symphony #44 in e (I: Allegro con brio)
Chamber Orchestra of Pittsburgh
Rodef Shalom Congregation
February 4, 2023

Haydn: Symphony #44 in e (II: Menuetto e Trio)
Chamber Orchestra of Pittsburgh
Rodef Shalom Congregation
February 4, 2023

Haydn: Symphony #44 in e (III: Adagio)
Chamber Orchestra of Pittsburgh
Rodef Shalom Congregation
February 4, 2023

Haydn: Symphony #44 in e (IV: Finale. Presto)
Chamber Orchestra of Pittsburgh
Rodef Shalom Congregation
February 4, 2023

Gershwin: Lullaby
Chamber Orchestra of Pittsburgh
Rodef Shalom Congregation
December 3, 2022

Grieg: Holberg Suite
Chamber Orchestra of Pittsburgh
Rodef Shalom Congregation
December 3, 2022