Elliot Moore
conductor
Biography
Reviews
Itinerary
Media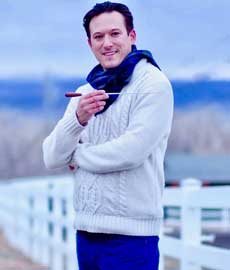 Now in his seventh season as Music Director of Colorado's 57 year-old Longmont Symphony Orchestra, ELLIOT MOORE is one of the most exciting, multi-faceted and innovative American conductors of his generation.
During his tenure in Colorado, the Longmont Symphony Orchestra has resonated with diverse audiences, resulting in exceptional growth in attendance, artistic achievement and increased excitement for symphonic music in the region. Committed to making compelling concerts accessible to everyone, Elliot Moore champions scores by living women composers, presents a sensory-friendly performance with the Boulder Ballet for differently-abled individuals, and regularly brings to the region symphonic works that have not yet been heard in Colorado. During the lost months of the COVID-19 pandemic, Dr. Moore, in partnership with the LSO and Longmont Public Media, created the television show "Music & Moore," a bi-monthly program available on Longmont Public Media and YouTube.
Elliot Moore made his Weill Recital Hall at Carnegie Hall debut on March 3, 2015, conducting his newly formed Blue Period Ensemble in a program that included Tibetan Dance and the New York City premiere of Deep Red for Marimba and Ensemble by MacArthur Award recipient Bright Sheng and the Arnold Schoenberg/Rainer Riehn transcription of Gustav Mahler's Das Lied von der Erde.
Highlights of Elliot Moore's rapidly expanding career include rehearsals and/or performances with Mexico's Orquesta Filarmónica de Jalisco, Canadian Chamber Opera of New York City, Augusta, Bozeman, Motor City, Sewanee and St. Cloud symphony orchestras and Canada's National Arts Center Orchestra, as part of its Summer Music Institute Conductors Program. After completing his doctoral work at the University of Michigan, he was invited back to lead programs of the University Philharmonia Orchestra and the Contemporary Directions Ensemble. Dr. Moore also served as Music Director of the Detroit Medical Orchestra.
Equally at home on the concert stage and in the opera pit, Elliot Moore led the 2010 world premiere performance of Ursula Kwong-Brown's The First of Love at Columbia University's Miller Theatre. He has also led the University of Michigan Opera Theatre's productions of Strauss' Ariadne auf Naxos and Verdi's Falstaff.
Born in Alaska, Elliot Moore received his Doctor of Musical Arts degree from the University of Michigan, where he had been a recipient of the Helen Wu Graduate Conducting Fellowship. He began his conducting studies at the Conductors Retreat at Medomak with Kenneth Kiesler and was subsequently invited to be his assistant at the Manhattan School of Music, a position he held for two years.
Off the podium, Elliot Moore has a keen interest in languages, and is an award-winning cellist, who has performed in France, Germany, Italy, Switzerland, Brazil and the United States. In 2022, Dr. Moore established The Music & Moore Foundation with the mission of delivering unique, approachable initiatives to diverse audiences and fostering a lifelong love of music. It will accomplish these intentions through the commissioning of symphonic works from composers of diverse experiences and backgrounds; a nationally distributed children's book series; an instrument donation program to assist lower socio-economic music students; and an educational program on classical music to be released to streaming services.
Elliot Moore, his wife, Dr. Pauline Cichon, a noted physician, and their three children and a trio of dogs make their home in Colorado.
Elliot Moore has a remarkably keen ear, excellent theoretical and analytical skills, and very clear and expressive technique. Here is a serious musician, who creates synergy among musicians, and places the music at the highest priority. There is no personal aggrandizement. Instead there is an authentic and genuine quality in who he is and what he does. How remarkably welcome these qualities are!
Kenneth Kiesler
Professor of Conducting & Director of Orchestras, University of Michigan
I find Elliot Moore to be a highly intelligent, imaginative and deeply musical individual who deserves to have every opportunity to flourish as a conductor. He understand music from the inside and, while his passion for music is evident, it is because of his combination of passion and intelligence that shows in particular what a great future he has.
 Richard Danielpour
Grammy Award-winning Composer
Under the direction of Elliot Moore, the Longmont Symphony has become a cohesive and organized group with a notably unified sound. Moore's conducting has elevated the symphony in a short period, and, under his leadership the orchestra has devised a plan for rapid growth. Working with Elliot has provided our organization not only with a seamless Nutcrackerproduction week but also with a wonderful collaborative partner for all of our musical needs. I consider Elliot to be one of those very rare 'dancer conductors.' If your organization is in need of a positive new direction for the musical element of your ballet productions, then Elliot Moore is the conductor for you.
Lance Hardin
Associate Artistic Director, Boulder Ballet
7/4/2023 (1pm)


LONGMONT SYMPHONY ORCHESTRA (CO)

Thompson Park

"4th of July Concert"

10/7/2023 (7pm)


LONGMONT SYMPHONY ORCHESTRA (CO)

Vance Brand Civic Auditorium, Skyline High School Campus

Adams: Short Ride in a Fast Machine
Daugherty: Harp of Ages
soloist: Rachel Starr Ellins
Holst: The Planets

10/21/2023 (7pm)


LONGMONT SYMPHONY ORCHESTRA (CO)

Stewart Auditorium, City of Longmont Museum

Crawford: The Social Dilemma, Suite
Mahler/Lee: Symphony #4
soloist: Ekaterina Kotcherguina, soprano

11/18/2023 (7pm)


LONGMONT SYMPHONY ORCHESTRA (CO)

Vance Brand Civic Auditorium, Skyline High School Campus

Beethoven: Coriolan Overture
Bloch: Schelomo
soloist: Clancy Newman, cellist
Shostakovich: Symphony #9

12/2/2023 (1&4pm)
12/3/2022 (2pm)


LONGMONT SYMPHONY ORCHESTRA (CO)

Vance Brand Civic Auditorium, Skyline High School Campus

Tchaikovsky: The Nutcracker
with Boulder Ballet

12/16/2023 (7pm)


LONGMONT SYMPHONY ORCHESTRA (CO)

Vance Brand Civic Auditorium, Skyline High School Campus

"A Baroque Christmas"
soloists: Ekaterina Kotcherguina, soprano
, tenor

1/20/2024 (4pm)


LONGMONT SYMPHONY ORCHESTRA (CO)

Vance Brand Civic Auditorium, Skyline High School Campus

Family Concert: "Dan Brown's Wild Symphony"

2/17/2024 (7pm)


LONGMONT SYMPHONY ORCHESTRA (CO)

Vance Brand Civic Auditorium, Skyline High School Campus

Tchaikovsky: Romeo & Juliet Fantasy Overture
Tchaikovsky: Piano Concerto #1
soloist: Marika Bournaki

3/16/2024 (7pm)


LONGMONT SYMPHONY ORCHESTRA (CO)

Stewart Auditorium, City of Longmont Museum

Brown/Crawford: Sky Suite
Mahler/Schoenberg-Rheim: Das Lied von der Erde
soloists: Abigal Nims, mezzo-soprano
, tenor

4/20/2024 (7pm)


LONGMONT SYMPHONY ORCHESTRA (CO)

Vance Brand Civic Auditorium, Skyline High School Campus

Beethoven: Symphony #9
soloists: Dawna Rae Warren, soprano
Gloria Palermo, mezzo-soprano
, tenor
, bass
with Longmont Chorale

5/4/2024 (7pm)


LONGMONT SYMPHONY ORCHESTRA (CO)

Vance Brand Civic Auditorium, Skyline High School Campus

" John Williams Tribute"
Smetana:  The Moldau
Longmont Symphony Orchestra (Colorado)
April 6, 2019

Dvorák: Symphony #9 in e, Op. 95 (mvt. IV: Finale)

Longmont Symphony Orchestra (Colorado)
November 11, 2017

Dvorák: Symphony #8 in G, Op. 88 (excerpts)

Motor City Symphony Orchestra (Michigan)
April 23, 2017

Poulenc: Concerto in g for Organ, Strings & Timpani (rehearsal)
soloist: Andrew Herbruck
ensemble of Michigan professional musicians
October 17, 2015

Mahler/Schoenberg: Das Lied von der Erde (audio only)
soloists: Kristin Eder, mezzo-soprano; Kyle Erdos-Knapp, tenor
Blue Period Ensemble
March 2, 2015