Euclid Quartet
string quartet
Biography
Discography
Reviews
Itinerary
Media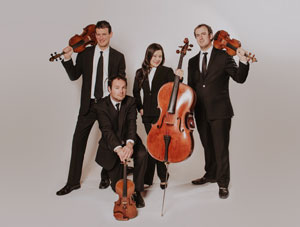 Jameson Cooper, violin
Brendan Shea, violin
Luis Enrique Vargas, viola
Jacqueline Choi, cello
Celebrating its 20th anniversary season, the EUCLID QUARTET enjoys one of the most highly regarded reputations of any chamber ensemble of its generation, with its members' constituting a multinational mix representing four continents: violinist Jameson Cooper (Great Britain), violinist Brendan Shea (United States), violist Luis Enrique Vargas (Venezuela), cellist Jacqueline Choi (South Korea). Captivating audiences and critics ranging from Carnegie Hall to school classrooms to radio and television broadcasts, the quartet consistently performs to enthusiastic acclaim throughout the country.
Following a summer that included the Euclid Quartet's world premiere performance of William Paterson's String Quartet #2 at the Mostly Modern Festival in Saratoga Springs, New York, the ensemble's current season is highlighted by concerts throughout the Northeast United States with guest cellist Adrian Daurov's joining Euclid for Schubert's Cello Quintet and a six-concert survey of the complete Beethoven 16 string quartet cycle in its home city halls at the University of Indiana South Bend, Langlab South Bend and Saint Mary's College.
Formed in Ohio in 1998, the Euclid Quartet takes its name from the famous Euclid Avenue in Cleveland, home to a wealth of renowned artistic and cultural institutions. Within three years, the ensemble was awarded the String Quartet Fellowship of the Aspen Music Festival, where it was invited to return for the subsequent summer's concert season. The quartet was also invited to study with the Emerson String Quartet at the Carnegie Hall Professional Training Workshop.
Highlights of the Euclid Quartet's career include significant global recognition as the first American string quartet to be awarded a top prize at the prestigious Osaka International Chamber Music Competition. Prior to its Japanese laurels, the quartet also won awards in numerous United States competitions, including the Hugo Kauder International Competition for String Quartets, The Carmel Chamber Music Competition and the Chamber Music Yellow Springs Competition. In 2009, the Euclid Quartet was awarded the esteemed "American Masterpieces" grant from the National Endowment for the Arts.
The Euclid is a frequent guest ensemble at American and Canadian music festivals, among them those of Aspen, Great Lakes, Kent/Blossom, Mostly Modern and Orford, while expanded programs have included collaborations with internationally renowned artists, including Adrian Daurov, James Dunham, Gregory Fulkerson, Warren Jones, Paul Katz, Joseph Silverstein and Alexander Toradze.
In 2007, the Euclid Quartet was appointed to the prestigious string quartet residency at Indiana University South Bend, where its members teach private lessons and coach chamber music. Passionately devoted to presenting the highest quality chamber music to young audiences, these seasoned teaching artists have performed for thousands and thousands of students and young adults, in part through support from the National Endowment for the Arts and collaborations with Carnegie Hall's Weill Music Institute and the Fischoff National Chamber Music Association.
Active in the recording studio, the Euclid Quartet issued a pair of CDs, comprising the six string quartets of Béla Bartók on Artek Recordings. The American Record Guide raved about these discs, "rarely has a group found such meaning and vision." Their debut CD, on Centaur records, features the first four quartets of Hugo Kauder, a refugee from Nazi-occupied Austria who fled to the United States in the 1940s; he defied the atonal trend of his generation with his uniquely harmonic, contrapuntal style. The ensemble's most recent CD, "American Quartets: Antonín Dvorák & Wynton Marsalis," comprised of Dvorák's String Quartet #12 ("American") and Marsalis' At the Octoroon Balls - String Quartet #1,was released by Afinat Records in the fall of 2017.
"AMERICAN QUARTETS: ANTONÍN DVORÁK & WYNTON MARSALIS"

Dvorák: String Quartet #12 in F, Op. 96 ("American")
Marsalis: At the Octoroon Balls - String Quartet #1

Afinat Records: AR1701

BARTÓK: String Quartets 2, 4 & 6

ARTEK Recordings: AR-0053-2


BARTÓK: String Quartets 1, 3 & 5

ARTEK Recordings: AR-0060-2


HUGO KAUDER: String Quartets 1-4

Centaur Records: CRC 2840

What an interesting pairing of works the Euclid Quartet have come up with for their new disc. 'American Quartets' teams Dvorák's String Quartet No 12 in F, known as the American, with Wynton Marsalis's String Quartet No 1, At the Octoroon Balls.

There is little hard evidence of anything specifically American within Dvorák's quartet but its spirit appears to have been influenced by the composer's residency in the United States (1892-95). The music overflows with folk-like material – perhaps more Czech than Yankee – and the prevailing atmospheres are suffused with the warmth, pride and vitality this composer wore so generously on his sleeve. The Euclid Quartet play the piece with bounties of fervour and poetry, while always heightening the score's meticulous craftsmanship.

Marsalis continues to be a musician of wondrous resourcefulness. His First String Quartet evokes American Creole traditions in his native New Orleans through seven movements of varied and inventive incident. The opening movement, 'Come Along Fiddler', is an expansive tour de force for solo violin. The subsequent buoyant and lyrical movements explore a range of cultural references, with blues, ragtime and jazz giving the string quartet a kaleidoscopic workout.

The Euclid musicians make a veritable feast of the score. Jameson Cooper exults in the first movement's beguiling flights, and he and his colleagues are at turns tender, whimsical and stirring in Marsalis's other smashing bursts of imagination.
GRAMOPHONE
Masterful quartet handles masterpieces with ease [headline]
The Euclid Quartet's reading [Beethoven Quartet #7] emphasized the romantic gestures throughout the four movements. They negotiated technical demands in a satisfactory way, and delivered a solid rendition of this multi-faceted gem. They fared even better with Debussy's String Quartet, clearly music that matched the members' temperament as an ensemble. The Euclid Quartet gave an energetic rendition, highlighting the many changes of color and textures throughout. The pizzicato movement was particularly impressive. This was, no doubt, the best performance of the work this critic has heard on these shores. All in all, a most revelatory evening of superb chamber music.
PALM BEACH DAILY NEWS
The Euclid Quartet rises above mere technical excellence, and performs with openness and joy. They are an energetic group with great focus and personal drive; their performances are impassioned, musical and communicative.
James Dunham
former violist, Cleveland Quartet
The Euclid opened the evening with Claude Debussy's String Quartet in G Minor - a work whose strange, elusive beauty can leave you breathless. The group played it well, with an elegant mix of passion, ferocity and feathery delicacy.
THE WASHINGTON POST
The impressiveness of the Euclid Quartet extended to all the styles it performed on Saturday, when it made its Pittsburgh début. Their emotional and timbral richness brought to mind the old-world approach of the Guarneri Quartet. The Euclid performance was devoted, expert and exhilarating.
PITTSBURGH TRIBUNE-REVIEW
A knockout performance
LOS ANGELES TIMES
Groups selected for this prestigious series [Wiliamstown Chamber Concerts] uniformly represent the best of the current crop of touring ensembles. The Euclid is no exception. They'll make their mark as a major ensemble in years to come; they're that good.
THE ADVOCATE WEEKLY (Berkshires region)
The Euclid Quartet has a refined warm, rich tone, precise ensemble, and spot-on intonation. They play with great expression, and the subtle use of gestures is always included at the perfect moment and with impeccable good taste.
MUSICWEB INTERNATIONAL
The Euclid Quartet has demonstrated that it is pure gold in these spectacular performances [CD of Bartók Quartets 2, 4, 6].
ALL MUSIC GUIDE
Rarely has a group found such meaning and vision.
AMERICAN RECORD GUIDE
The performances [CD of Bartók Quartets 2, 4, 6] are sweeping and detailed, with all of the fierce intensity the music suggests, played with seamless interplay and cohesion. The Euclid has triumphed, with performances of rare commitment and passion
GRAMOPHONE
The Euclids played their hearts out for the full house attending their concert at the Flagler Museum. This foursome reminded me not just of the Emerson but the Tokyo String Quartet, and it might be that they deserve to rank in that august company. The Grieg quartet, in any case, received a brilliant reading, and was met by a well-deserved standing ovation. We were, after all, in the presence of great artistry.
PALM BEACH ARTS PAPER
Their concert performance at Carnegie's Weill Recital Hall had wonderful intensity, insight and communicative strength.
Ara Guzelimian
former Senior Director & Artistic Advisor
Carnegie Hall

2/11/2020 (7:30pm)

HENRY MORRISON FLAGLER MUSEUM (Palm Bea ch, FL)

The Music Room

Beethoven: String Quartet #7
Debussy: String Quartet

2/27/2020 (6:30 & 9pm)
3/3/2020 (6:30 & 9pm)

THE NEWBERRY (Chicago, IL)

Beethoven: String Quartet #1 (mvt. II)
Beethoven: String Quartet #3 (mvt. IV)
Beethoven: String Quartet #4 (mvts. I & IV)
Beethoven: String Quartet #9 (mvts. III & IV)

3/5/2020 (7pm)

LANGLAB SOUTH BEND (IN)

Complete Beethoven String Quartet Cycle - #5
String Quartets #4, 8, 10

3/11/2020 (6:30 & 9pm)

STAN MANSION CANDLELIGHT MUSICAL EVENTS (Chicago, IL)

Beethoven: String Quartet #1 (mvt. II)
Beethoven: String Quartet #3 (mvt. IV)
Beethoven: String Quartet #4 (mvts. I & IV)
Beethoven: String Quartet #9 (mvts. III & IV)

9/10/2020 (6:30 & 9pm)

THE NEWBERRY (Chicago, IL)

Beethoven: String Quartet #1 (mvt. II)
Beethoven: String Quartet #3 (mvt. IV)
Beethoven: String Quartet #4 (mvts. I & IV)
Beethoven: String Quartet #9 (mvts. III & IV)

9/20/2020 (2:30pm)
POSTPONED, tba

CHAMBER MUSIC SOCIETY OF UTICA (NY)

Museum of Art Auditorium

Debussy: String Quartet
Schubert: String Quintet
with Adrian Daurov, cellist

5/15/2022 (3pm)

FRIENDS OF MUSIC OF STAMFORD, NY

Stamford United Methodist Church

Debussy: String Quartet
Schubert: String Quintet
with Adrian Daurov, cellist
Webern: Langsamer Satz
February, 2017

Haydn: String Quartet in D, Op. 76, #5 (mvt. IV: Presto)
November, 2016

Debussy: String Quartet in g minor, Op. 10 (mvt. II: Assez vif et bien rhythmé)
November, 2016

Bartók: String Quartet #1 (mvt. I: Lento)
Greencastle Summer Music Festival
August 9, 2013

Bartók: String Quartet #1 (mvt. II: Allegretto)
Greencastle Summer Music Festival
August 9, 2013

Bartók: String Quartet #1 (mvt. III: Introduzione - Allegro)
Greencastle Summer Music Festival
August 9, 2013

Dvorák: String Quartet #12 in F, Op. 96 (mvt. II: Lento)
Indiana University South Bend
September, 2011

Dvorák: String Quartet #12 in F, Op. 96 (mvt. IV: Vivace ma non troppo)
Indiana University South Bend
September, 2011

Beethoven: String Quartet in F, Op. 18, #1
Indiana University South Bend
September, 2010

Euclid Quartet's YouTube Channel