Grzegorz Nowak
conductor
Biography
Discography
Reviews
Itinerary
Media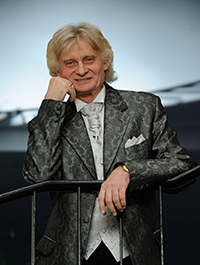 The Polish-born GRZEGORZ NOWAK is the Permanent Associate Conductor of London's Royal Philharmonic Orchestra, having been promoted to this position after serving seven seasons as the orchestra's Principal Associate Conductor. In these capacities, he has given numerous concerts throughout the United Kingdom, as well as having led the RPO on tours to Switzerland, Turkey and Armenia. With the beginning of the 2017-2018 season, he also begins a tenure as Music Director of Teatr Wielki - Polish National Opera.
Grzegorz Nowak's career was propelled to the global level after winning the prestigious Ernest Ansermet International Conducting Competition in Geneva, winning the first prize and all special prizes, including the Grand Prix Patek Philippe, Rolex Prize, Swiss Prize and American Patronage Prize. In Basel, he was awarded the Europäische Förderpreis für Musik for the European Musician of the Year by a committee chaired by Pierre Boulez. Since then, he has conducted the world's most distinguished orchestras and served as Music Director of the Edmonton Symphony Orchestra, Polish National Opera in Warsaw, Germany's SWR Radio Orchestra, Sinfonia Helvetica and Festival Musique & Amitié in Switzerland. Currently, Mr. Nowak is "Director Titular" of Orquesta Sinfónica de España and Madrid's Orquesta Clásica Santa Cecilia. He also serves as Artist-in-Residence at Florida International University in Miami.
Widely heard on over 80 esteemed CDs, Grzegorz Nowak's RPO albums include Mendelssohn's Scottish and Italian symphonies, Shostakovich's Symphony #5, Mussorgsky's Pictures at an Exhibition, DvoÍák's Symphonies Nos. 6-9, Schumann's Symphonies Nos. 1-4 and the complete symphonies and major orchestral works of Brahms and Tchaikovsky. Other award-winning recordings by Mr. Nowak have been highly acclaimed by the press and public alike: Diapason (Paris) praised his KOS live recording with Martha Argerich and Sinfonia Varsovia as "indispensable, a must," and its second edition won the Fryderyk Award, while Gramophone hailed his ASV recording with the London Symphony Orchestra as "outstanding." "The Polish Symphonic Music of the XIX Century" with Sinfonia Varsovia won the CD of the Year Award and Singapore's Bronze Bell Award, and was described by the American Record Guide as "uncommonly rewarding, 67 minutes of pure gold." The Hänssler Classic disc of Czerny's Symphonies Nos. 2 and 6 (world premiere recording and performance, after the discovery of the manuscript in Vienna) was praised as "delightful, marvelously colorful and memorable" by Classics Today, and his CD with Anja Silja won two Classical Internet Awards, with Classics Today hailing it as "simply marvelous." Most recently, Mr. Nowak led the Teatr Wielki - Polish National Opera production of W»adys»aw îele½ski's Goplana, which won the "Rediscovered Work" prize of the 2017 International Opera Awards.
Grzegorz Nowak has collaborated with many of the most respected instrumentalists of our time, including Agustin Anievas, Martha Argerich, Yefim Bronfman, Nigel Kennedy, Anne-Sophie Mutter, Mstislav Rostropovich, Gil Shaham and Krystian Zimerman, while stellar vocal artists include Janet Baker, Kathleen Battle, Marilyn Horne, Gwyneth Jones, Sherrill Milnes and Anja Silja.
TCHAIKOVSKY

Symphony #1 in g, Op. 13 ("Winter Dreams")
Symphony #2 in c, Op. 17 ("Little Russian")
Symphony #3 in D, Op. 29 ("Polish")
Symphony #4 in f, Op. 36
Symphony #5 in e, Op. 64
Symphony #6 in b, Op. 74 ("Pathetique")
Capriccio italien, Op. 45
Francesca da Rimini, Op. 32
Manfred Symphony, Op. 58
Marche slave, Op. 31
The Nutcracker (Suite #1, Op. 71a)
Polonaise from Eugene Onegin
Romeo and Juliet Overture
Swan Lake (Suite, Op. 20a)
1812 Overture, Op. 49

Royal Philharmonic Orchestra
RPO: SP 048


MUSSORGSKY

Pictures at an Exhibtion (orch. Gorchakov)
Khovanshchina (excerpts) (orch. Rimsky-Korsakov)
Night on the Bare Mountain
Sorochinsky (excerpts) (orch. Liadov)

Royal Philharmonic Orchestra
RPO: SP 039


BRAHMS

Academic Festival Overture, Op. 80
Serenade #1 in D, Op. 11
Symphony #1 in c, Op. 68
Symphony #2 in D, Op. 73                
Symphony #3 in F, Op. 90
Symphony #4 in e, Op. 98
Tragic Overture, Op. 81
Variations on a Theme by Haydn, Op. 56a

Royal Philharmonic Orchestra
RPO: SP 038


SHOSTAKOVICH

Festive Overture, Op. 96
Symphony #5 in d, Op. 47

Royal Philharmonic Orchestra
RPO: SP 037

DVORÁK

Carnival Overture, Op. 92
Symphony #6 in D, Op. 60
Symphony #7 in d, Op. 70
Symphony #8 in G, Op. 88
Symphony #9 in e, Op. 95 ("From the New World")

Royal Philharmonic Orchestra
RPO: SP 020


SCHUMANN

Symphony #1 in B-flat, Op. 38 ("Spring")
Symphony #2 in C, Op. 61
Symphony #3 in E-flat, Op. 97 ("Rhenish")
Symphony #4 in d, Op. 120 (revised version, 1851)

Royal Philharmonic Orchestra
RPO: SP 014

MENDELSSOHN

Symphony #3 in a, Op. 56 ("Scottish")
Symphony #4 in A, Op. 90 ("Italian")

Royal Philharmonic Orchestra
RPO: SP 011

CHOPIN

Piano Concerto #1 in e, Op. 11

soloist: Martha Argerich
Sinfonia Varsovia
Accord: ACD080

"POLISH SYMPHONIC MUSIC OF THE 19TH CENTURY"

Kurpinski: Dwie Chatki (Two Cottages) Overture, Op. 1
Dobrzynski: Monbar (The Freebooters) Overture, Op. 3
Moniuszko: Bajka (The Fairy Tale) Overture
Zelenski: W Tatrach (In the Tatra Mountains), Op. 27
Noskowski: Step (The Steppe), Symphonic Poem, Op. 66

Sinfonia Varsovia
Accord: ACD019

CZERNY

Symphony #2 in D, Op. 781
Symphony #6 in g (world premiere recording)

SWR Radio Orchestra
Hänssler: HAEN93169

Grzegorz Nowak has over 80 CDs. For a complete listing, please use the following link:
http://www.grzegorznowak.com/Grzegorz_Nowak_Website/Discography.html
There can be no doubt in anyone's mind that together Grzegorz Nowak and the Royal Philharmonic Orchestra make a truly winning combination. I have heard quite a few performances by these musicians, and Nowak always commands playing of the very highest standard. We, the audience, are lucky that the RPO has his services. Tonight's performance of the 4th Symphony showed all that is best in musical performance. A towering interpretation and as fine a piece of orchestral playing as I have heard all year - a splendid concert.
MUSICWEB INTERNATIONAL (London, UK)
[Giordano Andrea Chénier] Standing ovation.  The superb orchestra under the sovereign baton of Grzegorz Nowak was precise, immaculate and expressive.
WIESBADENER TAGBLATT (Germany)
This is the finest recording of The Seven Deadly Sins currently available. The whole performance is simply marvelous. Nowak conducts the Kaiserslautern orchestra with a perfect feeling for Weill's brittle, sardonic idiom, and the recording has unusual clarity and impact. It would be difficult to imagine a snappier, more alert performance.
CLASSICS TODAY (London, UK)
The Orchestra of the Polish National Opera played convincingly under the baton of Grzegorz Nowak with drive and knowledge of multilayered facets of this tension-filled score [Giordano Andrea Chénier]. Nowak stressed not only effects, but also worked out delicate and intimate musical details. The performance was impeccable, assured and greatly precise. The proper balance between stage and orchestra was always maintained.
MAINTAL TAGESZEIGER (Germany)
Penderecki conducted the London Symphony Orchestra in Mutter's premiere recording [Penderecki Violin Concerto #2]; but, despite that stamp of authenticity, many listeners may feel that Nowak brings more sonorous drama to the orchestral part and Baek a more extroverted and raw-boned approach to the solo part.
FANFARE
An evening of music-making I shall never forget.
EXPRESS (London, UK)
Grzegorz Nowak, the RPO's Principal Associate Conductor, brought masterly expression to the performance, a shining example of his highly acclaimed and award-winning interpretations. The RPO and Nowak rendered one of the most memorable performances of Dvorak's Symphony No. 9 in e minor,
CROYDON TODAY (UK)
Grzegorz Nowak, who for a long time has a brilliant international career, was so convincing that he immediately won us over. From Allegro vivace everything was enchanting; balance of sound, clear musical lines, energy of gestures. Andante con moto is not diluted into excessive slowness, it flows like a source. In the sparkling final Saltarello, the conductor presents himself as a master of color and rhythm, precise but flexible, with attention to details. Mendelssohn's work [Symphony #4] confirmed the technique and temperament already demonstrated in Concert Overture by Szymanowski whose Dionysian and conquering exaltation, very Strauss-like in spirit, could not have found a better interpreter. Pushed to the limits with lively tempos, the orchestra followed their conductor unabated. In the Second Concerto of Chopin the orchestra, so often confined to condescending support, was especially pointed – one could recognize the hand of a conductor with operatic experience.
CONCERTONET.COM (Paris, France)
Grzegorz Nowak Excels in Tchaikovsky with the RPO [headline]
On the basis of this concert and a previous occasion on which I have heard him, he is a conductor of great ability, an artist who really deserves a higher profile than he enjoys in the concert world. His performance of Romeo and Juliet was outstanding. After the interval Nowak directed a cheerful, highly rhythmic performance of the Polonaise from Eugene Onegin, and a deliciously pointed, characterful account of seven numbers from The Nutcracker. Finally, we heard a finely shaped, urgent performance of 1812 that made it seem like a dramatic masterpiece: maybe it is when it is allowed to flower as it did here. The hero of the evening was undoubtedly Grzegorz Nowak, who thoroughly deserved the standing ovation that was given to him. What could have been a routine night of popular classics at the Albert Hall was anything but that, thanks to him.
MUSICWEB INTERNATIONAL (London, UK)
6/10/2017 (pm)

THE CLEVELAND OPERA (OH)

The Ohio Theatre, PlayhouseSquare

Puccini: La Bohème

6/20/2017 (7:30pm)

ROYAL PHILHARMONIC ORCHESTRA

Royal Albert Hall (London, UK)

Tchaikovsky: Capriccio italien
Tchaikovsky: Piano Concerto #1
soloist: Teo Gheorghiu
Tchaikovsky: Marche slave
Tchaikovsky: The Nutcracker (excerpts)
Tchaikovsky: 1812 Overture

8/24/2017 (8pm)

SINFONIA VARSOVIA

Warsaw Philharmonic Concert Hall (Poland)

Balakirev: Piano Concerto #1
soloist: Sergei Kasprov
Chopin: Piano Concerto #2
soloist: Krzysztof Jabłoński
Rachmaninoff: Piano Concerto #2
soloist: Mikhail Pletnev

8/27/2017 (8pm)

ORCHESTRA OF THE 18TH CENTURY

Warsaw Philharmonic Concert Hall (Poland)

Chopin: Piano Concerto #2
soloist: Garrick Ohlsson

8/30/2017 (8pm)

BEETHOVEN ACADEMY ORCHESTRA

Warsaw Philharmonic Concert Hall (Poland)

Bach/Mahler: Orchestral Suite #2
Chopin: Krakowiak
Szymanowski: Symphonie concertante #4
soloist: Garrick Ohlsson
tba
soloist: Martha Argerich

9/28/2017 (7:30pm)

ORQUESTA CLÁSICA Y CORO SANTA CECILIA

Auditorio Nacional de Música (Madrid, Spain)

"Famous Opera Choruses"

10/13/2017 (7pm)
10/15/2017 (7pm)
10/17/2017 (7pm)
10/19/2017 (7pm)

TEATR WIELKI - POLISH NATIONAL OPERA (Warsaw)

Róïycki: Eros & Psyche

10/27/2017 (7pm)
10/28/2017 (7pm)
10/29/2017 (7pm)

TEATR WIELKI - POLISH NATIONAL OPERA (Warsaw)

Verdi: Rigoletto

11/5/2017 (7pm)

TEATR WIELKI - POLISH NATIONAL OPERA (Warsaw)

Works by Ludomir Róïycki

11/10/2017 (8:30pm)

FILARMONICA ARTURO TOCANINI

Teatro Regio di Parma (Italy)

Bernstein: Symphony #2, Age of Anxiety
soloist: Krystian Zimerman, pianist
Mussorgsky/Gorchakov: Pictures at an Exhibition

11/11/2017 (9pm)

FILARMONICA ARTURO TOCANINI

Teatro Comunale Luciano Pavarotti (Modena, Italy)

Bernstein: Symphony #2, Age of Anxiety
soloist: Krystian Zimerman, pianist
Mussorgsky/Gorchakov: Pictures at an Exhibition

11/13/2017 (7pm)

FILARMONICA ARTURO TOCANINI

Teatro Comunale di Bologna (Italy)

Bernstein: Symphony #2, Age of Anxiety
soloist: Krystian Zimerman, pianist
Mussorgsky/Gorchakov: Pictures at an Exhibition

11/18/2017 (7pm)

ORCHESTRA DEL TEATRO PETRUZZELLI

(Bari, Italy)

Bernstein: Symphony #2, Age of Anxiety
soloist: Krystian Zimerman, pianist
Mussorgsky/Gorchakov: Pictures at an Exhibition