Hanna Bachmann
pianist
Biography
Repertoire
Discography
Reviews
Itinerary
Media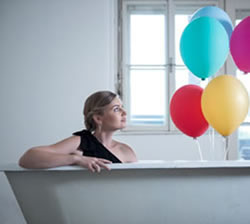 The Austrian artist HANNA BACHMANN is widely recognized as one of the fastest rising piano stars on two continents. In addition to concerts in her native country, Ms. Bachmann has already toured in Austria, Germany, Great Britain, Hungary, Italy, Liechtenstein, The Netherlands, Slovakia, Switzerland, Israel and Mexico, with 2019 debuts in the United States and Canada.
Hanna Bachmann is a frequent guest artist at distinguished festivals, including Bonn's Beethovenfest, Schubertiade Vorarlberg and the Bodenseefestival. She has also conducted masterclasses at the renowned Universidad Nacional Autónoma de México (UNAM).
Already active in the recording studio, Hanna Bachman has released two CDs: an album of Janácek, Beethoven, Ullmann and Schumann on the TYXart label; "Plaisanteries," with the music of Mozart, Prokofiev and Beethoven on the Gramola label.
At the age of 12, Hanna Bachmann was accepted as a student of Ferenc Bognar's class at the Vorarlberg State Conservatory in Feldkirch, subsequently studying with Florian Krumpöck in Vienna. From 2011 ro 2017, she studied with Pavel Gililov at the Mozarteum Salzburg, where she was awarded both her Bachelor's and Master's degrees with distinction. She also received artistic guidance from distinguished artists Elisabeth Leonskaja, Elisso Virsaladze and Daejin Kim. In addition to claiming numerous top prizes at both national and international piano competitions - including the First Prize at the International Bachelor Piano Award 2015, Ms. Bachmann is the proud recipient of Vorarlberg's "Richard Wagner Society Scholarship."
[CHAMBER ENSEMBLE REPERTOIRE FOLLOWS CONCERTO LIST]
BEETHOVEN
Concerto #3 in c, Op. 37
Concerto #4 in G, Op. 58

CHOPIN
Concerto #2 in f, Op. 21
HAYDN
Concerto in D
LISZT
Totentanz
MENDELSSOHN
Concerto #1 in g, Op. 25
MOZART
Concerto #13 in C, K. 415
Concerto #20 in d, K. 466
Concerto #23 in A, K. 488

SCHUMANN, Clara
Concerto in a, Op. 7
SCHUMANN, Robert
Concerto in a, Op. 54
ARENSKY

Piano Trio #1 in d, Op. 32

BEETHOVEN

 
Piano Trio #1 in E-flat, Op. 1, #1
Piano Trio #3 in c, Op. 1, #3
Piano Trio #4 in D, Op. 70, #1 ("Ghost")
Quintet in E-Flat for Piano & Winds, Op. 16
Variations in G on "Ich bin der Schneider Kadaku," Op. 121a (piano trio)

BERG

7 Early Songs (soprano & piano)

BRAHMS

 
Clarinet Trio in a, Op. 114
Piano Trio #1 in B, Op. 8
4 Duets, Op. 28 (alto, baritone & piano)

CHAUSSON

Piano Trio in g, Op. 3
DVORÁK  
Piano Trio #4 in e, Op. 90 ("Dumky")
Piano Quintet #2 in A, Op. 81

HAYDN

Piano Trio #43 in C, Hob. XV:27

KORNGOLD

Piano Trio in D, Op. 1

MAHLER

Rückert-Lieder

MENDELSSOHN

  
Piano Trio #1 in d, Op. 49

MOZART

  
Piano Trio #6 in G, K. 564
Piano Quartet #1 in g, K. 478
Quintet in E-flat for Piano & Winds, K. 452

NOBRE, Marlos

Canticum instrumentale (flute, harp, piano, timpani)

PIAZZOLLA

  
Libertango (trio version)
Oblivion (trio version)
PIRCHNER, Werner
Piano Trio #2
RACHMANINOFF
Trio élégiaque #1

RAVEL

Piano Trio in a

REICH, Steve

  
Dance Patterns
Sextet

REZENDE, Maria

Sintagma

RHEINBERGER, Josef

Liederbuch für Kinder, Op. 152

SCHUBERT

  
Adagio in E-Flat for Piano Trio, D. 897 ("Notturno")
Piano Trio #1 in B-flat, D. 898
Winterreise, D. 911
SCHUMANN
Frauenliebe und -leben, Op. 42
6 Gedichte und Requiem, Op. 90
7 Lieder, Op. 104
Liederkreis, Op. 39
Piano Quartet in E-flat, Op. 47

SHOSTAKOVICH

  
Piano Trio #2 in e, Op. 67


STRAUSS

 
Mädchenblumen

WOLF

Italienische Liederbücher
"PLAISANTERIES"

Mozart: 8 Variations on Ein Weib ist das herrlichste Ding, K. 613
Prokofiev: Sarcasms, Op. 17
Beethoven: 33 Variations on a Waltz by Anton Diabelli, Op. 120

GRAMOLA: 99187

"HANNA BACHMANN"

Janácek: Sonata October 1, 1905
Beethoven: Sonata #26 in E-flat, Op. 81a ("Les Adieux")
Viktor Ullmann: Sonata #7
Schumann: Sonata #2 in g, Op. 22

TYXart: TXA16083

"DREAM WITH ME"

music of Arlen, Berg, Bernstein, Fauré, Grieg, Hadjidakis, Haydn, Liszt, Marin/Cuéllar, Morricone/Mousouras, Rachmaninoff, Schubert, C. Schumann, Sibelius, R. Strauss, Tosti, Wagner, Weill
with Elsa Janulidu, mezzo-soprano

PREISER RECORDS: PR91513

"SCHWARZENBERG TRIO"

Beethoven: Piano Trio #1 in E-flat, Op. 1, #1
Pirchner: Piano Trio #2 ("Heimat?"), PWV 29b
Mendelssohn: Piano Trio #1 in d, Op. 49
Hanna Bachmann, pianist
Franz-Marcus Siegert, violinist
Roland Lindenthal, cellist

QUINTON: Q-2002-2
Hanna Bachmann plays with great musicality, and creativity with a high level of technical skill. Her fine tone and her interpretations are evidence of a mature personality at the piano.
KIRILL PETRENKO
GENERALMUSIKDIREKTOR, BAVARIAN STATE OPERA
CHIEF CONDUCTOR, BERLIN PHILHARMONIC
Astonishing Maturity. Hanna Bachmann's debut CD shows promising perspectives for the future. [headline]
Her interpretation of Beethoven's sonata Les Adieux is just simply brilliant. Filled with spirit and without any technical effort during the fast scales and passages with chords, she forms the Allegro part of the first movement. The 'Wiedersehen" of the last movement just bubbles with energy. She also interprets Schumann's sonata in g minor astonishingly masterfully. There are not too many recordings of this sonata and her interpretation can be easily compared to the one by Wilhelm Kempff.
KLASSIK.COM
A pianistic-musical promise [headline]
Despite the increasing number of prodigies these days, one can truly call this a discovery, if at only twenty-four years of age someone plays the piano like Hanna Bachmann. The young, but pianistically and musically very mature Austrian proves already to be brilliant with a sculpted selection of repertoire and stylistic breadth in her CD debut. The German label 'TYXart' presents Bachmann as a sensitive artist with sonatas by Beethoven, Janacek, Schumann and Ullmann and thus raises hope for more new recordings by this pianist.
GLAREAN MAGAZIN (GERMANY)
Great Symphonic Concert [headline]
The public stood up in the Teatro de la Paz to offer the Austrian pianist, Hanna Bachmann, a standing ovation lasting for ten minutes. As a token of her gratitude, the pianist offered two solo pieces as encore, one of them a tango in which she displayed her great preparation as a performer. Hanna Bachmann's elegance as a performer is unquestionable.
PULSO (SAN LUIS POTOSÍ, MÉXICO)
Hanna Bachmann Made the Teatro de la Paz Vibrate [headline]
Hanna Bachmann showed great musicality, creativity and technical ability during the three movements that make up Beethoven's Third Piano Concerto, earning the public's recognition with the standing ovation, which the pianist thanked by performing two pieces as encores.
MOMENTO (SAN LUIS POTOSÍ, MÉXICO)
Enchanting Soirée with Classical Sounds [headline]
The young artist frequently performs in numerous countries of Europe. Mozart's piano concerto in A, K. 488 was brought to sound on a good Bösendorfer grand piano. Bachmann presented her Mozart youthfully and freshly with a sensitive touch and without the rubato-schmaltz of some older pianists. A special highlight was the dreamy second movement. A rondo by Mozart as an encore proved Bachmann's affinity to the genius of Salzburg.
HEIMAT LUSTENAU (AUSTRIA) 
It is refreshing how Hanna Bachmann has launched her second CD. [headline]
She plays her 'jokes' [music by Mozart, Prokofiev, Beethoven] in a cleverly chosen musical program of variations of classical and classic modern pieces, which are full of extreme pianistic hurdles as well as adventurous, technical and artistic requirements. These challenges apparently cause her no problems at all while playing live. And there it is again, this special characteristic which one admired earlier of Hanna Bachmann: her fantastic ability to concentrate. It is this ability that enables the artist to transform herself into a lioness with paws in a split second after touching the keys and to develop an unbelievable suspense and eruptive power.
VORARLBERGER NACHRICHTEN (AUSTRIA)
Hanna Bachmann's CD Presentation: Humor Cleverly Wrapped Up in Piano Music
At the present time Hanna Bachmann is one of the most up-and-coming piano talents in the country. As she did throughout the whole evening, the pianist showed how sure she can play and can react in different musical spheres and situations: with a sophisticated and clear touch of the keys, a healthy technique, a little wink here and there and a portion of deep emotion. The numerous fans in the audience were thrilled.
KULTURE (on-line edition)
Dancing Beethoven – this was the theme of the final evening of this year's Beethoven Campus Bonn. Together with the youth dance company DanzaMaz, the young pianist Hanna Bachmann, who has become a welcome guest, asked themselves whether Beethoven's humanistic ideas could be found in his music too – and whether one could show them in performance. The performers chose the Tempest sonata and the sonata Waldstein. The pianist managed the first movement sophisticatedly, the Adagio was of great profundity and the final movement sounded effortless and sparkling. Interestingly, Bachmann added the Andante Favori as a second movement, which was planned by Beethoven before he changed his mind. After the ever increasingly turbulent final movement, tremendous applause followed for all the performers.
GENERAL-ANZEIGER (BONN, GERMANY)
CD Review: Plaisanteries
Franz Schubert once thought there was no such thing as jovial music. But perhaps just interpreters who serve up deadly serious music as jovial. The twenty-five-year-old pianist Hanna Bachmann is one of them and is able to prove it impressively on her new solo album. With the title Plaisanteries (=jokes, fun) she spars with Mozart, Prokofiev and Beethoven and in doing so coaxes so much humor from these works, one would never have suspected. Her piano playing skills instill astonishing maturity and that is exactly what is needed with pieces of such intellectual magnitude; fresh colors, exciting phrasing, and an eruptive energy ringing out and everything with the slightest blink of an eye. One sits up and is entertained by Mozart's eight variations Ein Weib ist das herrlichste Ding, Prokofiev's Sarcasms and Beethoven's 33 famous Diabelli Variations, which have never before been so masterfully arranged as well as appearing so comical.
OBERÖSTERREICHISCHES VOLKSBLATT (AUSTRIA)
The word 'unbelievable' was heard from the lips of a concertgoer after she heard pianist Hanna Bachmann pound out the final piece of the Diabelli variations by Beethoven. As a matter of fact it certainly was 'unbelievable', what she had achieved in the good fifty minutes before. It was in safe hands with Bachmann, who, by the way, wrote her graduate thesis on the Diabelli variations. She mastered this giant piece with suspense and concentration.
GENERAL-ANZEIGER BONN (GERMANY)
9/16/2022 (7pm)

BEETHOVEN-FESTIVAL GNEIXENDORF (Austria)

Schloss Wasserhof

Haydn: Piano Trio #43
Pirchner: Piano Trio #2
Korngold: Piano Trio
with Schwarzenberg Trio

9/25/2022 (10:30am)

ORCHESTER LIECHTENSTEIN WERDENBERG

Michael Köck, conductor
Vaduzer Saa

Liszt: Totentanz

9/25/2022 (6pm)

ORCHESTER LIECHTENSTEIN WERDENBERG

Michael Köck, conductor
Vaduzer Saa

Liszt: Totentanz

9/27/2022 (6pm)

ORF FUNKHAUS DORNBIRN (Austria)

10/15/2022 (7pm)

SCHLÖßLE RÖTHIS (Austria)

Mozart: Piano Sonata #11
Liszt: Liebesträume
Hensel: Der Jahr

10/20/2022 (7:30pm)

TRIO SCHWARZENBERG CONCERT SERIES

Haus der Ingenieure (Vienna, Austria)

Beethoven: Piano Trio #4
Korngold: Piano Trio

10/25/2022 (pm)

FOYER EUROPÉEN (Luxembourg)

11/8/2022 (8pm)

GROßER ORGELSAAL BAYREUTH (Germany)

Kapralova: April Preludes
Janá…ek: Piano Sonata
Ullmann: Piano Sonata #7
Beethoven: Diabella Variations

11/20/2022 (6:30pm)

CONWAY HALL (London, UK)

Haydn: Piano Trio #43
Ravel: Piano Trio
Brahms: Piano Trio #1
with Schwarzenberg Trio

11/21/2022 (7pm)

AUSTRIAN CULTURAL FORUM (London, UK)

with Schwarzenberg Trio

12/1-24/2022

"A MUSICAL ADVENT CALENDAR"

https://hannabachmann.com/new/en/musical-advent-calendar-22/

12/7/2022 (pm)

Private Performance

Duo-Recital with Isabel Pfefferkorn, mezzo-soprano
Schubert: Die Winterreise

1/20/2023 (7:30pm)

KULTUR- UND BÜRGERHAUS MARNE (German)

1/21/2023 (7:30pm)

BADE SEGEBERG (Germany)

Bürgersaal in Rathaus

1/26/2023 (pm)

HAUS DER INGENIEURE WIEN (Austria)

with Schwarzenberg Trio

2/4/2023 (7pm)

SCHLÖßLE RÖTHIS (Austria)

Duo-Recital with Isabel Pfefferkorn, mezzo-soprano
Pferrkorn: Wüstenschrei
Schubert: Die Winterreise

2/22/2023 (8pm)

LEYATY JEDDAH (Saudi Arabia)

Song Recital with Isabel Pfefferkorn, mezzo-soprano

2/23/2023 (7:30pm)

House Concert (Riad, Saudi Arabia)

Song Recital with Isabel Pfefferkorn, mezzo-soprano

5/6/2023 (7pm)

SCHLÖßLE RÖTHIS (Austria)

Piano 4-Hands Recital with Yunus Kaya
Chaminade: 6 Pièces romantiques
Schumann: Bilder aus Osten
Dvorák: Aus dem Böhmerwalde
Beach: Summer Dreams

1/26/2023 (pm)

HAUS DER INGENIEURE WIEN (Austria)

Ponce: Piano Trio "Romantico"
Mahler: Piano Quartet
Schumann: Piano Quartet
with Schwarzenberg Trio

8/21/2023 (7:30pm)

SOMMERKONZERTE ZELL AM SEE (Austria)

Haydn: Piano Trio #43
Arensky: Piano Trio #1
Korngold: Piano Trio
Piazzolla: Otoño porteño
with Schwarzenberg Trio
Prokofiev: Sarcasms, Op. 17
Beethoven: Diabelli Variations, Op. 120
Mozarteum University Salzburg (Austria)
June 12, 2017

Franck: Sonata in A for Violin & Piano
with Maximilian Hörmeyer, violinist
Universität Duisburg-Essen (Germany)
October 14, 2017

Beethoven: Sonata #5 in F for Violin & Piano, Op. 24 ("Spring")
with Maximilian Hörmeyer, violinist
Universität Duisburg-Essen (Germany)
October 15, 2017

Schumann: Piano Sonata #2 in g, Op. 22
Studio Tonal (Vienna, Austria)
January 2, 2017