The Hevreh Ensemble
original world music
Biography
Discography
Reviews
Itinerary
Media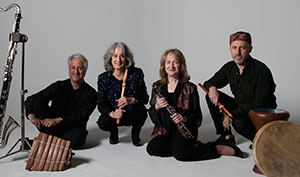 Jeff Adler
composer, bass clarinet, Native American flutes, drone flutes, Balafon, Kalimba
Judith Dansker
oboe, oboe d'amore, English horn, Native American flute, percussion
Laurie Friedman
clarinet, Native American flutes, percussion
Adam Morrison
piano, keyboard
A unique group that combines musical elements from classical, world, jazz and Native American sensibilities, THE HEVREH ENSEMBLE performs on dozens of instruments from around the globe, presenting group member Jeff Adler's compositions that are often inspired by themes from religious and racial tolerance and environmental sustainability. Since its founding in 2004, Hevreh has toured throughout the United States and Europe, meeting with audience and critical acclaim for its passionate performances and inspiring programming.
Recent highlights of The Hevreh Ensemble's United States touring include performances at Hofstra University, Hudson River Museum, Museum of Tolerance New York, Newport Music Festival and Saint-Gaudens National Historic Site, while a grant from the Harold Grinspoon Foundation allowed the group to tour Massachusetts' Pioneer Valley. Abroad, the ensemble has appeared in Austria (Vienna), The Czech Republic (Prague), Germany (Berlin, Bonn, Hamburg, Munich), The Netherlands (Amsterdam) and Poland (Krakow).
The Hevreh Ensemble has a special dedication to the expansion of global knowledge and awareness of other cultures and artistic traditions. In this regard, it has been the recipient of highly competitive Faculty Research and Development grants from Hoftra University to further its members' collective research: The Cherokee Native American Indian Flute; How Cultural
Languages Affect the Sound of an Instrument; Researching the Effects of "Sound Perception" on
Musical Performances. In addition to the continual refreshment of its musical performances, the results of its ongoing explorations allow Hevreh to offer interdisciplinary lecture/demonstrationsas integral parts of its visits to colleges and universities.
The artists of The Hevreh Ensemble have the honor of having been associated with many of the country's most distinguished cultural institutions, among them The Juilliard School, Manhattan School of Music, Hofstra University, California Institute of the Arts and the Blossom Music Festival. Individually, they have been members of the American Symphony Orchestra, Galliard Woodwind Quintet, New York Baroque Consort, New York Kammermusiker, Trio Sonata and the orchestras of various Broadway productions. Of special note are a concert honoring both the Dalai Lama and Elie Wiesel and performances with world-renowned musicians Ara Dinkjian (Armenia), Hassan Hakmoun (Morocco) and Nilsson Matta (Brazil).
The Hevreh Ensemble has released two CDs - Between Worlds and Dance of the Sheydim. A third album of original compositions will be issued in the autumn of 2017.
Individual Biographies
JEFF ADLER
In addition to being the resident composer of The Hevreh Ensemble, he writes extensively for The Jewel Orchestra of Brooklyn's St. Paul's Church and for two world music ensembles - Malamalama and Quadrangle. He composed the music for the 2005 Vita Nova production of the theatrical work, Harriet and Anne, premiered in New York City, while In Search of Unification for bass clarinet and marimba was premiered at Sacramento State Universityand subsequently presented by the Omni Ensemble in New York City. As a clarinetist, Mr. Adler has performed with many distinguished organizations, among them the American Symphony Orchestra, Island Symphony Orchestra, Long Island Symphony and Connecticut Grand Opera, and he was a member of The Adirondack Chamber Players, Infusion and Silver Bay Music Festival. In demand as a leading Broadway freelance artist, he has frequented performed with the orchestras for Beauty and the Beast, Caroline or Change, Crazy for You, Jekyll and Hyde, The Lion King, Les Misérables, Passion, TheSecret Garden, Titanic and Wicked. Mr. Adler has recorded a CD of his original Native American flute music.
JUDITH DANSKER
An acclaimed solo and chamber musician, she has appeared atNew York City's Alice Tully Hall and Weill Recital Hall at Carnegie Hall, as well as Washington, DC's Library of Congress and The Phillips Collection and Pittsburgh's The Frick Art Museum, among many others. She was a founding member of the nationally touring Galliard Woodwind Quintet and has performed with dozens of notable performing organizations throughout the New York and New Englandareas. She received both her Bachelor and Master of Music degrees from The Juilliard School, where she studied with renowned oboist Robert Bloom. Ms. Dansker served on the faculty of the University ofSouth Carolina and is currently Professor of Oboe at Hofstra University and a faculty member of Bard College at Simon's Rock.
LAURIE FRIEDMAN
Ms. Friedman holds a Bachelor of Music Degree from the Manhattan School of Music, where she was a full scholarship student of Leon Russianoff, and received her Master of Music Degree from Brooklyn College, from which she was awarded the Abraham Klotzman Memorial Scholarship. She was Co-Principal Clarinet of Israel's Beer-sheva Orchestra, and, in the United States, played with the Connecticut Grand Opera, The Goldman Band, Long Island Philharmonic, New Jersey Pops Orchestra, Tulsa Ballet and The Village Light Opera Group. Another founding member of the Galliard Woodwind Quintet, she has also written several children's stories for woodwind quintet and narrator, among them The Pied Piper of Hamlin, The Hunchback of Notre Dame and Peer Gynt. A passionate educator, Ms. Friedman has taught at Brooklyn College, College of Staten Island, California State University, Davis and Sacramento State University; currently she is Professor of Clarinet studies at Hofstra University and Instrumental Instructor at Brooklyn College Academy.
ADAM MORRISON
Mr. Morrison studied privately with David Bar-Illan, Joanne Brackeen and Gary Dial while still in high school, completed his studies in piano and composition at Jerusalem's Rubin Academy of Music and Dance, and earned a Master of Fine Arts Degree in World Music Studies at the California Institute of the Arts in Los Angeles. He immigrated to Israel in 1980, becoming a founding member of the award-winning jazz-rock band "Tslil Shachen" and, in 1990, formed a quartet of Israeli musicians that performed at an event honoring both the Dalai Lama and Elie Wiesel. Currently, Mr. Morrison divides his time among teaching, performing and recording. He performs frequently in New York City with Adam Nussbaum, Chris Potter Elliot Zigmund and other jazz icons, as well as with major figures of ethnic music: Ara Dinkjian (Armenia), Hassan Hakmoun (Morroco) and Nilsson Matta (Brazil).
"BETWEEN WORLDS" (2012)

Lost Tribes
Praha
Between Worlds
Walking the Lost Creek Trail
featuring Joseph Firecrow, Native American flutist
New Edens
11:11
Selective Indignation
Good Omens
Atrocity's Shadow
Circles of Solstice
Galicja
Negev Sunset
guest artists: Shane Shanahan, percussionist
George Farmer, double-bassist

private label CD

"DANCE OF THE SHEYDIM" (2007)

Dance of the Sheydim
A Peaceful Prayer for a Prayful Place
Followed by the Moon
Stewardship
A Garment of Brightness
The Ninth Ward
Genesis

private label CD
Is Hevreh Ensemble a world-music group? A chamber-music group? A jazz group? The correct answer is all of the above. Multi-instrumentalist leader Jeff Adler deftly mixes sounds and styles in a manner that can recall the work of Oregon and the Paul Winter Consort, but with a stately decorum all its own. Here, the group is celebrating a lovely new CD, Between Worlds, recorded with Native American flute luminary Joseph Firecrow.
TIME OUT NEW YORK
The quartet, which with its unusual combinations, rhythmic Arabesques, melodious Cantilenas and most importantly, with noticeable accord, left a lasting impression, so that two hours of music from completely different cultures, but always understandable human feelings went by in a flash.
BONNER RUNDSCHAU (Germany)
Whether elegiac, meditative sound painting or furiously rhythmic, the ensemble astounded its audience with unusual, wonderful compositional tonal effects, which featured themes from religious and racial tolerance and world peace.
GENERAL ANZEIGER (Germany)
On a casual hearing, one might be hard-put to describe much of the music of the Hevreh Ensemble as 'Jewish music.' Although the tunes on the new CD, 'Between Worlds,' have titles like Lost Tribes, Galicja and Negev Sunset, the elegant, restrained music that is fit to those names bespeaks a wide range of influences. And Jewish music is only one of them.
THE JEWISH WEEK (New York City)
There have been many joint project or fusion type ensembles that seek to combine traditional wind or string ensembles with a kind of world music, or ethno-classical-jazz blending over the years. There have also been many of these collaborations that have been less than artistic, less successful, a bit clichéd. So, it is always refreshing to put on some music that clearly is another cross-cultural effort that succeeds; better yet if it sounds like something new and somewhat unique. Such is the case with this latest CD by the Hevreh Ensemble. Their music is unique and appealing. I should think that everyone would find something to like here and I look forward to hearing more!
AUDIOPHILE AUDITON
5/8/2016 (3pm)

AMERICAN SOCIETY OF JEWISH MUSIC

Center for Jewish History (NYC)

9/5/2016 (8pm)

PETERSKIRCHE (Vienna, Austria)

9/8/2016 (7pm)

JUBILEE SYNAGOGUE (Prague, Czech Republic)

9/25/2016 (3pm)

SIMON'S ROCK COLLEGE (Great Barrington, MA)

Kellogg Music Center

2/12/2017 (3pm)

CONGREGATIONAL CHURCH OF SALISBURY, UCC (CT)

2/24/2017 (5-8pm)
2/25/2017 (5-8pm)

LIVE MET ARTS (NYC)

Great Hall Balcony, The Metropolitan Museum of Art

11/19/2017 (2pm)

FORT LEE PUBLIC LIBRARY (NJ)

Meeting Room

5/11/2019 (7:30pm)

THE PENNSYLVANIA CONSORT SOCIETY

Bedford United Methodist Church