Ivory&Gold®
eclectic Americana
Biography
Programs
Discography
Reviews
Itinerary
Media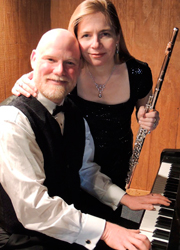 Anne Barnhart, flute, vocals
Jeff Barnhart, piano, vocals
Praised by The L.A. Jazz Scene as a musical duo that can "draw out the beauty in the rich melodies and play the music with taste, sensitivity, and a real affection for the idiom," Ivory&Gold® celebrates the greatest examples of American jazz, blues, ragtime, Broadway and hits from the Great American Songbook. The internationally renowned American musical performer and historian Max Morath hails Ivory&Gold® as "musically flawless."
The duo, consisting of Anne Barnhart (flute and vocals) and Jeff Barnhart (piano and vocals), was formed in 2001 to perform at the prestigious annual Jazz Festival in Sun Valley, Idaho. Subsequently, Ivory&Gold® has been invited to appear in hundreds of venues from coast-to-coast, including The Musical Instrument Museum in Scottsdale, AZ, Twin Falls Center for the Arts, The Tempe Center for the Arts, The Kerr Cultural Arts Center in Phoenix, AZ, The Tulsa Performing Arts Center, New Hampshire's Wolfboro Friends of Music Concert Series, Music on the Divide in Georgetown, CA and an annual concert at the Reutlinger-Brune Victorian Palace in San Francisco, to name but a few.
Engagements outside the United States have included concerts and workshops in Kigali, Rwanda (at the request of the Swiss Ambassador), a feature in Caesarea, Israel, as well as the 400-year-old concert venue Zunfthaus Zur Waag in Zurich. Ivory&Gold® is well known in the United Kingdom, where annual tours include appearances in Selby Abbey in York, The CatStrand Theatre in New Galloway, Buccleuch Theatre in Langholm, Darlington Arts Centre and both Neal's Yard and the Pheasantry in London.
Individually, Anne and Jeff could not have come from more disparate musical backgrounds.  Anne is a Magna Cum Laude graduate of the Benjamin T. Rome School of Music at the Catholic University of America in Washington, D.C. and holds both bachelor and masters degrees in music. Following extensive master-class experience performing for world renowned artists Jeffrey Khaner and Goran Marcusson, Anne participated under Ransom Wilson in the Academie International d'ete de Nice held in Nice, France. Anne is a member of the International Who's Who in Music and Musicians in the Classical and Light-Classical Fields. Anne's teachers
include Vanita Hall-Jones, John Wion and Ransom Wilson. She is consistently lauded for her impeccable tone and phrasing and effortless virtuosity.
Jeff Barnhart is a highly regarded pianist, vocalist, arranger, bandleader, recording artist, composer, pedagogue and entertainer. He began his professional career at age 14 performing throughout New England at jazz clubs and restaurants, both as a soloist and with ensembles. He continued to maintain a busy performing schedule while earning a double bachelor's degree in Music and English (Summa Cum Laude) from Connecticut College. He earned his Master's in Education from the same school, but found that teaching English got in the way of his real love: performing, composing and teaching music! Jeff is on the road performing over 300 shows a year in all corners of the globe, many of them featuring Ivory&Gold®.
Ivory&Gold® has played to packed houses on six of the seven continents in every imaginable scenario. This husband-and-wife team continues to thrill audiences with music, history and humor, enjoying a hectic schedule of concert, festival and private home appearances. The Barnharts' versatility and rapport create an incomparable listening experience for all ages and in all settings, from an intimate 20 person gathering to a 2000 patron event. Along with exciting concerts on land, Ivory&Gold® has performed at sea on cruises with, among others, the exclusive Peter Deilmann, Regent, and Crystal Cruise lines.
A typical concert features a wide variety of styles from Ragtime to Swing, Blues to Broadway, and Folk to Gospel, coalescing in a presentation they have coined "Eclectic Americana." As a duo, Ivory&Gold® boasts nine recordings, with their latest album, Bridges. In addition, both Anne and Jeff appear on the prestigious USA-based Arbors Records label with jazz stars Bob Wilber and Bucky Pizzarelli.
PROGRAM CONCEPTS
Programming concepts, with music drawn from the rich repertoire of ragtime, swing, jazz classics, Broadway and the Great American Songbook are available in both one- and two-hour versions.
"Our American Tapestry: From Ragtime to Broadway - and Beyond"
"The Great American Songbook in Melodious Medleys"
"Timeless Tunes from Stage and Screen"
"Spanning the Pond - Beloved Songs of the U.S. and U.K."
"Home for the Holidays"
"Songs and Stories of Tin Pan Alley"
"The American Vaudeville Story–Traditions and Innovations"
"Blues, Jazz and Razz-ma-Tazz"
"Hits and Forgotten Gems of Irving Berlin"
"Hits and Forgotten Gems of George Gershwin"
"Hits and Forgotten Gems of Jerome Kern"
"Hits and Forgotten Gems of Cole Porter"
"George Gershwin's New York"
"Harlem Nights"
"Autumn in New York"
"S'Wonderful Melodies"
"They're Playing Our Song"
"You Must Remember This"
"A Jewish Festival of Broadway Treasures"
"Along the Mississippi"
"Giants of Jazz"
"How Do You Spell Love?"
"Stardust Melodies"
"Ain't Misbehavin'"
"Top Hats and Ball Gowns"
"Oh, My Tap Tap Tappin' Feet!"
"Beat, Blues and Ballads"
"From the Lower East Side to Broadway"
"America's Tunesmiths - Their Stories and Their Songs"
"It Don't Mean a Thing (If It Ain't Got That Swing)"
"Timeless Tunes from Stage and Screen"
"Summer in the USA: RED Hot Swing, WHITE Lights of Broadway & Cool BLUES"
"Ballads and Blarney - A Visit to the Emerald Isle"
"Rhythm and Romance"
"Favorite & Forgotten Gems of the Great American Songbook"
"Ragged & Righteous Blues"
"A Ragtime Journey from Favorites to Discoveries"
"Broadway, Blues, Boogie and Beyond"
"The Muse from Yale: The Magnificent Cole Porter"
"Swing Time"
"Spreadin' Rhythm Around"
"Bridges: The Connective Force of Music"
"On Wings of Song: Celebrating Love, Praise and Inspiration"
"They're Playing Our Song"
"Ragged and Righteous Blues"
"Love is in the Air"
"Crazy Rhythm"
"Salute to America"
"A BeWitching Halloween Hextravaganza"
"Singing & Swinging with Ivory&Gold®"
"Love...and all that comes with it"
"A Musical Roadtrip Across America"
Programs for specific events or focused on one composing/writing team are also possible. To view a representative cross-section of Ivory&Gold's performance repertoire, please visit the "Promo Page" of its website:
www.ivoryandgold.net
.
"BRIDGES" (2017)

Bye Bye Blues
A Good Man Is Hard to Find
The Lover's Waltz
Take Away My Heart
Undecided
For Sentimental Reasons
Creole Belles
Almost Like Being in Love
A Bientot
Avalon
(I've Got the Blues) But I'm Just Too Mean to Cry
The Dark Island
Crazy Rhythm
Dream a Little Dream of Me
'S Wonderful
Annie's Song
I Want to Be Happy

Jazz Alive Records: JACD 1032
AVAILABLE FROM: www.ivoryandgold.net

"JUST IN TIME" (2014)

Red Hot Mama
Just in Tine
Blue Autumn
Swingin' Shepherd Blues
Dill Pickles
It's Only a Paper Moon
Oblivion
Viper's Drag
I Got Love
Won't You Play a Simple Melody
What Are You Doing the Rest of Your Life?
San Francisco Bay Blues
When the Work Is Done, I'll Dance
Good Gravy Rag
Midnight, the Stars and You
Some of These Days
What a Wonderful World

Jazz Alive Records: JACD 1029
AVAILABLE FROM: www.ivoryandgold.net

"JOURNEYS" (2012)

I Got Rhythm
The Entertainer
If
Oh, Lady Be Good
Autumn Leaves
Alexander's Ragtime Band
Blue Skies
Water from an Ancient Well
Pennies from Heaven
Blue Good Rag
Mahna de Carnaval
Ain't Misbehavin'
Fly Me to the Moon
Someone to Watch Over Me
It Don't Mean a Thing

Jazz Alive Records: JACD 1027
AVAILABLE FROM: www.ivoryandgold.net

"STARRY, STARRY NIGHT" (2011)

Deep Night-Blue Is the Night
A Nightingale Sang in Berkeley Square
Strangers in the Night
Star Dust
'Round Midnight
When You Wish Upon a Star
In the Still of the Night
Stars Fell on Alabama
The Music of the Night
The Night Has a Thousand Eyes
Turn Out the Stars
Tender is the Night
Vincent (Starry, Starry Night)
Stairway to the Stars
I Could Have Danced All Night

Jazz Alive Records: JACD 1025
AVAILABLE FROM: www.ivoryandgold.net

"SONGS OF THE WANDERERS" (2010)

I'm Gonna Sit Right Down and Write Myself a Letter
Stranger on the Shore
Isle of Capri
Old Cape Cod
Hoosier Rag
Lullaby of the Leaves
All God's Children Got Rhythm
That Missing You Rag
Old Fashioned Love
What is This Thing Called Love?
As-tu le cafard?
Red Rose Rag
I Have Dreamed
Basque
Song of the WandererJ

Jazz Alive Records: JACD 1024
AVAILABLE FROM: www.ivoryandgold.net

"PASSPORT TO PARADISE" (2009)

Blue Skies
Weeping Willow
Passport to Paradise
Alexander's Ragtime Band
Autumn Nocturne
In the Middle of a Kiss
Paragon Rag
Little One
On Green Dolphin Street
The Lonesome Road
Sunset
Old Miss Rag
She's Funny That Way
A Child Is Born
I'm in Heaven
Bewitched
After You've Gone

Jazz Alive Records: JACD 1022
AVAILABLE FROM: www.ivoryandgold.net

"FRIENDS WITH PLEASURE" (2008)

When I Take My Sugar to Tea
The Entertainer
Si tu vois ma mère
I'll be a Friend with pleasure - My Dreams
Gentle Raid
A Foggy Day
Pickles and Peppers
Sometimes I Feel Like a Motherless Child
Devin's Tango
For All We Know
The Diablo Rag
Blackberry Winter
Swinging Shepherd Blues
My Foolish Heart
Everybody Loves My baby
Count Your Blessings

Jazz Alive Records: JACD 1021
AVAILABLE FROM: www.ivoryandgold.net

"ON WINGS OF SONG" (2008)

Bless the Beasts and the Children
Amazing Grace
Erev Shalom
I Believe
Wade in the Water - Wayfaring Stranger
His Eye Is on the Sparrow
Prelude
Go Down Moses - Come Sunday
On Wings of Song
Abundant Life
Nobody Knows the Trouble I've Seen
Precious Lord, Take My Hand
Planxty
Let There Be Peace on Earth
You'll Never Walk Alone

Jazz Alive Records: JACD 1019
AVAILABLE FROM: www.ivoryandgold.net

"REFLECTIONS OF LOVE" (2006)

My Romance
My Heart Will Go On
Skylark
Schindler's List
Waltz for Debby
But Beautiful
Nature Boy
What I Did for Love
All in Love Is Fair
Annie's Song
Raindrop Prelude
I Still Believe
Somewhere Over the Rainbow
Don't Cry Out Loud
Ashokan Farewell
Everytime We Say Goodbye-Climb Ev'ry Mountain
Never, Never Land

Jazz Alive Records: JACD 1016
AVAILABLE FROM: www.ivoryandgold.net

"MY FUNNY VALENTINE"(2003)

Angel of Music
My Funny Valentine
Maria
Not While I'm Around
Memory
Wishing You Were Somehow Here Again
Somewhere
All I Ask of You
I Dreamed a Dream
Don't Cry for Me, Argentina
Send in the Clowns
Crazy World
Think of Me
Bring Him Home
Tonight
Anyone Can Whistle
People
On My Own
Summertime
So in Love

Jazz Alive Records: JACD 1012
AVAILABLE FROM: www.ivoryandgold.net

"SYNERGIES OF THE SEASON" (2003)

Christmas Is Coming
Santa Claus Is Coming to Town
Jingle Bells
Ding Dong Merrily On High
Winter Wonderland
Frosty the Snowman
Rudolph the Red-Nosed Reindeer
We Wish You a Merry Christmas
Holly, Jolly Christmas
White Christmas
Silver Bells
Noel Nouvelet
Carol of the Bells
Detroit Carol
Medley
Angels We Have Heard on High
It Came Upon a Midnight Clear
Away in a Manger
Holy Night
Silent Night
The Holly and the Ivy
I Saw Three Ships
Sleep of the Child Jesus
God Rest Ye Merry Gentlemen
Joy to the World
Little Town of Bethlehem
We Three Kings
Come All Ye Faithful
Hallelujah Chorus
with The Phoenix Brass

Arizona Class Jazz Society: ACWJ-5
AVAILABLE FROM: www.ivoryandgold.net

"CLASSIC RAGS FOR FLUTE AND PIANO"

Joplin: The Entertainer
Joplin: Pine Apple Rag
Joplin: Solace
Scott: Ragtime Oriole
Johnson: Blue Goose Rag
Lamb: Ragtime Nightingale
Joplin: Gladiolus Rag
Williams: Echo of Spring
Confrey: The Birds' Carnival

Music Minus One Publications: MMOCD3372
AVAILABLE FROM: www.dowlingmusic.com
Ivory&Gold offered heart-stopping rhythms and down-home style, thrilling the audience. Jeff Barnhart is an entertainer par excellence, pianist, vocalist and composer. Anne Barnhart has extensive classical flute experience and is know for the clarity of tone, impeccable phrasing and seemingly effortless virtuosity. But don't let that fool you. Their jazzy songs, plain-folks humor and delight in entertaining were evident from the first note on. Their menu of songs prompted thunderous clapping and singing along.
GEORGETOWN GAZETTE (CA)
Jeff and Anne Barnhart, performing as Ivory&Gold, took an appreciative audience by storm at their recent concert at the Buccleuch Centre. Playing a mixture of blues and jazz with great numbers from Hoagy Carmichael, Fats Waller and George and Ira Gershwin, the performers left the audience begging for more. A chance to chat to the duo during the interval and after the performance was also much appreciated by their fans. We look forward to welcoming them back again in the near future.
JILL GRAHAM, ASSISTANT DIRECTOR
THE BUCCLEUCH CENTRE (LANGHOLM, SCOTLAND)
They draw out the beauty in rich melodies and play the music with taste, sensitivity and a real affection for the idiom.
SCOTT YANOW
L.A. JAZZ SCENE AND ALL MUSIC
When Jeff Barnhart walked into our Great Hall one day and began to play magic on our Steinway, we immediately asked if he'd like to give a proper performance. That's when he introduced us to Anne Barnhart, explained that she played the flute and sang, and that they were known as Ivory & Gold. We booked them on the spot. But we had no idea how wonderful they would be until the night of the performance, when they presented a gorgeously eclectic program laced with humor and stories, together with music that was at times playful, at others so moving that the audience was captivated, completely silent, until they were on their feet clapping. When Anne positioned her flute so that the notes resonated in the body of the piano, we were mesmerized. We know they'll perform a completely different program when they return, but we are sure it will be just as wonderful.
LAUREN WOLK, ASSOCIATE DIRECTOR
THE CULTURAL CENTER OF CAPE COD
Anne, the way you caress a melody is pure joy!
BOB WILBER, international jazz legend
Your performances were superb–my first chance to see Ivory&Gold in person. Musically flawless.
MAX MORATH
Attendees at Thursday night's cabaret came to listen to two talented musicians; they left fulfilled beyond their expectations. We knew that these two artists were going to entertain us with the music we had experienced one way or another in our lifetime, but we were not prepared for the performance that happened that evening. Magic came out of the flute and piano. The audience did not move, giving focus to the sounds and rhythm coming from these artists and instruments performing as one. Although most of the songs were familiar, there was a new feel, a new tone, and the interplay between Anne and Jeffrey sparked the music even more. We have to have Ivory&Gold back not just because they are extremely talented, but because their talents are so rare.
MAGGIE LONGEY, DIRECTOR
KEENEY MEMORIAL CULTURAL CENTER (Wethersfield, CT)
Anne and Jeff, I wanted to tell you how phenomenal you were when you played for Tri-State. In my opinion and that of other attendees, the concert was one of the best, if not the best, Tri-State has offered in its 20 year history.
BILL WALLACE, BOARD OF DIRECTORS
TRI-STATE JAZZ SOCIETY (NJ)
Your performance was mesmerizing.
CYNTHIA BEAUDETTE
THE MUSCATINE JOURNAL (IA)
Your performance at the Finke Theatre was outstanding!
MARJ FRIEDMEYER, SHOW CHAIR
FINKE THEATRE (California, MO)
You are great people with great personalities, fantastic artists, highly skilled and staying so modest, and you build bridges in the world to bring peace to every place you go. It's needed so badly in the world. Thanks for your contributions to a peaceful and better world through music, with your motivated and intercultural contributions.
MATTHIAS WEINGART, FORMER SWISS AMBASSADOR TO RWANDA
Thank you so much for a fantastic Christmas party; you and Anne were, as usual, absolutely wonderful. Thank you again for your music and your wonderful professionalism!
MICHAEL LANGLOIS, DIRECTOR OF COMMUNITY SERVICES
STONERIDGE (Mystic, CT)
8/17-18/2019

PERSHORE JAZZ FESTIVAL (UK)

multiple venues

8/21/2019 (8pm)

GOSPORT JAZZ CLUB (UK)

Gosport Fareham Rugby Club

9/3/2019 (7pm)

KINGSBRIDGE JAZZ CLUB (UK)

9/4/2019 (8:15pm)

CONCORDE JAZZ CLUB (Eastleigh, UK)

9/6/2019 (7:30pm)

WHITECHURCH JAZZ CLUB (UK)

Whitechurch & Ganarew Memorial Hall

9/8/2019 (12:30pm)

WESTWOOD JAZZ CLUB (Coventry, UK)

9/11/2019 (8pm)

KENDAL JAZZ CLUB (UK)

9/13/2019 (8pm)

RUCHWICK VILLAGE HALL (Worcester, UK)

9/15/2019 (2:30pm)

CORE THEATRE (UK)

Solihull Arts Complex

9/19/2019 (8:30pm)

CARLISLE JAZZ CLUB (UK)

Carlisle Rugby Union Club

9/20/2019 (8pm)

CATSTRAND THEATRE (New Galloway, UK)

9/28-10/11/2019

JAZZ DAGEN TOURS

Crystal Symphony (Los Angeles, CA-Caldera, Costa Rica)

10/16-20/2019

SUN VALLEY JAZZ & MUSIC FESTIVAL (ID)

selections from ragtime, swing, jazz classics, Broadway and the Great American Songbook

10/25-27/2019

43rd JAZZ JUBILEE BY THE SEA (Pismo Beach, CA)

11/4/2019 (1pm)

BERNARDS TOWNSHIP LIBRARY

Westminster Hall, The Presbyterian Church of Basking Ridge (NJ)

"A Stroll Down Tin Pan Alley"

11/17/2019 (3pm)

MUSIC ON THE DIVIDE (Georgetown, CA)

IOOF Hall

selections from ragtime, swing, jazz classics, Broadway and the Great American Songbook

11/22-24/2019

WEST COAST RAGTIME FESTIVAL (CA)

Sacramento Marriott Rancho Cordova

12/19/2019 (3:30pm)

STONERIDGE (Mystic, CT)

12/29/2019 (4pm)

ESSEX MEADOWS LIFECARE RETIREMENT COMMUNITY (CT)

1/23-26/2020

EAGLES & IVORIES RAGTIME FESTIVAL

Wesley United Methodist Church (Muscatine, IA)

selections from ragtime, swing, jazz classics, Broadway and the Great American Songbook

1/26/2020 (8:30&10:30am)

FIRST PRESBYTERIAN CHURCH (Davenport, IA)

worship services

1/30/2020 (7pm)

ABBEY DELRAY (Delray Beach, FL)

2/1/2020

Private Event (St. Petersburg, FL)

2/3/2020 (7pm)

WESTMINSTER SUNCOAST RETIREMENT COMMUNITY (St. Petersburg, FL)

2/4/2020 (6:30pm)

WESTMINSTER SHORES (St. Petersburg, FL)

2/6/2020 (8pm)

SARASOTA BAY CLUB (FL)

2/10/2020 (7:30pm)

ST. ANDREWS ESTATES SOUTH (Boca Raton, FL)

2/11/2020 (7pm)

INDIAN RIVER ESTATES EAST (Vero Beach, FL)

2/13/2020 (5pm)

THE GLENVIEW AT PELICAN BAY (Naples, FL)

2/27/2020 (7:30pm)

CHARLES TEMPLETON RAGTIME JAZZ FESTIVAL

McComas Hall Auditorium, Mississippi State University (Starkville)

selections from ragtime, swing, jazz classics, Broadway and the Great American Songbook

3/5/2020 (2pm)

HIDDEN VALLEY MUSIC SEMINARS (Carmel Valley, CA)

3/6-8/2020

JAZZ BASH BY THE BAY (CA)

Portola Hotel & Spa at Monterey Bay

3/15/2020 (8:45;9:15;10:50am)

UNITED METHODIST CHURCH OF WESTLAKE VILLAGE (CA)

worship services

3/15/2020 (3pm)

UNITED METHODIST CHURCH OF WESTLAKE VILLAGE (CA)

selections from ragtime, swing, jazz classics, Broadway and the Great American Songbook

3/22/2020 (4pm)

ESSEX MEADOWS LIFECARE RETIREMENT COMMUNITY (CT)

4/2/2020 (6pm)

Private Event (NYC)

4/3/2020 (7:30pm)

ROSSMOOR MUSIC ASSOCIATION (Monroe Township, NJ)

The Meeting House

4/5/2020 (2pm)

FORT LEE PUBLIC LIBRARY (NJ)

Meeting Room

4/6/2020 (1pm)

BERNARDS TOWNSHIP LIBRARY

Westminster Hall, The Presbyterian Church of Basking Ridge (NJ)

4/22-25/2020

ZEHNDER'S RAGTIME FESTIVAL (Frankenmuth, MI)

4/28-5/24/2020

TOUR OF UNITED KINGDOM

5/27-30/2020 

SCOTT JOPLIN INTERNATIONAL RAGTIME FESTIVAL (Sedalia, MO)

5/31/2020 (10:30am)

BROADWAY PRESBYTERIAN CHURCH (Sedalia, MO)

jazz/ragtime worship service

7/11/2020 (7:30pm)

ADIRONDACK LAKES CENTER FOR THE ARTS (Blue Mountain Lake, NY)

7/15/2020 (2pm)

HORIZON TOURS

Amarantes Sea Cliff (New Haven, CT)

"A Musical Roadtrip Across America"

8/12-9/20/2020

TOUR OF UNITED KINGDOM

11/12/2020 (2pm)

ST. PETER'S EPISCOPAL CHURCH (Ashtabula, OH)

11/29/2020 (4pm)

ESSEX MEADOWS LIFECARE RETIREMENT COMMUNITY (CT)
Gershwin: I Got Rhythm
Musical Instrument Museum (Phoenix, AZ)
November 7, 2012

Gershwin: Summertime
Musical Instrument Museum (Phoenix, AZ)
November 7, 2012

Johnson: Old Fashioned Love
Musical Instrument Museum (Phoenix, AZ)
November 7, 2012

Ellington: It Don't Mean a Thing (If It Ain't Got that Swing)
Musical Instrument Museum (Phoenix, AZ)
November 7, 2012