Joenne Dumitrascu
violinist
Biography
Repertoire
Itinerary
Media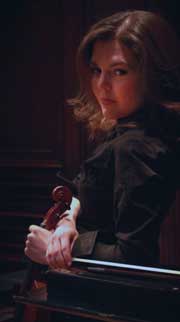 Romanian-born Canadian violin virtuosa JOENNE DUMITRASCU has performed across North America and throughout Europe and Asia.
Joenne Dumitrascu made her orchestra debut at the age of 14 with Ontario's Windsor Symphony Orchestra and appeared on CBC Radio a year later. She toured Italy as part of the 2008 Casalmaggiore International Music Festival, was a guest artist during Prince Charles and the Duchess of Cornwall's 2009 visit to Toronto's Royal Conservatory of Music, and has performed regularly on the Noon Hour Concert Series at the National Ballet of Canada/Canadian Opera Company's Four Seasons Center. In 2015, she was a guest artist of the Boston Conservatory's faculty chamber series, String Masters. Recently, Ms. Dumitrascu collaborated with members of the Emerson String Quartet on several projects, including the recently established New Music for Strings festival in Denmark. During the festival's visit to New York City, she appeared with members of the ESQ in a gala concert in the Weill Recital Hall at Carnegie Hall.
At age six, Joenne Dumitrascu began her musical studies in Europe, continuing in the pre-college division of the Royal Conservatory of Music. She earned her Bachelor of Music degree and Artist's Diploma at the RCM's Glenn Gould Professional School and her Master of Music degree at The Boston Conservatory, with additional studies at the Manhattan School of Music and the Hochschule für Muzik und Theater München. Intensive summer training has taken her to the Banff Centre, Meadowmount School of Music, Round Top Festival-Institute, Summit Music Festival and Casalmaggiore International Music Festival. Ms. Dumitrascu is a scholarship and grant recipient of Kiwanis International (Canada Region), as well as the Ontario and Canada arts councils.
Currently a doctoral candidate at the State University of New York at Stony Brook, Joenne Dumitrascu's principal teacher is Philip Setzer. She also studies chamber music with the Emerson String Quartet and David Finckel as a member of the newly established Emerson String Quartet Institute, and is a chamber music coach at SUNY Stony Brook. She recently joined the jury of the New York International Music Competition for young artists, held at Carnegie Hall.
Joenne Dumitrascu's debut CD is scheduled for release early in 2019. The all-American album, comprised of scores by Samuel Barber, Amy Beach, Leonard Bernstein, Aaron Copland and John Corigliano, was produced by Parma Recording's Navona label and is distributed exclusively by Naxos.
BACH, J.S.
Concerto #1 in a, BWV 1041
 Concerto in d for 2 Violins, BWV 1043
BARBER
Concerto, Op. 14
BARTÓK
Concerto #2 (1938)
BEETHOVEN
Concerto in D, Op. 61
BERNSTEIN
Serenade (1954)
BRAHMS
Concerto in D, Op. 77
Concerto in a, Op. 102 ("Double")
BRUCH
Concerto #1 in g, Op. 26
Concerto #2 in d, Op. 44
CHAUSSON
Poème, Op. 25
DVORÁK
Concerto in a, Op. 53
GLAZUNOV
Concerto in a, Op. 82
LALO
Symphonie espagnole, Op. 21
MENDELSSOHN
Concerto in e, Op. 64
MOZART
Concerto #3 in G, K. 216
Concerto #5 in A, K. 219
PROKOFIEV
Concerto #1 in D, Op. 19
Concerto #2 in g, Op. 63
RAVEL
Tzigane (1924)
SAINT-SAËNS
Concerto #3 in b, Op. 61
SARASATE
Zigeunerweisen, Op. 20
SCHUMANN
Fantasy in C, Op. 131
SHOSTAKOVICH
Concerto #1 in a, Op. 99
SIBELIUS
Concerto in d, Op. 47
TCHAIKOVSKY
Concerto in D, Op. 35
VIVALDI
The Four Seasons, Op. 8
WIENIAWSKI
Concerto #1 in f-sharp, Op. 14
Concerto #2 in d, Op. 22 
5/8/2019 (4&7:30pm)

EMERSON STRING QUARTET INSTITUTE

Recital Hall, Staller Center for the Arts (Stony Brook, NY)

Shostakovich: String Quartet #11
Beethoven: String Quartet #11