Judith Ingolfsson
violinist
Biography
Repertoire
Discography
Reviews
Itinerary
Duo Ingolfsson-Stoupel
Media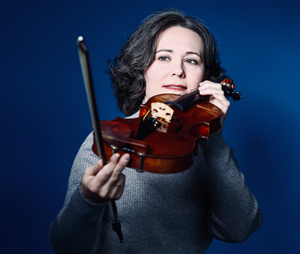 Violinist JUDITH INGOLFSSON is internationally recognized for her intense, commanding performances, uncompromising musical maturity and charismatic performance style. Based in both Baltimore and Berlin and enjoying a global career, she appears regularly as concerto soloist, chamber musician and, in recital, as half of the Duo Ingolfsson-Stoupel, founded with her husband, pianist Vladimir Stoupel, in 2006. The New York Times has characterized Ms. Ingolfsson's playing as producing "both fireworks and a singing tone," while Strings Magazine praised her tone as "gorgeous, intense, and variable, flawlessly pure and beautiful in every register."
Judith Ingolfsson made her first appearances on the international music scene as a prize winner of the celebrated International Violin Competition Premio Paganini in Genoa and the Concert Artist Guild Competition in New York City. Winning the Gold Medal of the 1998 International Violin Competition of Indianapolis provided her with the final breakthrough as an internationally sought-after artist. In 1999, National Public Radio's "Performance Today" named her "Debut Artist of the Year" for her "remarkable intelligence, musicality, and sense of insight."
Judith Ingolfsson has appeared on the concert stages of North and South America, Europe and Asia, performing with prestigious ensembles that include The Philadelphia Orchestra, Indianapolis, National and St. Louis symphony orchestras, Bollington Festival Orchestra (UK), Philharmonisches Staatsorchester Mainz, Brandenburgisches Staatsorchester Frankfurt-Oder, Budapest and Jena philharmonic orchestras and the Royal Chamber Orchestra of Tokyo. She was also heard as soloist with the Iceland Symphony Orchestra on its acclaimed 15-city 2000 North American tour, highlighted by performances at Carnegie Hall and The John F. Kennedy Center for the Performing Arts.
In recital, Judith Ingolfsson has been presented on many of the world's leading stages, among them: Carnegie Hall, Washington, DC's National Gallery of Art, Cleveland Museum of Art, La Jolla Chamber Music Society, Pro Arte Musicale of Puerto Rico, Konzerthaus Berlin, Reyjavík Arts Festival, La Asociación Nacional de Conciertos de Panamá, Macao Cultural Center, Tokyo Metropolitan Art Center. She is also an avid chamber musician, who has collaborated with the Avalon, Miami and Vogler string quartets and the Broyhill Chamber Ensemble, and has performed as a member of The Chamber Music Society of Lincoln Center Two, both on tour and at Lincoln Center for the Performing Arts. Ms. Ingolfsson is a welcome and frequent guest at international music festivals, having been invited to those in the United States, Finland, France, Germany, The Netherlands, Poland and Switzerland. In 2010, she was artist-in-residence in Villa Esche in Chemnitz, Germany.
A prolific recording artist, Judith Ingolfsson currently has 13 CDs available. Her debut album on Catalpa Classics won the 2001 Chamber Music America/WQXR Record Award, and her performance of Tchaikovsky' Violin Concerto with the Budapest Philharmonic Orchestra, available on BPO Live, was released in 2007. "En Hommage: Simon Laks" was issued on EDA in 2010; in 2011, the GENUIN label released her highly acclaimed recording of the Ysaÿe Solo Sonatas; her Brandenburgisches Staatsorchester Frankfurt recording of Joseph Holbrooke's Violin Concerto 'The Grasshopper' was released on CPO in 2016. With pianist Vladimir Stoupel, Ms. Ingolfsson recorded works of Stravinsky and Shostakovich for Audite, an album that received a 2013 ICMA nomination. In 2016, Accentus Music released a three-CD set titled "Concert-Centenaire," Duo Ingolfsson-Stoupel's exploration of French music written from the Belle Époque through World War I, with a special focus on composers whose lives were heavily impacted or even terminated by this calamitous conflict. The three recordings include scores by Louis Vierne, Alberic Magnard, Rudi Stephan and Gabriel Fauré. "Blues, Blanc, Rouge," with the sonatas of Ravel, Ferroud and Poulenc was issued in 2017, also on Accentus. The Duo's "La Belle Époque: Works by Eugène Ysaÿe, Théodore Dubois and César Franck," was released in 2019; Ms. Ingolfsson's newest album, "The Happiest Years," solo sonatas by Artur Schnabel and Eduard Erdmann, was issued in 2020 - both on GENUIN. Duo Ingolfsson-Stoupel's most recent recording, violin sonatas of Rathaus, Tiessen and Arma, was released in August, 2021 on OEHMS Classics.
Born in Reykjavík, Iceland to an Icelandic father and Swiss mother, Judith Ingolfsson began her violin studies at the age of three and gave her first public performance on Icelandic State Television at age five. At eight, she recorded as soloist with the Iceland Symphony Orchestra for Icelandic State Radio and, a few weeks later, made her orchestra debut in Germany. Her family immigrated to the United states in 1980, and, at the age of 14, she was admitted to Philadelphia's famed Curtis Institute of Music, where she studied with Jascha Brodsky. Ms. Ingolfsson went on to earn her Master's degree and Artist Diploma from the Cleveland Institute of Music as a student of David Cerone and Donald Weilerstein.
Currently, Judith Ingolfsson holds the position of Professor at both the State University of Music and Performing Arts Stuttgart and Baltimore's Peabody Institute of The Johns Hopkins University. With her husband, the renowned pianist Vladimir Stoupel, she is co-artistic director of France's Festival and Academy "Aigues-Vives en Musiques" and Germany's International Bach Academy Eisenach and Festival "The Last Rose of Summer" in Berlin. Together, they also curate a pair of concert series in Berlin - at the Institut Français and the Mendelssohn-Remise.
Judith Ingolfsson performs on a Lorenzo Guadagnini violin, crafted in 1750, and a viola created by Yair Hod Fainas; she also uses a baroque bow made by the modern German maker Bastian Muthesius.
BACH, J.S.
Concerto #1 in a, BWV 1041
Concerto #2 in E, BWV 1042
Concerto in d for 2 Violins, BWV 1043
BARBER
Concerto, Op. 14
BARTÓK
Concerto #2 (1938)
BEETHOVEN
Concerto in D, Op. 61
Concerto in C, Op. 56 ("Triple")
Romance #1 in G, Op. 40
Romance #2 in F, Op. 50
BERG
Concerto (1935)
BOULOGNE, Joseph
Concerto #2 in B-flat, Op. 7
BRAHMS
Concerto in D, Op. 77
Concerto in a, Op. 102 ("Double")
BRUCH
Concerto #1 in g, Op. 26
Scottish Fantasy, Op. 46
CHAUSSON
Poème, Op. 25
DVORÁK
Concerto in a, Op. 53
Romance in f, Op. 11
ERNST, H. W.
Concerto Pathetique in f#, Op. 23
GLAZUNOV
Concerto in a, Op. 82
HALLGRIMSSON
Poemi (1984)
HAYDN
Concerto #1 in C
HOLBROOK
Concerto in F, Op. 59 ("The Grasshopper")
KHACHATURIAN
Concerto in d (1940)
KORNGOLD
Concerto in D, Op. 35
MAIER, Amanda
Concerto in d (1875)
MENDELSSOH
Concerto in e, Op. 64
MOZART
Adagio in E, K. 261
Concerto #1 in B-flat, K. 207
Concerto #2 in D, K. 211
Concerto #3 in G, K. 216
Concerto #4 in D, K. 218
Concerto #5 in A, K. 219
Rondo in C, K. 373
Sinfonia concertante in E-flat, K. 364
PAGANINI
Concerto #1 in D, Op. 6
Concerto #2 in b, Op. 7
PROKOFIEV
Concerto #1 in D, Op. 19
Concerto #2 in g, Op. 63
RAFF
Concerto #2 in a, Op. 206
RAUTAVAARA
Concerto
RAVEL
Tzigane (1924)
ROSLAVETS
Concerto #1
SAINT-SAËNS
Concerto #3 in b, Op. 61
Havanaise, Op. 83
Introduction & Rondo capriccioso, Op. 28
SARASATE
Carmen Fantasy, Op. 25
Zigeunerweisen, Op. 20
SCHNITTKE
Concerto Grosso #1
SHOSTAKOVICH
Concerto #1 in a, Op. 99
Concerto #2 in c#, Op. 129
SIBELIUS
Concerto in d, Op. 47
SZYMANOWSKI
Concerto #2, Op. 61
TCHAIKOVSKY
Concerto in D, Op. 35
Méditation, Op. 42
Sérénade mélancolique, Op. 26
Valse-Scherzo, Op. 34
VIEUXTEMPS
Concerto #5 in a, Op. 37
VIOTTI
Concerto #23 in G
VIVALDI
The Four Seasons, Op. 8
WIENIAWSKI
Concerto #1 in f-sharp, Op. 14
Concerto #2 in d, Op. 22  
Fantaisie brillante on Themes from Gounod's Faust, Op. 20
Polonaise brillante #2 in A, Op. 2
Polonaise de concert #1 in D, Op. 4
RATHAUS: Sonata for Violin & Piano, Op. 14 (1925)
TIESSEN: Duo-Sonata, Op. 25 (1925) - world premiere recording
ARMA: Sonata for Violin & Piano (1949) - world premiere recording

Duo Ingolfsson-Stoupel

OEHMS Classics: OC 491 (1921)

"THE HAPPIEST YEARS"

Schnabel: Sonata for Violin Solo (1919)
Erdmann: Sonata for Violin Solo, Op. 12 (1921)

Genuin: 20711

"LA BELLE ÉPOQUE"

Ysaÿe: Poème élégiaque in d, Op. 12
Dubois: Sonata in A for Violin & Piano
Franck: Sonata in A for Violin & Piano
Duo Ingolfsson-Stoupel

Genuin: 19674 (2019)

POULENC: Sonata for Violin & Piano, FP 119
FERROUD: Sonata in F for Violin & Piano
RAVEL: Sonata #2 for Violin & Piano

Duo Ingolfsson-Stoupel

Accentus Music: ACC30436 (2017)

JOSEPH HOLBROOKE

Violin Concerto in F, Op. 59 ("The Grasshopper")
Auld Lang Syne
The Raven
Howard Griffiths/Brandenburgisches Staatsorchseter Frankfurt

CPO: 4100515 (2016)

"CONCERT-CENTENAIRE, Vol. I"

Stephan: Groteske for Violin & Piano
Magnard: Sonata in G for Violin & Piano, Op. 13
Duo Ingolfsson-Stoupel

Accentus Music: ACC303711 (2016)

"CONCERT-CENTENAIRE, Vol. II"

Vierne: Sonata in g for Violin & Piano, Op. 23
Vierne: Piano Quintet in c, Op. 42
Duo Ingolfsson-Stoupel
Rebecca Li, violinist
Stefan Fehlandt, violist
Stephan Forck, cellist

Accentus Music ACC303712 (2016)

"CONCERT-CENTENAIRE, Vol. III"

Fauré: Sonata #1 in A for Violin & Piano, Op. 13
Fauré: Sonata #2 in e for Violin & Piano, Op. 108
Duo Ingolfsson-Stoupel

Accentus Music: ACC303713 (2016)
[3-CD box set: ACC80371]

STRAVINSKY: Divertimento for Violin & Piano
SHOSTAKOVICH: Sonata for Violin & Piano, Op. 134

Duo Ingolfsson-Stoupel

Audite: AUD 92.576 (2011)

EUGÈNE YSAŸE

Six Sonatas for Violin Solo, Op. 27

Genuin: 11202 (2011)

"EN HOMMAGE: SIMON LAKS"

Trois pièces de concert pour violon et piano
Sonate pour violoncelle et piano
Suite polonaise pour violon et piano
Ballade "Hommage à Chopin"
Duo Ingolfsson-Stoupel
Leonid Gorokhov, cellist

EDA: 31 (2010)

TCHAIKOVSKY

Violin Concerto in D, Op. 35
Symphony #5 in e, Op. 64
Rico Saccani/Budapest Philharmonic Orchestra

BPO LIVE: B003LSTBP8 (2007)

"JUDITH INGOLFSSON: DEBUT RECORDING"

Bloch: Sonata #2 for Violin & Piano ("Poème mystique")
Rorem: Autumn Music
J.S. Bach: Sonata #3 in C for Violin Solo, BWV 1005
Wieniawski: Fantasy brillante on Gounod's Faust, Op. 20
Ronald Sat, pianist

Catalpa Classics: 30101 (2000)
Karol Rathaus remains long overdue for rediscovery. The Violin Sonata, Op. 14 is typical of him, beautifully proportioned and laid out for the players. The performance is impeccable, with Judith Ingolfsson a strong and idiomatic interpreter and Vladimir Stoupel a splendid accompanist. Vivid sound, too.
GRAMOPHONE
[The Debut Artist of the Year Award]
Ms. Ingolfsson's personality and temperament are reminiscent of a pre-WWII violinist. She plays with a remarkable intelligence, musicality, and sense of insight.
NPR'S PERFORMANCE TODAY
She gave a technically assured and interpretively astute recital at Carnegie Hall. Ms. Ingolfsson produced a tone that is firmly centered, gracefully rounded and tinted to match the score at hand, a sizzling account producing both fireworks and a singing tone.
THE NEW YORK TIMES
She is a truly outstanding player. Her effortless virtuosity is a tool in the service of the music; her tone is ravishingly beautiful, pure and adaptable, her sense of style is unerring, her expressiveness simple, direct, and strongly felt. Most striking, however was Bach's C Major Solo Sonata: grand and noble in concept and execution, with every chordal and contrapuntal voice standing out, it was played with flawless sound and intonation, perfectly controlled pacing, phrasing and dynamics.
STRINGS MAGAZINE
Artur Schnabel wrote his Solo Violin Sonata in 1919. It is in five movements and is the longest work of this genre that I know–over 45 minutes. Eduard Erdmann wrote his sonata in 1921. It is in four movements, but is not even half as long as the Schnabel. Like the older master's work, it is atonal but not as dissonant as Schoenberg or Webern. Ingolfsson's performances are technically immaculate and full of character. These very rarely heard works are fortunate to have such a highly skilled and sympathetic interpreter.
AMERICAN RECORD GUIDE
The performance was spectacular. It goes without saying that this violinist has mastered the mechanics of her craft, but what this budding superstar revealed went beyond technical command. She made this concerto absolutely and unmistakably her own and approached it all with a panache of a true virtuoso. Nothing was held back; she was out to galvanize the orchestra and her listeners with the energy and power of Khachaturian's music.
THE BALTIMORE SUN
This authentic virtuoso gave a lesson in good taste, interpreting with warm sound and grand sonorous phrasing. The artist revealed not only her almost inhuman virtuosity, but also her magnificent musicality.
EL NUEVO DÌA (San Juan, Puerto Rico)
The jeweled intensity of Judith Ingolfsson's Stradivarius, her finely honed bowing and stylistic finesse were all the more impressive in that these aspects of her playing suited two works worlds apart: Bach's Solo Partita in b, BWV 1002 and songs from Gershwin's Porgy and Bess, arranged by Jascha Heifetz. In the Bach, Ingolfsson's bow defined the minute yet determining stylistic subtleties that divulge the particular character of each dance in the suite. Then she transformed her violin into a voice easily calling on 'portamento' swoops that capture the precise qualities of Gershwin's dramatic intent.
THE WASHINGTON POST
Ingolfsson brought an affecting sense of commitment to the piece [Barber Violin Concerto], wonderfully poetic and even improvisational in the first movement, darkly expressive and dramartic in the second. She commands both the technique to take the Moto perpetuo finale at breakneck speed and the tone to make it sound.
VANCOUVER SUN (Canada)
In the Tchaikovsky Violin Concerto, Ingolfsson was able to effectively execute the acrobatics of the piece with ease and keen musical insight. Her playing was most enjoyable during the more intimate, melodic moments of the piece, when she lingered on phrase endings and harmonics to let us hear the lustrous sound of her 1736 Stradivarius.
OMAHA WORLD-HERALD
Heavenly Devil's Trills [headline]
Judith Ingolfsson performed at the highest level with her duo partner, pianist Vladimir Stoupel. They rendered with distinct agogic Beethoven's Violin Sonata #10 - at once brilliant, nimble, tendentiously soft. Discreet, and with thoughtfully chosen tempos. As a duo, they showed themselves to be most advantageously attuned to each other. She displayed enormous solitsic virtuosity in Tartini's Sonata in g minor, mastering the work with instinctive certainty, fluency, and ease. Stravinsky's Divertimento, based on his ballet The Fairy's Kiss, came across as vigorously kinetic, often boisterous and dance-like.
FRANKFURTER ALLGEMEINE ZEITUNG (Germany)
Violinist Judith Ingolfsson and pianist Vladimir Stoupel brought power and purpose to a varied duo program at the National Gallery. Ingolfsson draws a clear, ringing tone from her instrument, the overtones enhanced by pinpoint intonation. When they played together, the sum of these two fine artists produced moments of great imagination.
THE WASHINGTON POST
Ingolfsson's recital was an absolute treat. A performer of consummate artistry, she wowed the audience with her musicality and technique. Ingolfsson is one of the rare breed of performers who looks past the notes into the heart and soul of the music. A recital with her is a journey of discovery. It's as if one is hearing these works for the first time.
DESERET NEWS (Salt Lake City, UT)
Brandenburg State Orchestra with exciting music in tow [headline]
Soloist Judith Ingolfsson played [Tchaikovsky's Violin Concerto] with brilliant virtuosity on her 1750 Lorenzo Guadagnini violin and breathed life into the concerto with her sensitive playing. Ecstatic applause was the reward.
MÄRKISCHE ALLGEMEINE ZEITUNG (Germany)
A stellar performance, every moment seems to say precisely what [Ingolfsson] intends, yet her music-making feels spontaneous rather than rigidly controlled. So does Stoupel's. His piano breathes style, mood, and atmosphere into her breadth of contrasts. The players' superb balances, articulation, assertiveness at one moment, and lyricism are pristine.
AMERICAN RECORD GUIDE
The experienced duo of Judith Ingolfsson and Vladimir Stoupel play this [Vierne Violin Sonata] with commanding authority.
GRAMOPHONE

Pierre-Octave Ferraud's Violin Sonata wanders farther afield harmonically and melodically than do either Poulenc's or Ravel's Together, Ingolfsson and Stoupel play its first movement briskly, create a sense of gauzy meditation in its second, and explore the finale's incisive rhythms and bracing harmonies. The thick, rich tone that Ingolfsson produces from her violin's lower registers sounds both captivating and hauntingly nuanced.
FANFARE
8/7/2022 (9pm)

FESTIVAL "AIGUES-VIVES EN MUSIQUES" (France)

Salle Marius Ecole

Mozart: Trio for 2 Violins & Cello
with Alan Stoupel, violinist
Friedemann Ludwig, cellist

8/10/2022 (9pm)

FESTIVAL "AIGUES-VIVES EN MUSIQUES" (France)

Salle Marius Ecole

R. Clarke: Violin Sonata (Andante quasi Adagio)
R. Clarke: 3 Mélodies for Violin & Tenor
with Jeff Martin, tenor
Ysaÿe: Violin Sonata #3 (solo violin)
Boulanger: D'un matin de printemps
Tailleferre: Violin Sonata #1
with Vladimir Stoupel, pianist

8/14/2022 (9pm)

FESTIVAL "AIGUES-VIVES EN MUSIQUES" (France)

Salle Marius Ecole

Juon: Viola Sonata
Brahms: Piano Trio #1
with Friedemann Ludwig, cellist
Vladimir Stoupel, pianist

8/18/2022 (1pm)

FESTIVAL "THE LAST ROSE OF SUMMER" (Germany)

Mendelssohn-Remise (Berlin)

Rathaus: Violin Sonata
Juon: Viola Sonata
with Duo Ingolfsson-Stoupel

8/21/2022

STUBENRAUCHSSAL (Teltow, Germany)

Mendelssohn-Remise (Berlin)

Mozart: Violin Sonata #18
Janáček: Violin Sonata
Ysaÿe: Violin Sonata #2 (solo violin)
Schumann: Violin Sonata #1        
with Duo Ingolfsson-Stoupel

9/18/2022 (3pm)

PEABODY INSTITUTE OF THE JOHNS HOPKINS UNIVERSITY (Baltimore, MD)

Leith Symington Griswold Hall

Schumann: Violin Sonata #2
Vierne: Violin Sonata
with Duo Ingolfsson-Stoupel

10/18/2022 (6pm)

EMMANUEL EPISCOPAL CHURCH (Baltimore, MD)

Juon: Viola Sonata #1
Beethoven: Violin Sonata #9
with Duo Ingolfsson-Stoupel

11/2/2022 (7:30pm)

FRENCH EMBASSY IN THE UNITED STATES/
EMBASSY OF THE FEDERAL REPUBLIC OF GERMANY

La Maison Française (Washington, DC)

Schumann: Violin Sonata #2
Vierne: Violin Sonata
with Duo Ingolfsson-Stoupel

11/3/2022 (7pm)

PEABODY STRING SINFONIA

Marian House (Baltimore, MD)

Boulogne: Violin Concerto #2

11/10/2022 (7pm)

PEABODY STRING SINFONIA

St. Vincent de Paul-Baltimore (MD)

Boulogne: Violin Concerto #2

11/17/2022 (7pm)

PEABODY STRING SINFONIA

Enoch Pratt Free Library - Light Street Branch (Baltimore, MD)

Boulogne: Violin Concerto #2

11/19/2022 (7pm)

PEABODY YOUNG ARTISTS ORCHESTRA (Baltimore, MD)

Daniel Levitov, conductor
Turner Auditorium, Johns Hopkins University

Boulogne: Violin Concerto #2

11/25/2022 (7:30pm)

CONCERT D'AUTOMNE

Temple d'Aigues-Vives (France)

Viotti: Violin Concerto #23
Schumann: Violin Sonata #2
Sarasate/Tremblay: Carmen Fantasy (for 2 violins)
with Alan Stoupel, violinist
Duo Ingolfsson-Stoupel

12/8/2022 (7pm)

PEABODY STRING SINFONIA

Enoch Pratt Free Library - Light Street Branch (Baltimore, MD)

Boulogne: Violin Concerto #2

1/29/2023 (3pm)

PEABODY INSTITUTE OF THE JOHNS HOPKINS UNIVERSITY (Baltimore, MD)

Leith Symington Griswold Hall

Schubert: Violin Sonata
Maier: Violin Sonata
Tailleferre: Violin Sonata #1
with Duo Ingolfsson-Stoupel

2/6/2023 (3pm)

PEABODY INSTITUTE OF THE JOHNS HOPKINS UNIVERSITY (Baltimore, MD)

Leith Symington Griswold Hall

Violin Faculty Concert

2/15/2023 (7:45pm)

LONGMONT SYMPHONY ORCHESTRA (CO)

House Concert
J.S. Bach: Violin Partita #2 (Chaconne)
Schnabel: Sonata for Violin Solo (mvt. II)
Ysaÿe: Violin Sonata #3

2/18/2023 (7:30pm)

LONGMONT SYMPHONY ORCHESTRA (CO)

Elliot Moore, conductor
Vance Brand Civic Auditorium, Skyline High School Campus

Sibelius: Violin Concerto

3/8/2023 (8pm)

BLAKEHURST (Towson, MD)

Maier: Violin Sonata
Schubert: Violin Sonata in A
with Duo Ingolfsson-Stoupel
Mozart: Violin Concerto #2 (mvt. I)
Monti: Csárdás
with Alan Stoupel, violinist
Vladimir Stoupel, pianist

3/17/2023 (7pm)

FESTIVAL "AIGUES-VIVES EN MUSIQUES" (France)

Temple

Maier: Violin Sonata
Schubert: Violin Sonata in A
with Duo Ingolfsson-Stoupel
Mozart: Violin Concerto #2 (mvt. I)
Monti: Csárdás
with Alan Stoupel, violinist
Vladimir Stoupel, pianist

6/10/2023 (6pm)

BARGEMUSIC

The Barge (Brooklyn, NY)

Maier: Violin Sonata
Tailleferre: Violin Sonata #1
R. Clarke: Viola Sonata
with Duo Ingolfsson-Stoupel

6/13/2023 (8pm)

INSTITUTE FRANÇAIS BERLIN (Germany)

Maier: Violin Sonata
Tailleferre: Violin Sonata #1
Clarke: Violin Sonata in G
Clarke: Violin Sonata in D
with Duo Ingolfsson-Stoupel

6/15/2023 (8pm)

KONZERTHAUS BERLIN (Germany)

Bruch/Huberman: Kol Nidre
Brahms: Sonatensatz
Beethoven: Violin Sonata #9 (mvt. II)
Paganini/Szymanowski: Caprice #24
with Duo Ingolfsson-Stoupel

7/18-30/2023

HEIFETZ INTERNATIONAL MUSIC INSTITUTE (Staunton, VA

8/5/2023 (5pm)

GARTH NEWEL MUSIC CENTER (Bath County, VA)

Herter Hall

8/6/2023 (3pm)

GARTH NEWEL MUSIC CENTER (Bath County, VA)

Herter Hall
Haydn: Concerto in C
Staatliche Hochschule für Musik under Darstellende Kunst Stuttgart
2008

Tchaikovsky: Concerto in D, Op. 35 (mvt. III: Finale, Allegro vivacissimo)
Budapest Philharmonic Orchestra
Rico Saccani, conductor
2007

Magnard: Sonata in G for Violin & Piano, Op. 13 (mvt. II; Calme)
2015 Festival Aigues-Vives en Musiques

Vieuxtemps: Sonata in B-flat for Viola & Piano, Op. 36 (mvt. III: Finale scherzando)
2014 Festival Aigues-Vives en Musiques

Vieuxtemps: Sonata in B-flat for Viola & Piano, Op. 36 (mvt. II: Barcarolla)
2014 Festival Aigues-Vives en Musiques

MAIER: Sonata in b
Icelandic Embassy Residence, Berlin
2013

Judith Ingolfsson's YouTube Channel