Mark Twain Today – with Orchestra!
Biography
Program
Reviews
Itinerary
Media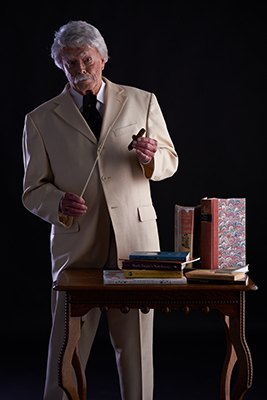 Carl Martens enjoyed an extensive and varied career in music and theatre - in spite of early desires to become a concert pianist during an extended moment of insanity at the University of Wisconsin, which evolved into a greater interest in vocal music, directing and musical theatre.
Early memories of the iconic Mark Twain lingered throughout Carl's college years and beyond, and sparked the primary incentive to enter the public speaking arena. All of this occurred while assuming high level corporate marketing positions in several national and international companies.
Carl has sung professionally, everything from opera to Doo-Wop, acted in way too many plays and musicals, conducted choral groups for over 35 years and led full-orchestra productions of Mozart masses and Broadway musicals. He has also facilitated communication and public speaking workshops throughout the country and authored a book, "More Than Your Words: Harness the Power of Your Most Effective Speaking Voice." He has also recorded several dozen books for Audible.
While Mr. Twain has been his teacher - and continues to serve in that capacity today, Carl has been able to expand Mark's musical abilities at the same time. Mark has always played the banjo and a bit of piano, and is now gaining in his abilities to sing and conduct an orchestra!
PROGRAM
It has been over a century since rumors regarding the demise of Mark Twain circulated throughout the globe. While they happen to be true, he has, nonetheless, occupied himself with endeavors that subsequently greatly support the world of music.  It is not really important just where or how he has been able to add conducting, singing and playing the piano to his memorable talents of wit, wisdom and humor - but he has! Not only does he remember his indelible quotations, but he has brought his timeless sarcasm, irony and wit into the 21st Century to entertain and edify children and adults of all ages. He is now available to liven up any concert program with a cameo appearance - to the delight of orchestra and audience members alike!
I just witnessed a performance by Mark Twain! Thank you for yesterday's performance - which was huge - just excellent!! At the conclusion the audience was thirsting for more! We all look forward to following you as you appear with orchestras around the country. Audiences, both young and old, will be thoroughly entertained!
 Don Smith, 2019 Kiwanian of the Year, Kiwanis Club of Castle Rock (CO)
First there was Mark Twain. Then there was Hal Holbrook. And now there's Carl. The tradition, the talent and the wisdom live on. Thank God!
Gregory Godek, best selling author of "How to Be Mildly Brilliant" and "1001 Ways to Be Romantic"
You got the man down well. It belies the expression, "Ne'er the Twain shall meet!
CLARK EIDE, author of "A Monk's Way"
I loved it! I liked his Mark Twain better than Holbrook's! A nice blend of Mississippi, mid-western, and New England twang!
SCOTT DAVIS, author of "Blurbs"