Neal Gittleman
conductor
Biography
Discography
Reviews
Itinerary
Media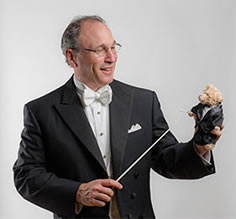 Celebrating his twenty-eighth season as Artistic Director of the Dayton Philharmonic Orchestra, NEAL GITTLEMAN enjoys a career and reputation of international dimensions. With the historic merger of the Dayton Ballet, Dayton Opera and Dayton Philharmonic Orchestra into the Dayton Performing Arts Alliance in July 2012, his expanded conducting duties include frequent performances with the Ballet and Opera. During the current season, Mr. Gittleman leads the world premiere performances of Austin Jaquity's The Legend of Sleepy Hollow, Septime Webre's Peter Pan, the annual holiday production of Tchaikovsky's The Nutcracker and Wagner's Das Rheingold.
A native of Brooklyn, New York, Neal Gittleman graduated from Yale UniveA native of Brooklyn, New York, Neal Gittleman graduated from Yale University in 1975. He continued his musical studies with the eminent teachers Nadia Boulanger and Annette Dieudonné in Paris, Hugh Ross at the Manhattan School of Music and Charles Bruck at both the Pierre Monteux Domaine School and the Hartt School of Music, where he was the recipient of the Karl Böhm Fellowship. In 1984, he was the Second Prize Winner of Geneva's Ernest Ansermet International Conducting Competition, and, two years later, he was awarded Third Prize at the Leopold Stokowski Conducting Competition in New York City. In 1989, he was selected for the American Conductors Program at the American Symphony Orchestra League's annual conference in San Francisco. Mr. Gittleman was awarded a 2014 Governor's Award for the Arts in Ohio.
Neal Gittleman's conducting career began in 1981 as Assistant Conductor of the Hartt Symphony Orchestra and the Hartt Opera Theater. Subsequently, he served as Assistant Conductor of the Oregon Symphony Orchestra (under the Exxon/Arts Endowment Conductors Program) and as Associate Conductor of the Syracuse Symphony Orchestra. He was also the distinguished Resident Conductor of the Milwaukee Symphony Orchestra for three seasons, preceded by six years of service as its Associate Conductor. For four seasons, starting in 1998, Mr. Gittleman led an annual three-concert series of "Classical Connections" with The Phoenix Symphony, and, for five seasons - from 2000 through 2005, he led the Indianapolis Symphony Orchestra's series of "Discovery Concerts." As guest conductor, he has appeared with numerous orchestras, including l'Orchestre de la Suisse Romande, the Alabama, Chicago, Indianapolis, Oregon, New Jersey, Phoenix, Saint Louis, San Antonio, San Francisco and Seattle symphonies, the Minnesota, Philadelphia and National Repertory orchestras and the Buffalo and Rochester philharmonic orchestras as well as the ensembles of Anchorage, Bangor, Baton Rouge, Chattanooga, Cincinnati, El Paso, Eugene, Green Bay, Jacksonville, Knoxville, New Haven, Omaha, San Jose, Springfield and Chicago's Grant Park and Oregon's Britt Music Festivals. He has also conducted Canada's Edmonton Symphony Orchestra and Orchestra London, México City's Orquesta Filamónica de la Ciudad de México, UNAM Philharmonic and Orquesta Cámara Bellas Artes, Orquesta Sinfónica Nacional de la República Dominicana, Bosnia's Sarajevo Philharmonic Orchestra and Germany's Augsburg Philharmonic Orchestra, and led performances of Handel's Messiah in Tokyo and Osaka.
At home in the opera pit as well as on the concert stage, Neal Gittleman has conducted for the Dayton Opera, Hartt Opera Theater, Syracuse Opera Company, Milwaukee's Skylight Opera Theatre and Dayton's Human Race Theatre Company. He has also led performances of the Milwaukee Ballet, Hartford Ballet, Chicago City Ballet, Ballet Arizona and Theatre Ballet of Canada.
As Artistic Director of the Dayton Philharmonic Orchestra, Neal Gittleman regularly conducts classical, Pops, educational and summer concerts. For many seasons, he led the orchestra's nationally known "Classical Connections," a popular and innovative series offering audiences a "behind-the-scenes" look at masterpieces of the symphonic repertoire. His first CD with the DPO, "Tomas Svoboda - Piano Concertos," was quickly followed by "Gershwin in Prague" with the Prague National Symphony Orchestra; both albums are available on the Artisie 4 Recordings label. In 2004, Albany Records released "A Celebration of Flight," comprised of new scores by William Bolcom, Robert Xavier Rodríguez, Michael Schelle and Steven Winteregg. The DPOalive label has issued: William Grant Still's Symphony No. 1 ("Afro-American") and Shostakovich's Symphony No. 6; Elgar's In the South, Wagner's A Faust Overture, Franck's Symphony in d; Strauss' Ein Heldenleben and Stravinsky's Apollon Musagète. His latest CD, also on the Albany label, is comprised of three works by Michael Daugherty: Bay of Pigs, Gee's Bend, Troyjam.
Neal Gittleman and his wife, Lisa Fry, make their home in Dayton.
MICHAEL DAUGHERTY

Bay of Pigs
soloist: Manuel Barrueco, guitarist
Gee's Bend
soloist: D.J. Sparr, electric guitarist
Troyjam
narrator: Michael Lippert
Dayton Philharmonic Orchestra

Albany Records: 1866

STRAUSS: Ein Heldenleben
STRAVINSKY: Apollon Musagète

Dayton Philharmonic Orchestra

DPOalive: 3/1011

"THE ROMANTICS"

Elgar: In the South
Wagner: A Faust Overture
Franck: Sumphony in d

DPOalive: 2/0910

STILL: Symphony #1 ("Afro-American")
SHOSTAKOVICH: Symphony #6

Dayton Philharmonic Orchestra

DPOalive: 1/0809

A CELEBRATION OF FLIGHT

Bolcom: Inventing Flight
Winteregg: To Fly Unbounded
soloist: Mary Elizabeth Southworth, soprano
with Dayton Philharmonic Chorus
Schelle: Wright Flight
Rodriguez: Flight: The Story of Wilbur & Orville Wright
narrator: Allison Janney
Dayton Philharmonic Orchestra

Albany Records: TROY672


TOMAS SVOBODA - PIANO CONCERTOS

Piano Concerto #1, Op. 71
soloist: Tomas Svoboda
Piano Concerto #2, Op. 134
soloist: Norman Krieger
Dayton Philharmonic Orchestra

Artisie 4 Recordings: 1006

GERSHWIN IN PRAGUE

Rhapsody in Blue
Concerto in F
soloist: Norman Krieger
Prague National Symphony Orchestra

Artisie 4 Recordings: 1005
For Dayton Philharmonic Orchestra Music Director and Conductor Neal Gittleman, it was a dream realized. For Dayton Philharmonic Orchestra management, it was a financial and programming gamble that paid off beyond their wildest hopes. Leonard Bernstein's MASS was a flat-out hit in every sense. About 4500 people witness both performances. They have the vision of an inspired composer, a conductor whose life was influenced profoundly by that composer, a huge number of talented musicians, singers and dancers, and an orchestra management to thank.
DAYTON CITY PAPER
In 2012, the Dayton Opera, Dayton Philharmonic, and Dayton Ballet merged to become the Dayton Performing Arts Alliance. One of the goals of the group was the creation of new works involving all three partner organizations. That goal was splendidly realized with the premiere of Stella Sung's The Book Collector, a one-act opera designed to be paired with Carmina Burana. There was fine work from the Dayton Philharmonic, the Dayton Philharmonic Chorus, the Dayton Opera Chorus, and the Kettering Children's Choir, all under the direction of Neil Gittleman.
OPERA NEWS
Concluding the eventing, Stravinsky's Firebird Suite (1919) showed off not only the Hall [Schuster Performing Arts Center], but also what this orchestra could do. Now in his eighth season, Gittleman has brought the Dayton Philharmonic to a new level. His captured the Firebird's magical sweep while illuminating details with a sure hand, and his musicians responded with a high degree of precision.
THE CINCINNATI ENQUIRER
The orchestra performed with inspired insight, led by Gittleman's sympathetic reading of the Brahms score.
DAYTON DAILY NEWS
The musicians gave the work the needed brilliance under Gittleman, whose direction clearly showed his expertise with Copland.
AUGSBURGER ALLGEMEINE
But most striking was the silken, refined sound Mr. Gittleman elicited from the strings. He chose tempos that propelled the music and aided the playing of his musicians. The freedom of expression that resulted allowed the Dvorak's [Symphony #9] lyricism to sing. The finale was taut with palpable energy. Mr. Gittleman galvanized his musicians to a stunning finish.
THE CINCINNATI ENQUIRER
Neal Gittleman is still an effective leader. He enters into the spirit of every piece he conducts; it all seems to matter to him, and nothing is mere routine. He cares about the orchestra and manages to make the audience feel that he cares about them too, and hopes that the music reaches them in all its power and beauty.
AMERICAN RECORD GUIDE
Daugherty: Bay of Pigs; Gee's Bend; Troyjam: Two guitar concertos and a narrated orchestral piece by Michael Daugherty (b. 1954).
The guitar concertos make this release worthwhile. The Dayton Philharmonic gives great performances of these colorful works.
AMERICAN RECORD GUIDE
7/18/31/2022

MONTEUX SCHOOL & MUSIC FESTIVAL (Hancock, ME)

teaching

9/16//2022 (7:30pm)
9/17/2022 (7:30pm)

DAYTON PHILHARMONIC ORCHESTRA (OH)

Mead Theatre, Schuster Performing Arts Center

Winteregg & Leone: Expressions
soloists: Sierra Leone, poet
tba, soprano
with DPO Chorus
Rouse: Flute Concerto
soloist: Brandon Patrick George
Respighi: I pini di Roma

9/24//2022 (7:30pm)

DAYTON PHILHARMONIC ORCHESTRA (OH)

Mead Theatre, Schuster Performing Arts Center

Rockin' Orchestra: "A Tribute to the Music of Fleetwood Mac"

9/30/2022 (7:30pm)
10/1/2022 (7:30pm)

DAYTON PHILHARMONIC ORCHESTRA (OH)

Mead Theatre, Schuster Performing Arts Center

SuperPops: "Havana Nights"

10/21//2022 (7:30pm)
10/22/2022 (7:30pm)

DAYTON PHILHARMONIC ORCHESTRA (OH)

Mead Theatre, Schuster Performing Arts Center

Debussy: Nocturnes (Nuages, Fêtes)
Esmail: Meri Sakhi Ki Avaaz  ("My Sister's Voice")
soloists: Saili Oak & Sarah Tucker
Rimsky-Korsakov: Scheherazade

10/23/2022 (3pm)

DAYTON PHILHARMONIC ORCHESTRA (OH)

Mead Theatre, Schuster Performing Arts Center

Family Concert: "PhilharMonster"

10/28/2022 (7:30pm)
10/29/2022 (7:30pm)
10/30/2022 (2:30pm)

DAYTON BALLET (OH)

Mead Theatre, Schuster Performing Arts Center

Jaquity: The Legend of Sleepy Hollow (world premiere)

12/9/2022 (7:30pm)
12/10/2022 (2:30&7:30pm)
12/11/2022 (2:30pm)

DAYTON BALLET (OH)

Mead Theatre, Schuster Performing Arts Center

Tchaikovsky: The Nutcracker

12/14/2022 (7:30pm)

DAYTON PHILHARMONIC CHAMBER ORCHESTRA& CHAMBER CHOIR(OH)

Mead Theatre, Schuster Performing Arts Center

Handel: Messiah
soloists:tba

12/16/2022 (7:30pm)
12/17/2022 (2:30&7:30pm)
12/18/2022 (2:30pm)

DAYTON BALLET (OH)

Mead Theatre, Schuster Performing Arts Center

Tchaikovsky: The Nutcracker

12/31/2022 (7:30pm)

DAYTON PHILHARMONIC ORCHESTRA (OH)

Mead Theatre, Schuster Performing Arts Center

New Year's Eve Concert: "Voyage à Paris"

3/10/2023 (7:30pm)
3/11/2023 (7:30pm)

DAYTON PHILHARMONIC ORCHESTRA (OH)

Mead Theatre, Schuster Performing Arts Center

L. Boulanger: Pour les funérailles d'un soldat
soloist: William Henry Caldwell, baritone
with DPO Chorus
Schelle: Resilience
soloists: Sheridan Currie, viola
Jonathan Lee, cellist
Vaughan Williams: Symphony #3

4/14/2023 (7:30pm)
4/16/2023 (2:30pm)

DAYTON OPERA (OH)

Mead Theatre, Schuster Performing Arts Center

Wagner: Das Rheingold

4/21/2023 (7:30pm)
4/22/2023 (7:30pm)
4/23/2023 (2:30pm)

DAYTON BALLET (OH)

Victoria Theatre

DeLeone: Peter Pan

5/19/2023 (7:30pm)
5/20/2023 (7:30pm)

DAYTON PHILHARMONIC ORCHESTRA (OH)

Mead Theatre, Schuster Performing Arts Center

Mozart: Missa brevis in C
soloists: tba
with DPO Chorus
Saint-Saëns: Cello Concerto #1
soloist: Sterling Elliott
Beethoven: Symphony #2