Peter Stafford Wilson
conductor
Biography
Reviews
Itinerary
Media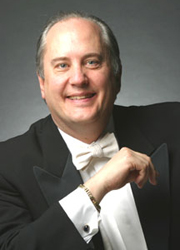 Celebrating his twentieth season as Music Director of Ohio's Springfield Symphony Orchestra, PETER STAFFORD WILSON is one of the most exciting and respected conductors of his generation. Concurrently, he holds the post of Music Director of the Westerville Symphony and continues for a tenth season as Principal Conductor of Tulsa Ballet, leading productions of Tchaikovsky's The Nutcracker and Swan Lake, the latter choreographed by Artistic Director Marcello Angelini.
Peter Stafford Wilson's leadership of the Springfield Symphony Orchestra continues to elicit praise from the public, musicians and press. Its 2005 Agriculture and the Arts Growing Together brought international attention to the organization, as did the sequel, American Made: Celebrating Our Manufacturing Heritage, which premiered in November 2007. The orchestra's innovative series, "Night Lights," has enjoyed steadily increasing sales and attendance. The recent endowment of the Music Director chair with gifts totaling one million dollars is further testimony to the community's expanding support. Mr. Wilson and the SSO are the recipients of a 2009-2010 ASCAP Award for Adventurous Programming.
From 1990 to 2018, Peter Stafford Wilson held the posts of Assistant and Associate Conductor of The Columbus Symphony Orchestra. At the conclusion of his tenure, he was honored with the CSO's "George Hardesty Award for Leadership." While in Columbus, his duties included the leadership of the orchestra's nationally recognized educational projects, which have been featured at national conferences of the American Symphony Orchestra League and Music Educators National Conference. He led programs on all of the orchestra's classical and Pops subscription series, and played a major role in its 1997 Viva Vienna Festival. Subsequently, he was named Artistic Director of the orchestra's Festival Weeks @ The Southern, for which his innovative programming was consistently praised. He is the recipient of a 2010 Columbus Symphony Orchestra Music Education Award, given in recognition of his 20 years of dedication to the orchestra's educational programming, as well as a 2017 Columbus City Schools' Outstanding Leadership Award and a Greater Columbus Arts Council Community Arts Partnership Educator Award. Mr. Wilson also served as Music Director of the Columbus Symphony Youth Orchestra, which he regularly led in local and regional concerts. The CSYO has performed at the national conferences of the ASOL and MENC and at the 1998 International Youth Orchestra Festival in Banff, Alberta. In the summer of 1999, he and the CSYO toured Austria, the Czech Republic and Germany. During the summer of 2005, Mr. Wilson led the CSYO on a highly acclaimed tour of The People's Republic of China, playing to capacity audiences in Beijing, Hefei, Hong Kong and Shanghai, as well as in an historic performance atop the Great Wall of China. He also conducted the CSYO in two programs at New York City's famed Carnegie Hall, most recently in 2018.
A native of North Carolina, Peter Stafford Wilson studied at the University of Cincinnati's College-Conservatory of Music, where his primary mentor was the late Thomas Schippers. During his years at CCM, he became a leading exponent of contemporary music, often collaborating with faculty and student composers, including the Conservatory's Visiting Professor of Composition, Lukas Foss. Mr. Wilson also studied at the Aspen Music School, where he studied with Dennis Russell Davies, Eastern Music Festival (on whose faculty he subsequently served), Pierre Monteux School, Boris Goldovsky Summer Opera Institute and Rome's Accademia Nazionale di Santa Cecilia, where he was associated with Franco Ferrara. After his advanced studies, he was appointed Assistant, and later Associate, Conductor of the Canton Symphony Orchestra. The Cincinnati Symphony Orchestra appointed him Regional Pops Conductor for the 1995 summer season, during which he led the orchestra in a series of widely acclaimed performances in Ohio, Indiana and Kentucky. Mr. Wilson also enjoyed a multi-year artistic relationship with The Cleveland Orchestra, often serving as cover conductor for Severance Hall and Blossom Music Center events. In 1996, the American Symphony Orchestra League featured him in its Conductor Preview event, a program that encourages emerging conducting talents in the United States.
Peter Stafford Wilson has guest conducted the orchestras of Bozeman, Charlotte, Chautauqua, Dallas, Detroit, Erie, Indianapolis, Kansas City, Louisville, North Carolina, Phoenix, Roanoke, Seattle, Syracuse, Tucson, Tulsa, West Virginia, Wheeling and Youngstown. He also led the Independence Day Concert with Peter Nero's Philly Pops Orchestra and the Northeastern Pennsylvania Philharmonic's highly popular "Awesome Classics" series, as well as programs with Orquesta Filarmónica de Montevideo, Hong Kong Sinfonietta and Shenzhen Symphony Orchestra. No stranger to the lyric theater, Mr. Wilson has held the positions of Principal Conductor of South Carolina's Opera Charleston and Music Director of the Ohio Light Opera and conducted performances at Spoleto Festival USA, Young Artists Opera Theater, College Light Opera, Canton Lyric Opera and Otterbein College Opera Theatre. He also enjoys an on-going association with BalletMet in Columbus.
Peter Stafford Wilson and his wife, Barbara Karam Wilson, reside in Westerville, Ohio.  When not conducting, he enjoys traveling, golf and reading. He is also a wine enthusiast and an avid gourmet cook.
Tulsa Ballet's Swan Lake beautiful to behold [headline]
Choreographed by the company's artistic director, Marcello Angelini, Tulsa Ballet's version follows the Petipa-Ivanov choreography, albeit in a slightly more streamlined fashion. Peter Stafford Wilson led the Tulsa Symphony Orchestra in an exceptional performance of Tchaikovsky's score, so that the orchestra was itself another character in the ballet. The orchestra's sound was rich and well-balanced, perfectly attuned to the dancers on stage.
TULSA WORLD
Tulsa Ballet's new Nutcracker a triumph [headline]
Tulsa Ballet's much-anticipated new production of The Nutcracker did something that few holiday presents are able to do – it managed to please just about everyone. Friday's world premiere performance, created through the collaborative efforts of choreographers Val Caniparoli and Ma Cong, was a crowd-pleaser from start to finish, captivating everyone from the booster-seat crowd to seen-it-all cynics such as myself. Just as impressive was the performance of the Tulsa Symphony Orchestra under the direction of Peter Stafford Wilson. It's been quite some time since the ballet and the orchestra have been able to perform together, and opening night showed the orchestra at its best. The sound was full of brightness and energy, and Wilson handled the interactions between the pit and the stage with aplomb.
TULSA WORLD
Symphony, soloists dazzle with Mozart [headline]
Mozart - and the Columbus Symphony Orchestra - were in superb form for this year's Mozart Festival. Each phrase had direction, each section offered energy and drive. This was a polished reading that could be used as a model for near-perfection in Mozartean performance. Central Ohio lovers of Mozart are fortunate, indeed.
THE COLUMBUS DISPATCH
We'll keep this simple: Tulsa Ballet's opening night performance of Giselle was just about perfect. Principal conductor Peter Stafford Wilson led the Tulsa Symphony Orchestra in a robust, richly voiced performance of the Adolphe Adam score.
TULSA WORLD
Pennsylvania Ballet's Giselle stands as testimony to why the company has never been better than it is right now. Seen by an audience that packed the historic Academy of Music, Giselle received a stunning rendition. Conductor Peter Stafford Wilson and the PA Ballet Orchestra gave Adolphe Adams' sentimental score a luscious reading.
CHESTNUT HILL LOCAL (PENNSYLVANIA)
Tulsa Ballet's extraordinary 'Tchaikovsky: The Man Behind the Music,' which had its world-premiere performance at the Tulsa PAC is, simply, a triumph. The ballet's score was assembled by [choreographer] Ma Cong and composer-librettist Oliver Peter Graber from familiar and lesser-known pieces by Tchaikovsky, augmented by Graber's own compositions and selections from some of Tchaikovsky's contemporaries. The result was a remarkably seamless, highly dramatic whole, which the Tulsa Symphony, under the direction of Peter Stafford Wilson, performed about as well as one could hope. It was a highly colored, well-paced performance that packed as much of an emotional punch as the dancing.
TULSA WORLD
The Taming of the Shrew by Tulsa Ballet [headline]
Peter Stafford Wilson conducted the Tulsa Symphony Orchestra, which played this score assembled from the music of Scarlatti with great energy, expressiveness and a richly layered sound, one in which the listener would hear all of the individual elements coming together to create the musical whole. From the first note of the overture, this was one of the orchestra's most satisfying ballet performances–music worthy of the gorgeously difficult and extremely funny dancing being done on stage.
TULSA WORLD
Cherish the Ladies' collaboration with the Syracuse Symphony Orchestra was a successful one, thanks to the vigor and skill of the ensemble, as well as the energy imparted by guest conductor Peter Stafford Wilson.
THE POST-STANDARD
This weekend's Columbus Symphony Orchestra concerts demonstrate why orchestras have assistant conductors. Last night's performance demonstrated why the CSO is fortunate to have a good one. Happily, Peter Stafford Wilson looked anything but the last-minute replacement . It was immediately clear that he was prepared, and prepared to make good music, which is just what happened.
THE COLUMBUS DISPATCH
Joined by 84 members of the Springfield Symphony Chorale and four vocal soloists, a spectacular, well-balanced performance of Haydn's Lord Nelson Mass in D minor ensued. Maestro Wilson displayed exceptional leadership as he pulled every ounce of musicianship from the combined ensembles. This evening proved once again that community spirit can indeed result in great musical collaboration. Bravo Springfield!
SPRINGFIELD NEWS-SUN
Strong details bring Nutcracker to life [headline]
The Columbus Symphony is back, under the experienced leadership of conductor Peter Stafford Wilson. Thank goodness. This ballet was considered as a partnership between music and dance, and that's what it was. Tempos seemed well-thought-out in each scene, and contrasting dynamics and spotlighted solos helped bring Tchaikovsky's fabled score to life.
THE COLUMBUS DISPATCH
Tulsa Ballet's Dracula soars [headline]
The Company has brought back Ben Stevenson's Dracula back to life for the Halloween season, and the production is as ghoulishly entertaining as ever. Peter Stafford Wilson, in his first appearance as the ballet's principal conductor, led the Tulsa Symphony Orchestra in an appropriately fervid performance of the score, arranged from music by Franz Liszt by John Lanchbery.
TULSA WORLD
Acrobats twist, symphony soars in thrilling 'Cirque se la Symphonie' show [deadline]
Under the crisp, confident baton of Associate Conductor Peter Stafford Wilson, the symphony opened in expected fashion with an uptempo performance of Shostakovich's Festive Overture; the piece established an appropriately mirthful, circus-like mood. Surprisingly, the cirque artists never blotted out the symphony's playing, but only enhanced it. Throughout, Wilson–clearly having a ball–conducted with the verve of a circus master of ceremonies.
THE COLUMBUS DISPATCH
Romeo & Juliet: There's a lot to love in pairing of BalletMet, symphony [headline]
BalletMet's Romeo & Juliet has its share of memorable sights. Yet what makes the difference in this first-class show is not what is seen but what is heard. Conductor Peter Stafford Wilson was in full command of the music; the symphony played with abandon and produced mellifluous melodies. It was the symphony's participation that added to the show's luster. Wilson was especially attuned to the danse macabre quality of the ballet, summoning a stunning, lament-like wall of sound during the death of Tybalt. The scene closed Act II and prompted an audible buzz in the audience as the curtain dropped. Let us hope this is the beginning of more frequent musical partnerships between the ballet and symphony–like Romeo and Juliet themselves, they just belong together.
THE COLUMBUS DISPATCH
Don Quixote by Tulsa Ballet [headline]
The company as a whole was in excellent form throughout the evening, with fine ensemble work. The Tulsa Symphony, under Peter Stafford Wilson's deft direction, gave a robust performance of the Ludwig Minkus score, full of color and excitement that seemed to galvanize the dancers.
TULSA WORLD
7/11/2021 (8pm)

SPRINGFIELD SYMPHONY ORCHESTRA (OH)

Veterans Park Amphitheater

8/13/2021 (11:30am)

SPRINGFIELD SYMPHONY ORCHESTRA (OH)

Lawn of the Springfield Museum of Art

Winteregg: Maestro Stu Saves the Zoo
Saint-Saëns: Carnival of the Animals
with Sonya Knicely, narrator
soloists: Christopher Durrenberger & Laurie Smith, pianists

9/18/2021 (7:30pm)

SPRINGFIELD SYMPHONY ORCHESTRA (OH)

Kuss Auditorium, Clark State Community College PAC

Herrmann: North by Northwest (Mount Rushmore)
Shostakovich: The Gadfly (suite)
Elfmann: Eleven, Eleven
soloist: Sandra Cameron, violinist

9/22/2021 (6:30pm)

WESTERVILLE SYMPHONY (OH)

Alum Creek Amphitheater

Pops Concert

9/28/2021 (2pm)

WESTERVILLE SYMPHONY (OH)

Alum Creek Amphitheater

"Tunes-n-Tales" for Kids
Merkowitz: Kate & the Beanstalk

10/17/2021 (5pm)

WESTERVILLE SYMPHONY (OH)

Fritsche Theatre at Cowan Hall, Otterbein University

Montgomery: Strum
Schoenberg: Notturno (memorial to covid lost)
Poulenc: Concerto for 2 Pianos
Saint-Saëns: Carnival of the Animals
soloists: John Comerford, narrator
Christopher Durrenberger, pianist
Kirill Gliadkovsky, pianist
Bizet/Shchedrin: Carmen Suite (excerpts)

11/13/2021 (7:30pm)

SPRINGFIELD SYMPHONY ORCHESTRA (OH)

Kuss Auditorium, Clark State Community College PAC

Gilbert & Sullivan: The Pirates of Penzance

12/10/2021(7pm)
12/11/2021 (2&7pm)
12/12/2021 (2pm)
12/17/2021 (7pm)
12/18/2021 (2&7pm)
12/19/2021 (2pm)


TULSA BALLET (OK)

Chapman Music Hall, Tulsa Performing Arts Center

Ma Cong's & Val Caniparoli's The Nutcracker
with Tulsa Symphony Orchestra

1/29/2022 (7:30pm)

SPRINGFIELD SYMPHONY ORCHESTRA (OH)

Kuss Auditorium, Clark State Community College PAC

Jacquith: Light on the Horizon (world premiere)
Elgar: Cello Concerto
soloist: Jolyon Pegis, cellist
Smetana: The Moldau

2/19/2022 (7pm)

SPRINGFIELD SYMPHONY ORCHESTRA (OH)

Springfield Museum of Art

Joplin: The Red Back Book
Montgomery: Strum
Still: Folk Suite #1
Coleridge-Taylor: Nonet (mvt. I: Allegro energico)
Price: String Quartet #2 (Juba)
Holland: His House Is Not of this Land

2/27/2022 (5pm)

WESTERVILLE SYMPHONY (OH)

Fritsche Theatre at Cowan Hall, Otterbein University

Shostakovich: Symphony #9
Beethoven: Violin Concerto
soloist: Siwoo Kim

3/5/2022 (7:30pm)

SPRINGFIELD SYMPHONY ORCHESTRA (OH)

Kuss Auditorium, Clark State Community College PAC

Dvorák: Symphony #9
Fleck: Juno Concerto
soloist: Béla Fleck, banjoist

3/10/2022 (10am)

SPRINGFIELD SYMPHONY ORCHESTRA (OH)

Kuss Auditorium, Clark State Community College PAC

"LinkUp - The Orchestra Rocks"

3/25/2022 (7:30pm)
3/26/2022 (7:30pm)
3/27/2022 (2:30pm)

TULSA BALLET (OK)

Chapman Music Hall, Tulsa Performing Arts Center

Marcello Angelini's Swan Lake
with Tulsa Symphony Orchestra

4/1/2022 (7pm)

SPRINGFIELD SYMPHONY ORCHESTRA (OH)

Jeremiah Chapel, Cedarville University

Handel: Messiah (Easter Portion)
with Cedarville University's combined choirs

4/16/2022 (7:30pm)

SPRINGFIELD SYMPHONY ORCHESTRA (OH)

Kuss Auditorium, Clark State Community College PAC

"Get Happy! - The Music of Judy Garland featuring Joan Ellison"

4/19/2022 (7:30pm)

SPRINGFIELD SYMPHONY ORCHESTRA (OH)

Vern Riffe Arts Center, Shawnee State University (Portsmouth)

"Get Happy! - The Music of Judy Garland featuring Joan Ellison"

4/24/2022 (5pm)

WESTERVILLE SYMPHONY (OH)

Fritsche Theatre at Cowan Hall, Otterbein University

Villa-Lobos: Dawn in a Tropical Forest
Yin, Chu, et a.: Yellow River Concerto
soloist: Caroline Hong, pianist
Dvorák: Symphony #9
with Adrian Wyard, photochoreographer

5/21/2022 (7:30pm)

SPRINGFIELD SYMPHONY ORCHESTRA (OH)

Kuss Auditorium, Clark State Community College PAC

Wagner: Tristan und Isolde (Prelude & Liebestod)
Verdi: Stabat mater
Verdi: Te Deum
with SSO Chorale
Wagner: Die Meistersinger (3 excerpts)

7/3/2022 (6:30pm)

WESTERVILLE SYMPHONY (OH)

Alum Creek Amphitheater

"Sounds of Freedom"
Copland: Appalachian Spring Suite (original version)
Westerville Symphony - Everal Barn & Homestead (OH)
January, 2021

Side by Side with the CSO
Columbus Symphony Orchestra (OH)
April, 2014

Holst: "Jupiter" from The Planets
Springfield Symphony Orchestra (OH)
November, 2012

Peter Stafford Wilson video profile
Springfield Symphony Orchestra (OH)
November, 2013

Peter Stafford Wilson 25th Anniversary video

Columbus Symphony Orchestra (OH)
June, 2015

Peter Stafford Wilson video profile

WOSU Public Media
December, 2017