Robert Henry
pianist
Biography
Repertoire
Discography
Reviews
Itinerary
Media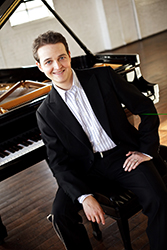 Acclaimed for his rare combination of musical insight, creative inspiration and dazzling technique, the American pianist ROBERT HENRY is recognized internationally as a distinguished orchestral soloist, recitalist, accompanist and chamber musician.
Highlights of Robert Henry's career include solo recital debuts at New York City's Carnegie Hall, Washington, DC's John F. Kennedy Center for the Performing Arts and London's Wigmore Hall. He has been presented in concerts, masterclasses and lectures under the auspices of the American Pianists Association, Chopin Foundation of America, National Gallery of Art, The Phillips Collection, Strathmore Hall, the universities of Alabama, California-Berkeley, Georgia, Maryland, South Carolina, Arkansas State University and Georgia State University. In addition to his appearances throughout the United States, he has performed in Canada, the United Kingdom, The Czech Republic, Italy, Poland, Russia and China. During the current season, he makes his debut with Ohio's Springfield Symphony Orchestra, under the baton of Music Director Peter Stafford Wilson.
A renowned collaborator and chamber musician, Robert Henry has performed with eminent conductors Michael Palmer, Donald Runnicles, Robert Spano and Stefan Sanderling, cellist Shauna Rolston, soprano Mary Ann Hart, tenor Sergio Blasquez and the Pacifica Quartet. He has toured internationally with the Atlanta Boy Choir, under the direction of Fletcher Wolfe, and has accompanied the masterclasses of Jerry Hadley, Håkan Hagegård and Frederica von Stade. With Charae Krueger, he has presented the complete works for cello and piano by Beethoven. Mr. Henry is also a founding member of the Summit Piano Trio, joined by violinist Helen Kim and cellist Charae Krueger.
Robert Henry has enjoyed phenomenal success in important piano competitions, ultimately winning the Gold Medal in four international competitions in the 2001-2002 season alone (Missouri Southern, New Orleans, Washington, Alfredo Barilli). These prizes stand alongside fourteen additional first place awards received throughout his career, including the Clara Wells National Competition. On three occasions, juries have spontaneously created special prizes to honor his performances, including "Best Performance of a 20th Century Work" and "Best Performance of a Commissioned Work."
Robert Henry earned the Doctor of Musical Arts degree from the University of Maryland, with additional studies at the Cleveland Institute of Music and the Glinka Conservatory in St. Petersburg, Russia. He studied closely with pianists Larissa Dedova, Sergei Dzevanovsky, Anne Koscielny, David Watkins, Sergei Babayan and André Watts.
As an educator and pedagogue, Robert Henry regularly presents lectures, masterclasses, residencies and youtAs an educator and pedagogue, Robert Henry regularly presents lectures, masterclasses, residencies and youth concerts. He has served as recitalist, clinician and juror for national, regional and state MTNA conventions and competitions, and operates an exclusive private studio in Atlanta, Georgia.  In 2003, he was named Artist-in-Residence at the School of Music of Kennesaw State University, from which he received his undergraduate degree as well as a 2009 "Distinguished Alumni Award"; in 2017 he was appointed Director of Piano Studies. Dr. Henry is also Director of the famed Atlanta Boy Choir.
In response to Hurricane Katrina, Robert Henry coordinated and performed in the 2006 "Pianists for New Orleans" tour of the United States, raising over $100,000 for the stricken city. For his efforts, he was presented with the Distinguished Service Award of the Musical Arts Society of New Orleans.
Robert Henry's debut CD, "Twelve Nocturnes and a Waltz," was released on the Muuz label in 2010 to rave reviews. The recording is a collection of some of the world's best loved melodies, encompassing Nocturnes of Chopin, Fauré, Grieg, Liszt, among others, and including the world premiere of Alexei Stanchinsky's forgotten Nocturne from 1907. Also featured is Mr. Henry's own published transcription of guitarist Chet Atkins' Waltz for the Lonely. He was also winner of two 2010 Telly Awards for the documentary about his recording experience, "The Making of Twelve Nocturnes and a Waltz." Mr. Henry is regularly heard locally and nationally on NPR's Atlanta Music Scene and Performance Today, and has been featured in American Music Teacher, Clavier and Gramophone.
Robert Henry released the world premiere recording of Brahms' re-discovered Albumblatt, available as a single on iTunes. This work is included on his 2015 album "As the Songbird Sings: Music of Schubert and Brahms." Other recent projects include a live recording of Brahms and Dvorák piano trios, a tour of China, a recording of Beethoven's complete works for cello and piano with Charae Krueger and a recording of Bach's Well-Tempered Clavier, Book I.
Robert Henry, his wife, Meryl, and their young son, Lucas Sebastian, live in historic Marietta, Georgia. He is a Steinway Artist.
[CHAMBER ENSEMBLE REPERTOIRE FOLLOWS CONCERTO LIST]
BEETHOVEN
Concerto #1 in C, Op. 15
Concerto #2 in B-flat, Op. 19
Concerto #3 in c, Op. 37
Concerto #4 in G, Op. 58
Concerto #5 in E-flat, Op. 73 ("Emperor")
Concerto in C, Op. 56 ("Triple")
Fantasia in c, Op. 80 ("Choral Fantasy")
GERSHWIN
Concerto in F
Rhapsody in Blue                                             
GRIEG
Concerto in a, Op. 16
MENDELSSOHN
Concerto #1 in g, Op. 25
MOZART
Concerto #7 in F for 3 Pianos, K. 242
Concerto #10 in E-flat for 2 Pianos, K. 365
Concerto #12 in A, K. 414
Concerto #20 in d, K. 466
Concerto #23 in A, K. 488
Concerto #24 in c, K. 491
Concerto #27 in B-flat, K. 595                                               
PROKOFIEV
Concerto #3 in C, Op. 26
RACHMANINOFF
Concerto #2 in c, Op. 18
Concerto #3 in d, Op. 30
Rhapsody on a Theme of Paganini, Op. 43
RAVEL
Concerto in G
SAINT-SAËNS
Carnival of the Animals
Concerto #2 in g, Op. 22                                               
TCHAIKOVSKY
Concerto #2 in G, Op. 44 (original version)
ARENSKY
Piano Trio #1 in d, Op. 32
BEETHOVEN
Piano Trio #6 in B-flat, Op. 97 ("Archduke")
Piano Trio #7 in B-flat, Op. 11
BOULANGER, Lili
Deux pièces en trio (piano trio)

BRAHMS
Piano Trio #1 in b, Op. 8
Piano Trio #2 in C, Op. 87
Piano Trio #3 in c, Op. 101

COOMAN, Carson
Lyric Trio for Trumpet, Cello & Piano, Op. 710 (2007)
DVORÁK
Piano Trio #4 in e, Op. 90 ("Dumky")
HAYDN
Piano Trio #39 in G, Hob. XV:25 ("Gypsy")
KIRCHNER, Theodor
Serenade in E for Piano Trio
MENDELSSOHN
Piano Trio #1 in D, Op. 49
Piano Trio #2 in c, Op. 66
MOZART
Piano Trio in B-flat, K. 502
Piano Trio #5 in C, K. 548
PIAZZOLLA
Las cuatro estaciones porteñas (piano trio)
SCHUBERT
Piano Trio #1 in B-flat, D. 898
Piano Trio #2 in E-flat, D. 929
SCHUMANN, Clara
Piano Trio in g, Op. 17
SCHUMANN, Robert
Piano Quartet in E-flat, Op. 47
SHOSTAKOVICH
Piano Trio #2 in e, Op. 67
SMETANA
Piano Trio in g, Op. 15
TCHAIKOVSKY
Piano Trio in a, Op. 50
"TWELVE NOCTURNES AND A WALTZ"

CHOPIN: Nocturne in D-flat, Op. 27, #2
RESPIGHI: Notturno
LISZT: Liebestraum, Notturno #3
GRIEG: Nocturne, Op. 54, #4
CHOPIN: Nocturne in B, Op. 62, #1
CHOPIN: Nocturne in E, Op. 62, #2
BARBER: Nocturne, Op. 33 ("Homage to John Field")
FAURÉ: Nocturne in E-flat, Op. 36
FAURÉ: Nocturne in B-flat, Op. 37
FIELD: Nocturne #4 in A, H. 37
LIEBERMANN: Nocturne #5, Op. 55
STANCHINSKY: Nocturne (world premiere recording)
ATKINS/HENRY: Waltz for the Lonely

Muuz Records

"AS THE SONGBIRD SINGS: MUSIC OF SCHUBERT & BRAHMS"

LASSEN/LISZT: Löse, Himmel, meine Seele
BRAHMS: 6 Piano Pieces, Op. 118
BRAHMS/BENDEL: Cradle Song: Improvisation on The Wiegenlied, Op. 141
BRAHMS: Albumblatt in a, Op. posth. (world premiere recording)
SCHUBERT: 4 Impromptus, Op. 90

Muuz Records
Robert Henry proved himself an able young technician and a sensitive interpretive artist. He displayed command of the pyrotechnical aspects of the writing, yet managed to dig for the music imbedded in the score. Henry has a wonderful demeanor: unflappable, calm, assured - and artist of major import.
THE ALABAMA JOURNAL   
Robert Henry has the dazzling ability to turn the percussion instrument into a sonorous orchestra. His colorful, virtuosic, sensitive playing proved that nothing surpasses finely executed Chopin.
THE WASHINGTON POST
'Twelve Nocturnes and a Waltz'
Robert Henry's lyricism hits the mark.
Pianist Robert henry appears to be an artist whose strong points are sensitivity and lyricism, and this mostly Nocturnes programme certainly reveals these traits to strong advantage.
GRAMOPHONE
Robert Henry's debut CD presents a collection of some of the best-known and beloved nocturnes, including two world-premiere recordings. Mr. Henry's performances are finely nuanced and paced, and the Faure is especially appealing.
CLAVIER MAGAZINE
An impressive Wigmore Hall debut by Robert Henry. In his program of Bach's Well-Tempered Clavier, Debussy's Images (Book I), and Chopin Etudes, Henry produced a gorgeous tone and immense control of voicing, texture and dynamics. Henry earned two well-deserved encores.
SEEN AND HEARD INTERNATIONAL
Robert Henry is an accomplished musician with a powerful technique. His pianism was exceedingly versatile, offering nimble trills, languorous moods, and fluid and elegant phrasing.
THE ATLANTA JOURNAL-CONSTITUTION
The soloist in the Mozart Concerto [#23 in A, at the Kennedy Center] was pianist Robert Henry. His phrasing was limpid and smooth, and his technique was flawless.
THE WASHINGTON TIMES
The highlight of the evening was Robert Henry's performance of the unconventional Tchaikovsky Piano Concerto No. 2 in G [with Stefan Sanderling/Louisiana Philharmonic]. Though this was his debut performance of the work, his interpretation revealed a mature understanding of the work that made it difficult to believe that Henry began preparing the piece only two months ago. Henry excelled in each cadenza, his hands racing across the keyboard at blinding speed, executing dramatic chords and elaborate arpeggios with ease. Yet, he was a methodical player, and each note was crisp and sharp. At one point, Henry seemed to barely touch the keys, drawing gentle sounds that seemed to rise effortlessly from the piano. It was an evening of discovery.
THE TIMES-PICAYUNE (New Orleans, LA)
Robert Henry, a skilled, versatile musician with broad tastes that include contemporary music, presented diverse selections with finesse. Henry, a powerful pianist with a big sound and an imaginative range of interpretation, demonstrated exquisite control and articulation, yet when appropriate, he asserted himself with bravura.
THE INDIANAPOLIS STAR
The growing reputation of Robert Henry as a talented young pianist contributed to Carnegie Hall being substantially filled for his debut recital. The audience  responded strongly and positively, rewarding him with a standing ovation at the end of the performance. The  program was diverse and exciting, not to mention very technically demanding, and his intelligent and sensitive interpretation of each piece impressed and aroused the audience. A triumphant debut!
THE JOPLIN GLOBE (Missouri)
Robert Henry channels Chopin's power and poetry in UAB Piano Series season closer. Henry played unpretentiously, preferring to let Chopin do all the talking, and his well-rounded menu of etudes, nocturnes, the four ballades, the 'Heroic' Polonaise and the Barcarolle, was by turns joyful, dreamy and uplifting. Two nocturnes revealed Henry's softer and more lyrical side, while foreshadowing the well-proportioned, multi-voiced layering that would come to full fruition in the Barcarolle. Though composed in the ungainly key of F-sharp major, the Barcarolle is one of Chopin's most exquisite creations. Henry's focus on its shapely arc, progressing from the rocking, undulating opening minutes through carefully calculated up-and-down dynamic shifts and an inspired crescendo, was the concert's highlight. The four ballades followed, each combining poetry and power. Henry, a meticulous technician, has a knack for bringing out exactly what Chopin wanted listeners to hear. Each emerging voice was given the right amount of emphasis on both macro and micro levels. The gentle repose of the Ballade in F major was startlingly interrupted by its middle section, the pianist's strength and agility more in the spotlight in the Ballades in G minor and A-flat major.
THE BIRMINGHAM NEWS (Alabama)
Each successive event at this summer's Mendocino Music Festival has brought an unfolding cornucopia of delights. Elements of the exceptional three previous classical programs coalesced into a magnificent and singular tour de force when pianist Robert Henry traversed the entire topography of the keyboard while offering humor, persona warmth, intimacy and musical perfection. It was an afternoon that braved every extremity of dynamics, technical demands and emotional landscapes. Evoking angels and demons at the keyboard, Mr. Henry also garnered the most rapturous response of the festival thus far: four standing ovations.
CLASSICAL SONOMA (California)
Although Brahms's Op 118 Piano Pieces hardly lack for world-class recording's Robert Henry's generous and big-boned yet lyrically informed pianism enlivens these well-worn works. Henry precedes Op. 118 with Eduard Lassen's Löse Himmel, meine Seele as ravishingly retooled by Franz Liszt, and brings far more urgency and sweep to the cascading climaxes than Howard and Tryon do in their respective recordings. Brahms's minute-and-a-half, posthumously published Albumblatt is a minor masterpiece, and here possibly receives its finest recorded performance. The depth and range of Henry's tone is reflected in the recorded ambience's concert-hall realism. In short, a rewarding follow-up to this pianist's stimulating 2010 'Twelve Nocturnes and a Waltz' release.
GRAMOPHONE
9/8/2023 (7:30pm)

KENNESAW STATE UNIVERSITY (GA)

Morgan Hall, Bailey Performance Hall

"John Warren & Friends"
with John Warren, clarinetist

9/11/2023 (7:30pm)

KENNESAW STATE UNIVERSITY (GA)

Morgan Hall, Bailey Performance Hall

with Summit Piano Trio

9/20/2023 (7:30pm)

KENNESAW STATE UNIVERSITY (GA)

Morgan Hall, Bailey Performance Hall

"Julia Bullard & Friends"
Brahms: 2 Songs
with Jana Young, mezzo-soprano
Julia Bullard, violist

10/16/2023 (7:30pm)

KENNESAW STATE UNIVERSITY (GA)

Morgan Hall, Bailey Performance Hall

"Music, Nature & Sustainability"

10/18/2023 (7:30pm)

KENNESAW STATE UNIVERSITY (GA)

Morgan Hall, Bailey Performance Hall

Recital

10/21/2023 (7:30pm)

KENNESAW STATE UNIVERSITY ORCHESTRA (GA)

Nathaniel Parker, conductor
Morgan Hall, Bailey Performance Hall

Saint-Saëns: Carnival of the Animals
with Julie Coucheron, pianist

10/23/2023 (7:30pm)

KENNESAW STATE UNIVERSITY (GA)

Morgan Hall, Bailey Performance Hall

"Celebration of France"

11/11/2023 (7:30pm)

SPRINGFIELD SYMPHONY ORCHESTRA (OH)

Peter Stafford Wilson, conductor
Kuss Auditorium, Clark State Community College PAC

Beethoven: Piano Concerto #4

1/29/2024 (7:30pm)

KENNESAW STATE UNIVERSITY (GA)

Morgan Hall, Bailey Performance Hall

with Charae Krueger, cellist

2/3/2024 (7:30pm)

KENNESAW STATE UNIVERSITY (GA)

Morgan Hall, Bailey Performance Hall

Collage Concert

2/6/2024 (8:30&11:30am)

ANNETTE HOWELL TURNER CENTER FOR THE ARTS (Valdosta, GA)

Youth Concerts

2/6/2024 (7pm)

ANNETTE HOWELL TURNER CENTER FOR THE ARTS (Valdosta, GA)

Recital

2/12/2024 (7:30pm)

KENNESAW STATE UNIVERSITY (GA)

Morgan Hall, Bailey Performance Hall

with Christina Smith, flutist

2/26/2024 (7:30pm)

KENNESAW STATE UNIVERSITY (GA)

Morgan Hall, Bailey Performance Hall

Recital

3/1/2024 (7:30pm)

KENNESAW STATE UNIVERSITY (GA)

Morgan Hall, Bailey Performance Hall

"Steinway Spectacular"

3/4/2024 (7:30pm)

KENNESAW STATE UNIVERSITY (GA)

Morgan Hall, Bailey Performance Hall

with Helen Kim, violinist

3/18/2024 (7:30pm)

KENNESAW STATE UNIVERSITY (GA)

Morgan Hall, Bailey Performance Hall

L. Boulanger: Deux pièces en trio
Mozart: Piano Trio #5
C. Schumann: Piano Trio
with Summit Piano Trio

4/27/2024 (5pm)

AHAVATH ACHIM SYNAGOGUE (Atlanta, GA)

Bolling: Sonata for 2 Pianos
Bolling: Suite for Flute & Piano
with Christina Smith, flutist
Brian Parks, pianist
Jerry Fields, drummer
Chopin: Etude in G-flat, Op. 10, #5
Episcopal Church of the Incarnation (Highlands, NC)
October, 2012

Moszkowski: Etude in F, Op. 72, #6
Morgan Hall, Kennesaw State University (Atlanta, GA)
June, 2009

Tchaikovsky: Piano Concerto #2 in G, Op. 44 (mvt. I: Andante non troppo)
Louisiana Philharmonic Orchestra
Stefan Sanderling, conductor
October, 2004

Rachmaninoff: Moment Musicaux in b-flat, Op. 16, #1
Loyola University (New Orleans, LA)
April, 2004

Rachmaninoff: Piano Concerto #3 in d, Op. 30 (mvt. I: Allegro ma non tanto)
Georgia Symphony Orchestra
Steven Byess, conductor
November, 1999

Documentary: The Making of "Twelve Nocturnes and a Waltz"
Morgan Hall, Kennesaw State University (Atlanta, GA)
April, 2010

KSU College of the Arts: Faculty Spotlight on Robert Henry
March, 2020

Robert Henry's YouTube Channel