Soheil Nasseri
pianist
Biography
Repertoire
Discography
Reviews
Itinerary
Media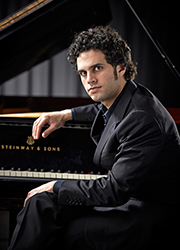 A native of California, SOHEIL NASSERI has been consistently acclaimed by international audiences and critics alike. Since 2001, he has performed 20 completely different recital programs in New York City at Carnegie Hall's Weill Recital Hall, Lincoln Center for the Performing Arts' Alice Tully Hall and Merkin Concert Hall. Via television, radio and the Internet, he has been seen and heard by millions of people.
Soheil Nasseri made his European debut in 2004 at the famed Teatro Massimo in Palermo, Sicily. Subsequently, he has performed in many of the world's most prestigious concert halls: John F. Kennedy Center for the Performing Arts' Terrace Theatre (Washington, DC), Philharmonie Kammermusiksaal (Berlin), Konzerthaus Berlin, Southbank Centre's Purcell Room (London), Théâtre Femina (Bordeaux), Teatro del Maggio Musicale Fiorentino, Teatro Politeama Garibaldi (Palermo), Saint Petersburg Philharmonia, Musashino Center (Tokyo). He has also appeared throughout the United States and Canada, including in Baltimore, Chicago, Cincinnati, Jacksonville (FL), Norfolk (VA), Portland (OR), Savannah, Santa Cruz (CA) and Montréal, while abroad he has also played in Dublin (Ireland), Bucharest (Romania) and Tehran (Iran). As a concerto soloist, he has collaborated with Fabio del Cioppo, Alexander Dmitriev, Justus Franz, David LaMarche, John Lopez, Alexander Platt, Edward Polochick, Bahman Saless, Timothy Smith, John Strickler, Markand Thakar and Ormsby Wilkins. In 2010, Mr. Nasseri joined American Ballet Theatre for nine performances at the Metropolitan Opera House in New York City, playing an integral role on stage, both as pianist and actor.
Dedicated to introducing and nurturing a love of classical music to younger generations, Soheil Nasseri has performed in more than 60 public schools. He is also deeply committed to new music and has given over 30 premières; to date, nine composers have written works specifically for him. Active in the recording studio, he has seven solo CDs on the labels of Centaur, Mahoor and Naxos.
Soheil Nasseri was born in Santa Monica, California. He began studying the piano at the age of five, and, at the age of twenty, moved to New York City to study with Karl Ulrich Schnabel. In 2001, he became a protégé of Jerome Lowenthal, who remains his mentor today. Other important teachers include Clinton Adams, Anna Balakerskaia, Irina Edelman, Claude Frank, Eva Pierrou and Ann Schein.
Soheil Nasseri currently resides in Berlin, Germany.
ADDINSELL
Warsaw Concerto
 BEETHOVEN
Concerto #2 in B-flat, Op. 19
Concerto #3 in c, Op. 37
Concerto #4 in G, Op. 58
Concerto #5 in E-flat, Op. 73 ("Emperor")
BRAHMS
Concerto #1 in d, Op. 15
Concerto #2 in B-flat, Op. 83
CHOPIN
Andante Spianato & Grande Polonaise, Op. 22
Concerto #1 in e, Op. 11
Fantasy on Polish Airs, Op. 13
DVORÁK
Concerto in g, Op. 33
KHACHATURIAN
Concerto in D-flat (1936)
PROKOFIEV
Concerto #3 in C, Op. 26
RACHMANINOFF
Concerto #1 in f#, Op. 1 (revised 1917)
Concerto #2 in c, Op. 18
Concerto #3 in d, Op. 30
SCHUMANN
Concerto in a, Op. 54
 RACHMANINOFF-PROKOFIEV

Rachmaninoff: 13 Preludes, Op. 32
Prokofiev: Sonata #7 in B-flat, Op. 83

Mahoor CD: KM.68

 LUDWIG VAN BEETHOVEN

Rondo a capriccio in G, WoO 129
Andante in F, WoO 57
32 Variations in c minor, WoO 80
Fantasie, Op. 77
Polonaise in C, Op. 89
Variations & Fugue in E-flat, Op. 35 ("Eroica")

Mahoor CD: KM.69
SCHUBERT-SCHUMANN

Schubert: Moment musical in f minor, Op. 94, #3 (D. 780)
Schubert: Sonata in c, D. 958
Schumann: Träumerei
Schumann: Davidsbündlertänze, Op. 6

Mahoor CD: KM 70

BEETHOVEN: Sonata #4 in E-flat, Op. 7
RACHMANINOFF: Sonata #2 in b-flat minor, Op. 36 (original version, 1913)
SORABJI: Sonata #0 (1917) world premiere recording

Centaur CD: CRC 2894

HASKELL SMALL

Lullaby of War (2007) world premiere recording
with Martin Rayner, narrator
Renoir's Feast (2005)
Three Etudes in Sound (1993) world premiere recording

Naxos CD: 8.559649

"SOHEIL NASSERI PLAYS YEDIDIA, ZHURBIN & ZYMAN"

Ronn Yedidia: Peery Road (2002) world premiere recording
Samuel Zyman: Cantilena (2002) world premiere recording
Lev 'Ljova' Zhurbin: Sicilliene (2002) world premiere recording

21CCC CD: 001

BEETHOVEN SHCUBERT SCHUMANN

BEETHOVEN: Sonata #14 in c#, Op. 27, #2 ("Moonlight")
SCHUBERT: Sonata in A, D. 959
SCHUMANN: Faschingsschwank aus Wien, Op. 26

21CCC CD: 002
Pianists blessed with formidable technique are often tempted by programs that show off virtuosic extremes. In his solo recital at Merkin Concert Hall, Soheil Nasseri went in search of other extremes in a selection of works that demonstrated the piano's ability to reflect the whole gamut of human emotions.
THE NEW YORK TIMES
A recital by Soheil Nasseri is always an ebullient affair. The still young artist is not idiosyncratic, but his attacks are always adventurous, his intensity can be almost overwhelming, and his digits obviously know what they are doing, even in the most complex music. He was not only up to the task, but he demonstrated his potential for becoming a genuinely illustrious artist.
CONCERTONET.COM
It was in Chopin's A-flat Waltz and his G Minor Ballade that revealed Nasseri's true genius as an interpreter. His diaphanous touch, beautifully judged rubato and melancholic, inward-directed tone brought out the exquisite poetry in these scores so potently, it made one hungry to hear more.
THE WASHINGTON POST
Soheil Nasseri gives an enjoyable piano recital [headline]
Nasseri is clearly very adept in the handling of complex textures, and his range of articulation is exquisite. One would have liked to listen to the Brahms Walzes, Op. 39 all over again. Nasseri's greatest affection is for Ludwig van Beethoven. We in the audience could not possibly have had more fun. Nasseri captured that certain quality of elegance and recalcitrance, Puck and Bottom, sprite and ass, charm and mischief, which characterizes Beethoven's humor. Fantastic!
BERLINER ZEITUNG
One couldn't help but like Soheil Nasseri immediately. The virtuosic and timbric deviltries of Liszt's tenth Hungarian Rhapsody were commanded with a pristine technique supported by a sparkling and incisive sound. The domination of the keyboard was so prodigious that it seemed to render everything easy, spontaneous, and without effort.
GIORNALE DI SICILIA
As a pianist, Nasseri is extremely relaxed, and has an astonishing ability to play extremely softly, and not allow himself to be covered by the orchestra. His knowledge of Beethoven [Concerto No. 2 in B-flat Major] is profound, with all of the clarity and dynamic contrasts that Beethoven demands. His playing can be very articulate, and then wonderfully lyrical, and his concentration on what he is doing is total, and very confident. He demonstrated remarkable finesse in his phrasing, and every aspect of musicianship that can be verbalized.
OPUS COLORADO
Pianist Soheil Nasseri shines with Baltimore Chamber Orchestra [headline]
Nasseri has, above all, a refined command of tone and an intuitive sense of how to sculpt a phrase. In the first movement [Beethoven Concerto #4] cadenza, he unleashed a superb array of colors and dynamics, all the while making the music express something vital, spontaneous, meaningful. There was understated beauty of phrasing in the Andante, a winning combination of drive and gracefulness in the Rondo.
THE BALTIMORE SUN
It took but a few, securely-played bars of Beethoven's magnificent early Sonata No. 4 in E-flat, Op. 7 to make it plainly evident that Mr. Nasseri was the possessor of a first-class musical mind, technically adroit, and wonderfully well prepared for his demanding program.
NEW YORK CONCERT REVIEW
Three of Schubert's Moments Musicaux were clear, sweet and smartly articulated. Nasseri is a tell-it-like-it-is kind of artist, willing to let the music speak naturally on its own terms. The lilt of No. 3 in F Minor had charm and the agitated figures of No. 5 emerged in high definition. Next came Rachmaninoff's Preludes, Op. 32, all 13 of them. Clarity and firm rhythm were again the dominant traits. Nasseri is a good pianist and the recital was a credit to Daniel Poulin's Revelation series.
MONTREAL GAZETTE
An Impassioned Performance by Soheil Nasseri [headline]
The Distinguished Artists Concert and Lecture series offered another cultural coup with the presentation of Iranian-American pianist, Soheil Nasseri. Sunday's performance showed his prodigious effortless technique, a wide range of expressive tonal colors and dynamics conjured with abandon the most impassioned and riveting performance of Beethoven's Hammerklavier Sonata.
APTOS TIMES (California)
Mr. Nasseri's performances were impeccably balanced, frisky and filled with character. His imposing technique and vivid imagination were amply displayed. Never merely flamboyant or glib, he put the music first without fail, the sign of a genuinely valuable artist.
THE NEW YORK TIMES
9/14/2014 (11am)

SCHORFHEIDER BRUNCHZONZERT (Zehdenick-Kappe, Germany)

Schumann: Piano Sonata #1
Brahms: 16 Waltzes
Beethoven: Piano Sonata #14

9/27/2014 (7:30pm)

FRIENDS OF CHAMBER MUSIC (Lutherville, MD)

Beethoven: Piano Sonata #30
Brahms: 16 Waltzes
Chopin: Barcarolle
Schumann: Piano Sonata #1

9/28/2014 (2pm)

BROADMEAD CONCERT SERIES (Cockeysville MD)

Beethoven: Piano Sonata #30
Brahms: 16 Waltzes
Chopin: Barcarolle
Schumann: Piano Sonata #1

10/3/2014 (7:30pm)

BOZEMAN SYMPHONY ORCHESTRA

Reynolds Recital Hall, Montana State University

Beethoven: Piano Sonata #30
Brahms: 16 Waltzes
Chopin: Barcarolle
Schumann: Piano Sonata #1

10/22/2014 (8pm)

KIRCHE AM HOHENZOLLERNPLATZ

Konzertsaal am Hohenzollernplatz (Berlin)

Brahms: 16 Waltzes
Chopin: Barcarolle
Beethoven: Piano Sonata #30
Schumann: Piano Concerto (with 2nd piano)

11/1/2014 (7:30pm)

MISSION CHAMBER ORCHESTRA OF SAN JOSE

Emily Ray, conductor
Le Petit Trianon

Schumann: Piano Concerto

11/15/2014 (7:30pm)

NORTH STATE SYMPHONY

Brian Stone, conductor
Cascade Theatre (Redding, CA)

Schumann: Piano Concerto

11/16/2014 (2pm)

NORTH STATE SYMPHONY

Brian Stone, conductor
Laxson Auditorium, California State University, Chico

Schumann: Piano Concerto

4/5/2015 (3pm)

THE OSBORN (Rye, NY)

Schubert: Piano Sonata in A, D. 959
Chopin: Barcarolle
Beethoven/Liszt: Symphony #5

4/7/2015 (8pm)

HALLMARK BATTERY PARK (NYC)

Schubert: Piano Sonata in A, D. 959
Chopin: Barcarolle
Beethoven/Liszt: Symphony #5

4/9/2015 (8pm)

FIVE STAR PREMIER RESIDENCES OF TEANECK (NJ)

Schubert: Piano Sonata in A, D. 959
Chopin: Barcarolle
Beethoven/Liszt: Symphony #5

4/12/2015 (3pm)

ROGERS MEMORIAL LIBRARY (Southampton, NY)

Schubert: Piano Sonata in A, D. 959
Chopin: Barcarolle
Beethoven/Liszt: Symphony #5

4/17/2015 (8pm)

STRATHMORE

AMP/Strathmore (North Bethesda, MD)

Schubert: Piano Sonata in A, D. 959
Chopin: Barcarolle
Beethoven/Liszt: Symphony #5

4/18/2015 (8pm)

SAINT VINCENT COLLEGE (Latrobe, PA)

Robert S. Carey Performing Arts Center

Schubert: Piano Sonata in A, D. 959
Chopin: Barcarolle
Beethoven/Liszt: Symphony #5

5/6/2015 (8pm)

21st CENTURY CLASSICAL CORPORATION

Berliner Philharmonie Kammermusiksaal

Schubert: Piano Sonata in A, D. 959
Chopin: Barcarolle
Beethoven/Liszt: Symphony #5

7/30/2015

 (

7pm

)

INTERNATIONALE MUSIKTAGE AM PLAUER SEE Dorfkirche Stuer (Germany)

Beethoven: Variations on God Save the King
Schubert: Piano Sonata in A, D. 959
Chopin: Barcarolle

8/2/2015

 (9:30pm)

FESTIVAL PALERMO CLASSICA (Sicily)

Chiostro di Palazzo Chiaramonte-Steri

Schubert: Piano Sonata in A, D. 959
Chopin: Barcarolle
Beethoven: Variations on God Save the King
Beethoven/Liszt: Symphony #5

8/30/2015 (3pm)

THE OSBORN (Rye, NY)

8/30/2015 (7:30pm)

KENDAL ON HUDSON RESIDENTS ASSOCIATION

The Gathering Room (Sleepy Hollow, NY)

9/1/2015 (8pm)

21st CENTURY CLASSICAL CORPORATION

Merkin Concert Hall (NYC)

Schubert: Piano Sonata in A, D. 959
Chopin: Ballade #1
Beethoven: Variations on God Save the King
Beethoven/Liszt: Symphony #5

9/2/2015 (7pm)

BROADMEAD CONCERT SERIES (Cockeysville MD)

Recital

9/4/2015 (7:30pm)

FRIENDS OF CHAMBER MUSIC (Lutherville, MD)

Schubert: Piano Sonata in A, D. 959
Chopin: Ballade #1
Beethoven: Variations on God Save the King
Beethoven/Liszt: Symphony #5

9/9/2015 (6:45pm)

LOS GATOS MEADOWS (CA)

Recital

9/10/2015 (7pm)

CHANNING HOUSE (Palo Alto, CA)

Recital

9/17/2015 (7:30pm)

STATE THEATRE FOR THE ARTS (Red Bluff, CA)

Schubert: Piano Sonata in A, D. 959
Chopin: Ballade #1
Beethoven: Variations on God Save the King
Beethoven/Liszt: Symphony #5

9/19/2015 (7:30pm)

STEINWAY SOCIETY - THE BAY AREA

Schubert: Piano Sonata in A, D. 959
Chopin: Ballade #1
Beethoven: Variations on God Save the King
Beethoven/Liszt: Symphony #5

10/3/2015

 (

8pm

)

BEETHOVENFEST BONN (Germany)

Post Tower Lounge

Schubert: Piano Sonata in A, D. 959
Chopin: Ballade #1
Beethoven: Variations on God Save the King
Beethoven/Liszt: Symphony #5

2/21/2016 (4pm)

BERLINER SYMPHONIKER (Germany)

Lihua Tan, conductor
Berliner Philharmonie

Rachmaninoff: Piano Concerto #1

3/10/2016 (8pm)

FIVE STAR PREMIER RESIDENCES OF TEANECK (NJ)

3/13/2016 (2pm)

MUSIC IN THE GREAT HALL

Towson Unitarian Universalist Church (Lutherville, MD)

Recital

4/15/2016 (7:30pm)

Boulder Chamber Orchestra

Bahman Saless, conductor
Broomfield Auditorium (CO)

Brahms: Piano Concerto #2

4/16/2016 (7:30pm)

Boulder Chamber Orchestra

Bahman Saless, conductor
Boulder Seventh-day Adventist Church (CO)

Brahms: Piano Concerto #2

4/23/2016 (8pm)

FIVE STAR PREMIER RESIDENCES OF TEANECK (NJ)
Rachmaninoff: Piano Concerto #1 f#, Op. 1 (revised 1917)
St. Petersburg Academic Symphony Orchestra
Alexander Dmitriev, conductor
January 27, 2013

Beethoven: 15 Variations & Fugue in E-flat, Op. 35 ("Eroica") – part I
Konzerthaus Berlin
May 5, 2009

Beethoven: 15 Variations & Fugue in E-flat, Op. 35 ("Eroica") – part II
Konzerthaus Berlin
May 5, 2009