Vivian Choi
pianist
Biography
Repertoire
Discography
Reviews
Itinerary
Media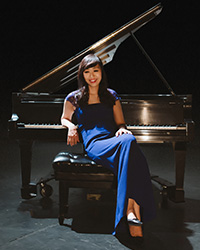 VIVIAN CHOI is internationally regarded as one of the most gifted pianists of her generation, lauded for her extraordinary artistry, musical intelligence and expressive intensity. Hailed by Fanfare as "an exemplar of the modern global pianist," she is in demand for the depth of her musical insight of a wide-ranging repertoire, from classical to contemporary works.
Since her debut performance at the Mostly Mozart Festival at the Sydney Opera House at the age of 12, Vivian Choi has toured extensively throughout Australia, New Zealand, Europe, North America and Asia. She is the recipient of several prestigious honors, among them the New South Wales Premier's Award for Excellence in Music and the Australian Guild of Music and Speech for Outstanding Achievement. For her contributions to the arts, Ms. Choi was awarded the title of 2003 Achiever of the Year by the Australian-Korean Cultural Council, and, most recently, was honored with the Dame Joan Sutherland Fund grant from the American Australian Association.
In 1992, Vivian Choi performed for the first time with orchestra as the winner of the New South Wales Secondary Schools Concerto Competition, launching her career as a concerto soloist that has taken her around the globe. Her recital debut occurred in 1997 at the Sydney Opera House, a performance that was broadcast nationally. Highlights of Ms. Choi's recent seasons include tours of The People's Republic of China and, as part of the Imago Sloveniae Festival, Slovenia and Croatia, a series of five all-Chopin recitals in ChopinFest Australia, the International Celebration of Music at the Sydney Town Hall, the Hopes, Talents and Masters Festival in Bulgaria, the Portland International Music Festival and the Piano Future Festival in the USA.
Born in Seoul, Korea, Vivian Choi grew up in Sydney, Australia, where she received her earliest musical education. She continued her training at Russia's Saint Petersburg State Conservatory, graduating summa cum laude, and holds graduate degrees from the New England Conservatory and Carnegie Mellon University. Her principal teachers include Kyunghee Lee, Mira Yevtich, Alexander Sandler, Wha Kyung Byun, and Sergey Schepkin. Ms. Choi's studies have been generously assisted by the Australian Government through the Australian Council's Arts Funding and Advisory Body.
Vivian Choi received her initial international recognition at the age of thirteen when she won, as the youngest contestant, Second Prize (Due Pianoforti) from the IX Concorso Pianistico Internazionale "Città di Marsala." Since then, she has been awarded First prizes from the Marina Yudina International Piano Competition (Russia), Peter de Grote International Music Competition (The Netherlands) and Dobrich-Albena International Music Competition (Bulgaria). She was also awarded the Guido Alberto Fano Prize from the Guido Alberto Fano International Piano Competition (Italy) for the "Best Performance of Fano's piano music."
Vivian Choi's 2010 debut recording, comprising works of Rachmaninoff, Prokofiev and Godowsky, was released on the St. Petersburg Northern Flowers label.
In addition to performance activities, Vivian Choi has served as a juror for numerous piano competitions, including, most recently, the 2015 Louisiana International Piano Competition. She has also conducted masterclasses worldwide for institutions that include Boston University, Italy's Academia Filarmonica di Camposampiero and Australian International Conservatorium in Sydney.
Vivian Choi makes her home in New York City.
BARBER
Concerto, Op. 38
BEETHOVEN
Concerto #2 in B-flat, Op. 19
Concerto #3 in c, Op. 37
Concerto #4 in G, Op. 58
Concerto #5 in E-flat, Op. 73 ("Emperor")
DOHNÁNYI
Concerto #1 in e, Op. 5
GERSHWIN
Concerto in F
Rhapsody in Blue
GRIEG
Concerto in a, Op. 16
LISZT
Concerto #1 in E-flat
Concerto #2 in A
Totentanz
MacDOWELL
Concerto #2 in d, Op. 23
MESSIAEN
Des canyons aux étoiles
MOZART
Concerto #23 in A, K. 488
Concerto #25 in C, K. 503
PROKOFIEV
Concerto #2 in g, Op. 16
Concerto #3 in C, Op. 26
RACHMANINOFF
Concerto #1 in f#, Op. 1 (rev. 1917)
Concerto #2 in c, Op. 18
Rhapsody on a Theme of Paganini, Op. 43
SAINT-SAËNS
Concerto #2 in g, Op. 22
SCHUMANN
Concerto in a, Op. 54
SHOSTAKOVICH
Concerto #1 in c, Op. 35
TCHAIKOVSKY
Concerto #1 in b-flat, Op. 23
WEBER
Konzertstück #1 in f, J. 282
PROKOFIEV: 4 Pieces from Cinderella, Op. 97
PROKOFIEV: Sonata #6 in A, Op. 82
RACHMANINOFF: Sonata #2 in b-flat minor, Op. 36
GODOWSKY: Symphonic Metamorphoses of Die Fledermaus (after Johann Strauss II)

Northern Flowers: NF/PMA 9985
A fine, assured performance by pianist Vivian Choi, the highly promising student of Kyunghee Lee, in Tchaikovsky's Concerto No. 1. This 18-year-old has few peers in her age group, and not a plethora of them on the older local scene. Her performance of the Dohnányi concerto last year, with the Sydney Youth Orchestra, and now Tchaikovsky, earn her great respect.
SYDNEY MORNING HERALD
It was a chance to hear one of Australia's most gifted young pianists, Vivian Choi, for whom undoubtedly a great future awaits.
NOTEWORTHY (Australia)
She shows remarkable promise and will be an asset to St. Petersburg.
NORTH SHORE TIMES (Australia)
Vivian may be a relatively young person, but she has the power and artistry of a mature pianist twice her age. If you attend this concert, you may be seeing and hearing the next pianist to take the concert world by storm.
OCEAN PARK CHAUTAUQUA-BY-THE-SEA CONCERT GUIDE
Vivian Choi played the elephantine, dense Opus 5 concerto by Dohnányi with essential stamina and technical brilliance.
SYDNEY MORNING HERALD (Australia)
Dan Welcher's Florestan's Falcon (A Fantasy After Schumann) really took flight in the lively and engaged soaring of pianist Vivian Choi and flutist Deborah Boldin. It sounded like a new piano had been brought onto the stage for the second half, so outgoing was Choi. She provided the supercharged chase-plane that permitted our closeups of Boldin's fluttering and gyrating bird, and from both players we got freedom, theatricality and interaction that sounded perfectly right. Choi also seemed to charge up the string players in Schumann's beloved Piano Quartet in E-flat Major, Op. 47.
THE BOSTON MUSICAL INTELLIGENCER
Vivian Choi is an exemplar of the modern global pianist. It's not clear if this is her debut recording, but it's my first experience of her playing, and it reveals her virtues clearly. She boasts an enviably transparent, generally treble-leaning sound that often provides luminous textures. In sum, an impressive introduction to a pianist well worth hearing.
FANFARE
Vivian Choi is both daring, and clean in her daringness.
Ned Rorem
Pulitzer Prize-winning composer
6/18/2017 (5pm)

CHAMELEON ARTS ENSEMBLE OF BOSTON

Shalin Liu Performance Center (Rockport, MA)

Beethoven: Variations in F, Op. 66
Bartók: Contrasts
Berio: Folksongs
Bloch: Piano Quintet #1

7/13/2017 (7pm)

MONADNOCK MUSIC

Town Hall of Milford (NH)

Moravec: B.A.S.S. Variations
M. Wagner: Romanze with Faux Variations
Turina: Piano Trio #1
Arensky: Piano Trio #2
with Omar Chen Guey, violinist
Rafael Popper-Keizer, cellist

7/16/17 (3pm)

MONADNOCK MUSIC

Congregation Ahavas Achim (Keene, NH)

Congregation Ahavas Achim (Keene, NH)
Daniepour: River of Light
with Omar Chen Guey, violinist
Fauré: Piano Trio
Crozier: Nocturne
with Rafael Popper-Keizer, cellist
Arensky: Piano Trio #2
with Omar Chen Guey, violinist
Rafael Popper-Keizer, cellist

11/11/2017 (8pm)
11/12/2017 (2pm)

SYMPHONY OF THE REDWOODS

Allan Pollack, conductor
Cotton Auditorium (Fort Bragg, CA)

Gershwin: Concerto in F
Rachmaninoff: Piano Sonata #2 in b-flat, Op.36 (mvt. I: Allegro agitato)

Jordan Hall (Boston, MA)
June 11, 2008

Rachmaninoff: Piano Sonata #2 in b-flat, Op.36 (mvt. II: Non allegro)

Jordan Hall (Boston, MA)
June 11, 2008

Rachmaninoff: Piano Sonata #2 in b-flat, Op.36 (mvt. III: Allegro molto)

Jordan Hall (Boston, MA)
June 11, 2008

Godowsky: Symphonic Metamorphosis of Die Fledermaus (after J. Strauss, Jr.)

Clayton Center for the Arts (Maryville, TN)
February 24, 2013

Liszt: Légende #1 (St. Francis of Assisi: The Sermon to the Birds)

Clayton Center for the Arts (Maryville, TN)
February 24, 2013

Liszt: Légende #2 (St. Francis of Paola Walking on the Waves)

Clayton Center for the Arts (Maryville, TN)
February 24, 2013